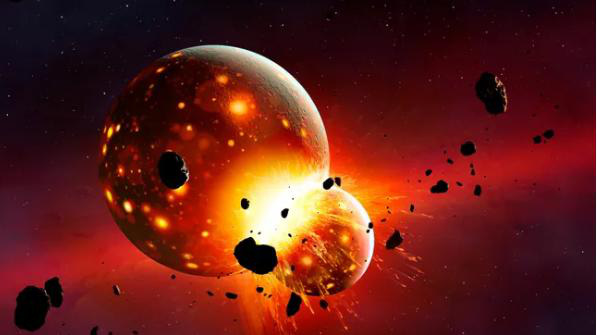 Scientists believe that the Earth formed about 4.5 billion years ago and the Moon appeared sometime after that.
The main explanation for the Moon's origin is that it arose from the collision of two protoplanets: one was the primitive Earth, and the other was a Mars-sized rock, named Theia after the Moon's mother in Greek mythology. Was.
This giant impact hypothesis suggests that the Moon coalesced from debris after the collision. However, direct evidence of the existence of Theia rock is unclear.
A recent study suggests that the impact of the collision may have buried Theia's remains deep within the Earth.
The study's lead author, geodynamicist Qian Yuan of the California Institute of Technology (USA), said: "Our research shows that this extremely powerful impact had long-term effects on the entire planet. Earth's evolution." "Also, it may explain why Earth has unique geological features compared to other rocky planets."
In the new study, Yuan and his colleagues studied two continent-sized rocks at the bottom of the mantle, about 2,900 kilometers above Earth's surface.
According to previous research, seismic waves inside the Earth travel unusually slowly through anomalies. This shows that the geology of the anomalies is dense and has a composition different from the surrounding mantle.
Meanwhile, Yuan's team's computer simulations suggest that part of the mantle of Theia rock may have penetrated deep into the lower mantle of the primitive Earth. Based on what is known from previous models of the Moon and Theia, Theia's rock would be 2 to 3.5 percent denser than the mantle of proto-Earth.
Computer models also suggest that these dense Theia ruins are tens of kilometers wide. Most of this molten rock sank and solidified over time, accumulating in dense blobs above the Earth's core. Their weight ranges from about 1/40 to 1/60 of the Earth's mass.
Mr Yuan said the new findings show that these drops are richer in iron than the Earth's normal crust. They may have chemical properties similar to volcanic rocks on the Moon.
This study was published in the journal Nature,
(TagstoTranslate)Moon(T)Earth(T)Greek Mythology(T)Evolution(T)Geology