US Secretary of State Antony Blinken visited Israel for the third time in less than a month on November 3. In addition to Tel Aviv, Mr Blinken also visited the Jordanian capital Amman, aimed at following US President Joe Biden's proposal for a "temporary humanitarian cease-fire" – prompting more aid to Gaza and opening the way for foreigners and injured people. . To leave this strip of land.
According to the AP, over the past 2 days, about 800 people have been allowed to cross the Rafah border gate into Egypt under an agreement between the US, Egypt, Israel and Qatar (brokered with the armed group Hamas). In addition, Mr. Blinken will urge the Israeli government to refrain from violence targeting Palestinians in the West Bank.
Before Mr Blinken arrived, the Israeli military announced it had completely surrounded Gaza City in the northern Gaza Strip. Israeli military spokesman, Rear Admiral Daniel Hagari, said his forces were fighting Hamas gunmen head-on with air and artillery support.
While Israel claimed to have inflicted heavy losses on Hamas people and infrastructure, the armed group continued to use a complex tunnel system to attack enemy troops and tanks. Hamas's armed wing, the Azzedine al-Qassam Brigades, stressed that "Gaza will become a historical curse for Israel".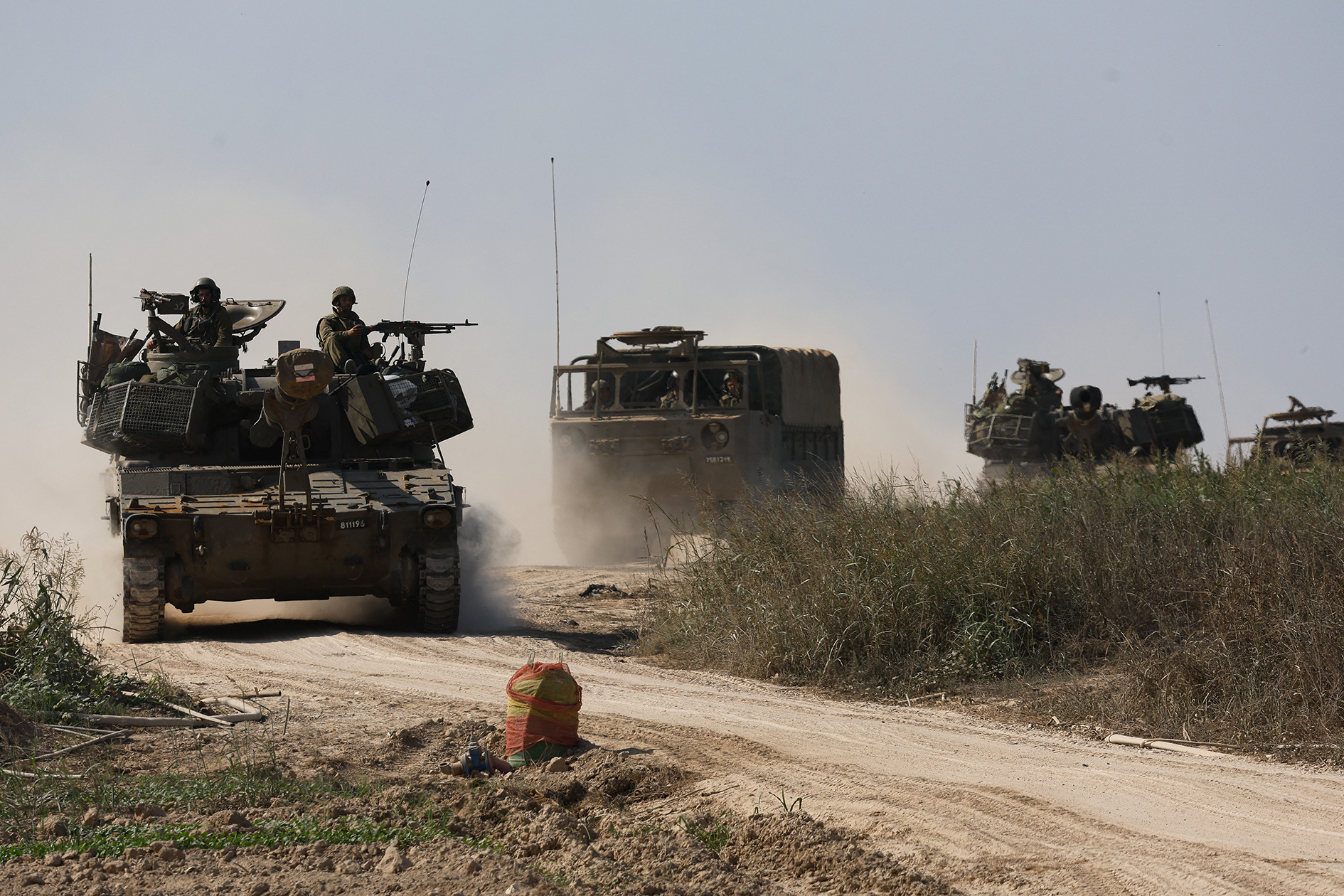 Israeli soldiers gathered near the border with the Gaza Strip on 3 November. Photo: Reuters
Transforming the conflict into a fight in an urban environment would lead to rapid casualties on both sides. The Israeli military describes Gaza City as "the center of Hamas' military infrastructure, including hundreds of kilometers of tunnels, bunkers and command hubs", but it is also home to more than half a million Palestinians.
Many people have fled to southern Gaza following Israel's call, but thousands still remain, enduring more than 3 weeks of bombs and bullets, in difficult conditions without food, water, medicine, fuel… and hospitals. But there is too much load. The verge of collapse.
Hundreds of thousands of Palestinians gathered at UN facilities in hopes of finding safety. However, four UN schools in northern Gaza and the Burij refugee camp in the central area have been the victims of repeated airstrikes in recent days. To date, more than 9,000 Palestinians have been killed in Gaza, including more than 3,700 children; According to Gaza health officials, more than 32,000 people were injured.
Israel has not yet responded to the US President's call for a "temporary ceasefire", but Prime Minister Benjamin Netanyahu showed his determination to crush Hamas with a statement on November 2: "We are moving… .No one can stop them." ,
Another question that Secretary of State Blinken hopes to answer through this trip to the Middle East is what the next plan will be when Hamas no longer controls the Gaza Strip – something that neither Israel nor Nor does America have any concrete vision.
This week, Mr Blinken proposed the Palestinian National Authority (PA) – the administrative organization established in 1994 under the Oslo Accords between the Palestine Liberation Organization (PLO) and the Israeli government to rule over parts of the Palestinian Authority. Palestinian Territories – Will go to Gaza.
The PA used to control Gaza, but Hamas took power after a 2007 vote. The PA now rules several areas of the West Bank.
A two-state solution is also promoted by many parties to achieve long-term and lasting peace in the region, but currently neither Israel nor the Palestinian Authority are interested in sitting down to talks.
In Israel, about 250,000 people are currently evacuated from cities near the border with Lebanon, in addition to 5,400 injured and more than 1,400 killed since a surprise attack by Hamas on October 7.
Rockets from Gaza and daily clashes between Israel and the Hezbollah group in Lebanon have affected the lives of millions of Israelis.