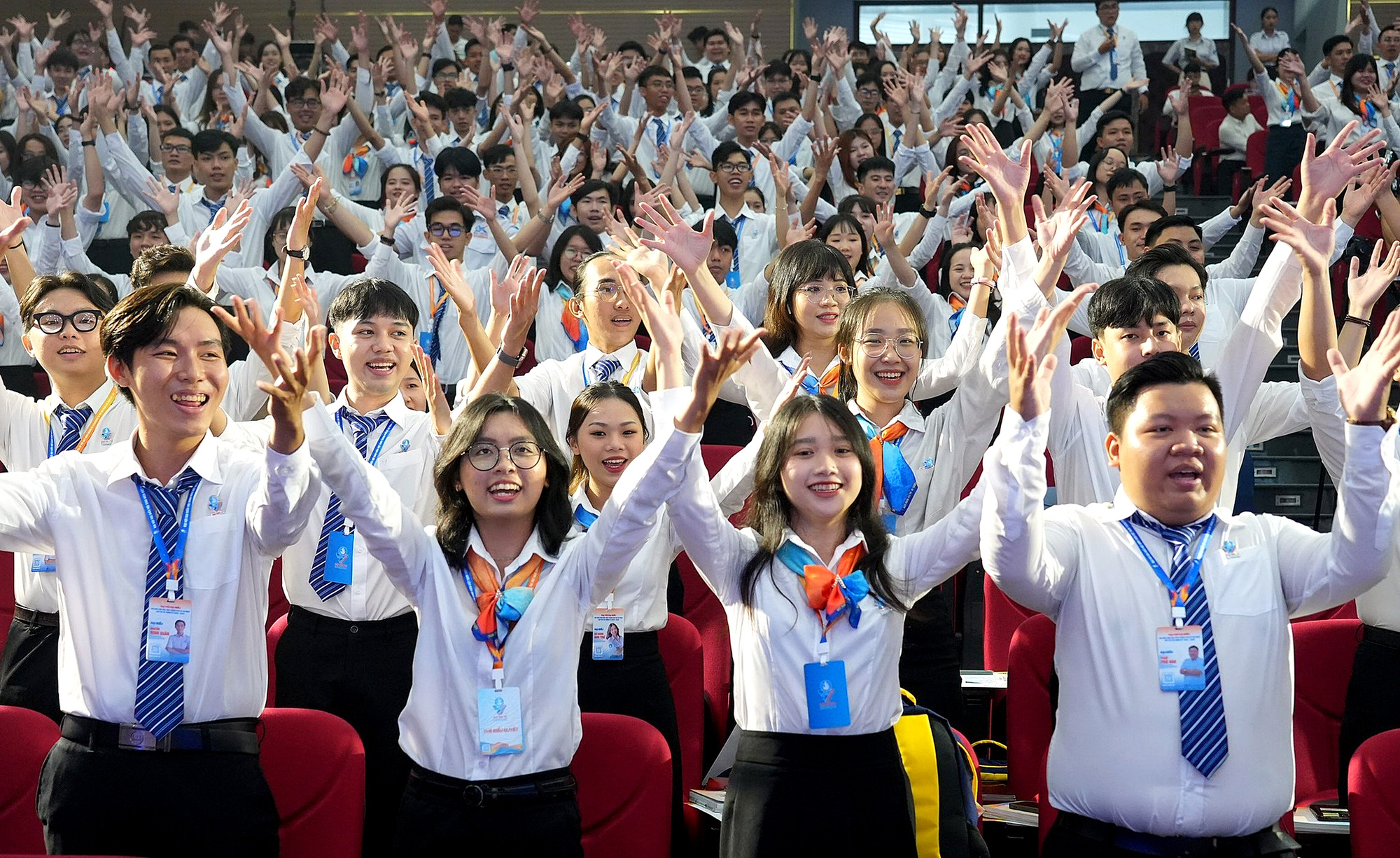 The 5 forums at the 7th Congress of the Vietnamese Student Union in Ho Chi Minh City have the following topics: building a strong Vietnamese Student Union that is truly a friend of students, volunteering for the construction and development of the city, physical life and Enhancing mental health students, reaching out to the larger ocean to integrate with confidence, students with cultural identity.
Singer Phuong My Chi (Representative, Swinburne University of Technology student)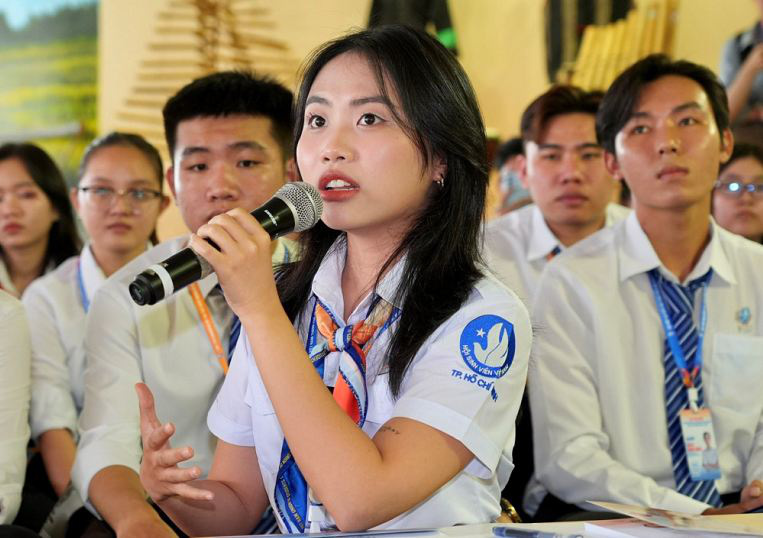 be yourself
Sharing with the students on the platform reaching out to the large ocean for confident integration, was Master Tran Nhat Minh – Conductor, Choir Leader of Ho Chi Minh City Ballet and Symphony Theater and Master Nguyen Thanh An (Ton University). Duc Thang) – Distinguished young citizen of Ho Chi Minh City.
Master Thanh An said that young people should take time to learn about themselves, learn positive things from those around them and living as they age will help you "release" your energy and youth. Sharing his personal experience, Mr. N said that the first thing to step out into the world is to persevere, learn from failure and have the courage to step out of your comfort zone.
Meanwhile, Master Nhat Minh said he sees music as a way to help people connect and integrate more easily and gently. The youth conductor emphasized that to reach their goals faster and more effectively, youth need to manage their emotions.
Minh said, "I see that young people nowadays very easily express emotional distress, especially negative emotions, and even suffer from it. I hope that each of you will try to better yourself. Understands and knows what is important to spend his energy on."
Le Hoan Tran (Ho Chi Minh City Conservatory of Music) said that students are passionate about learning and want to develop culture but they do not have many opportunities for in-depth learning. Tran proposed that student unions of affiliated schools create promotional programs to help students learn about traditional culture.
Similarly, Hoang Ngoc Dung (Ho Chi Minh City University of Technical Education) hopes that affiliated schools will collect data, synthesize it, and further promote the culture of ethnic minorities.
listen, understand and share
At the forum "Improving Physical Life and Mental Health for Students", Dr. Nguyen Van Tuong – Deputy Director of the Mental Health Research and Support Center (University of Social Sciences and Humanities, National University of Ho Chi Minh City) – said that prevention And in addition to raising awareness, to effectively provide mental health care, every youth needs to be trained in the ability to adapt, manage time, finances and social relationships.
Thuy Dung (Ho Chi Minh City University of Medicine and Pharmacy) said a recent survey showed that more than 50% of students in the city had mental health and nutritional health problems. According to Dung, it is necessary to set up counseling rooms, give advice on psychology, mental health, nutrition and create talk shows for students to share ways to overcome academic pressure.
Meanwhile, speaking at the congress, Dao Hai Nhat Tan (Fulbright University Vietnam) said there was a published study showing that 14% of Vietnamese students are experiencing various mental health problems. According to Tan, this can be prevented by expanding the mental health library to help you learn and find information, in addition to connecting with experts.
"It is possible to expand the range of activities of the school's student union, invest in research projects on mental health, student psychology and competitions, thereby creating a strategic action manual," Nhat Tan shared.
And Ngoc Hanh (Ho Chi Minh City University of Management and Technology) said that we should find out what the real needs of students are. From there, work on designing activities and communication campaigns that are "touchy-feely" enough to help you actually participate rather than just coming to the seminar and then leaving without solving anything.
Let students contribute more
Nguyen Thanh Dat (Ho Chi Minh City University of Architecture) said that many students want to participate in the dual study program, which makes it difficult to volunteer. According to Dat, attracting more friends requires more harmonious coordination between units when designing appropriate volunteer programs and campaigns.
From another perspective, Lam Vo Huu Duy (Lê Tu Trong College, Ho Chi Minh City) said that we should continue to invite and encourage Ho Chi Minh City's outstanding young citizens and influential people to participate in volunteer activities . Volunteer with city students to increase student outreach. It is important that the activity is related to the major, has specific content and is close to life. At the same time, we must make good use of the power of community and social network channels to get more out of volunteerism.
Dr. Vu Van Hieu (Ton Duc Thang University) said that there are many factors and methods that help associations promote volunteer activities and improve the quality. According to Mr. Hiu, in addition to considering students as the center, the student union needs to pay attention to three things: the direction of the Party Committee, the main role of the union in organizing – close coordination with the union and functional units.
"Volunteer content and programs should start from the needs and expectations of students. Only then can we awaken creativity, strength and a sense of service to the fatherland, especially in young people." One of the most valuable things," Dr. Hieu said.
1 project, 3 events, 2 projects of the 7th Congress of the Vietnam Student Association in Ho Chi Minh City
For the period 2023 – 2028, the Vietnamese Student Association of Ho Chi Minh City established and implemented the project of a digital data portal on student movements and the Vietnamese Student Association of Ho Chi Minh City.
In addition, there are three programs: building and developing Vietnamese culture and people among students of Ho Chi Minh City; The Vietnamese Student Association of the city participates in the creation of high-quality human resources for Ho Chi Minh City, the Southern Key Economic Zone and the entire country in the period 2023 – 2028; Student Initiative.
Two projects of the duration: Supporting students to access credit sources for study in the period 2023 – 2028 Improving the capacity of staff of the Vietnamese Student Association in Ho Chi Minh City in the period 2023 – 2028.
(TagstoTranslate)Student Union Congress(T)Vietnam Student Union Congress at HCMC(T)Student Initiative Forum(T)Student