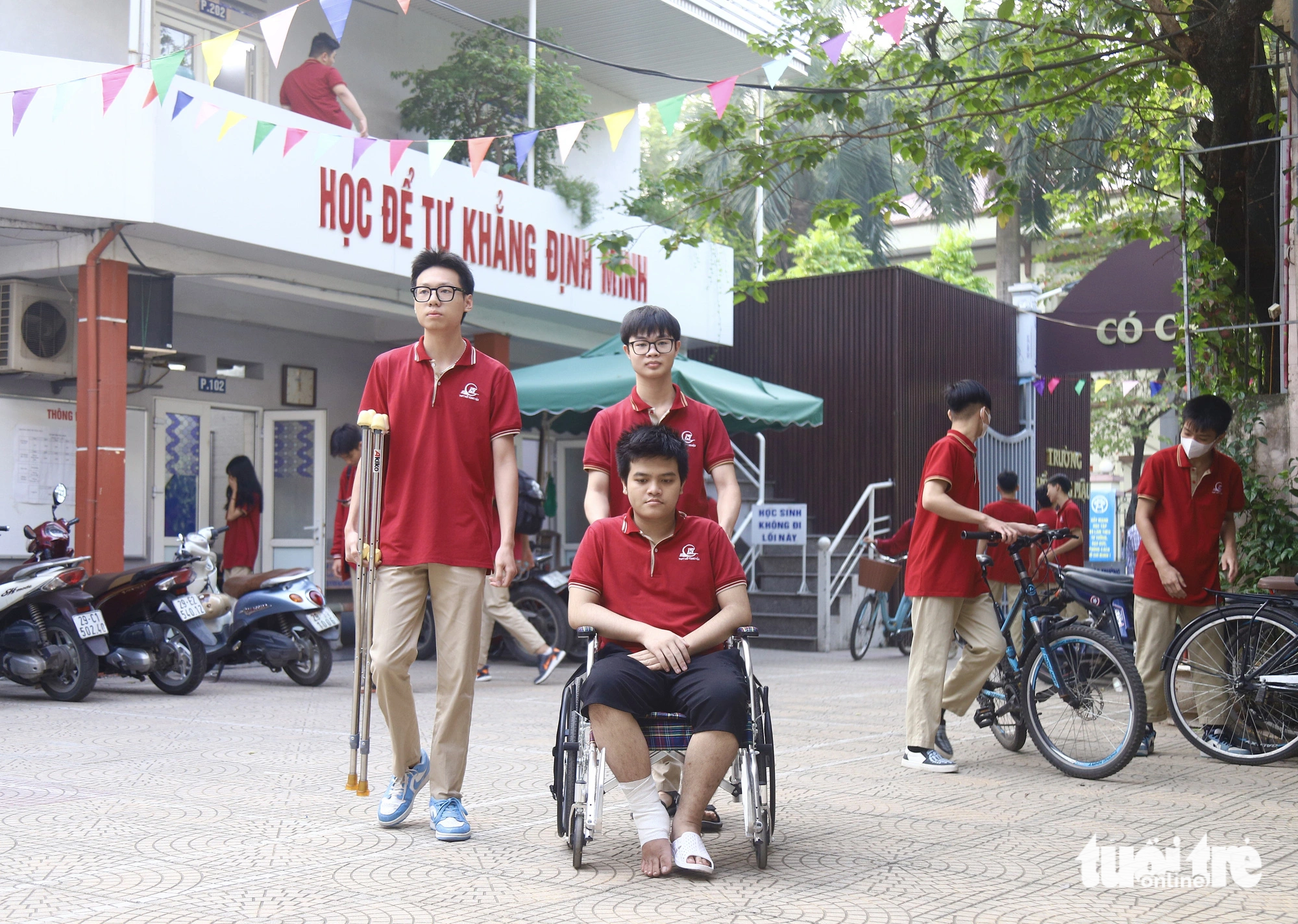 Two months after the fire in the mini apartment at House No. 37, Lane 29/70, Khuong Ha Street, male student Tran Dai Phong (Grade 12H, Ho Tung Mau High School, Thanh Xuan District, Hanoi) to continue his studies Returned to school. Senior with the help of crutches and wheelchair with the help of friends and relatives.
surgery is very painful
Fong could hardly forget the fire that broke out at 11 pm on September 12 in his memory. At that moment, smoke and fire rose rapidly, engulfing the apartment building where Fong and her mother lived. Along that line, Fong risked his life by jumping from his 9th floor apartment to the 6th floor rooftop. The jump helped the mother and child escape death, but also caused serious injuries.
Fong suffered a broken ankle and pelvis, while his mother suffered a chest injury, a broken spine, a broken rib, a broken pelvis…
After more than 20 days of treatment, the 17-year-old boy's biggest passion was the painful surgery. The first surgery helped stabilize the heel and pelvis, but unfortunately, the wound became infected after a week of healing.
Following the doctor's advice, Fong had to go on the operating table for the second time. "This surgery crossed the limits of tolerance, more painful than jumping from the ninth floor," Fong said.
During the days in hospital, he had to lie still, unable to move, "each day seemed to go by forever". From a healthy young man with many dreams and plans, Fong essentially collapsed and became depressed.
"At night in the hospital, because of the pain and the fear that my legs would not be able to move normally, I fell into despair and wanted to give up," Fong said.
But in those moments, Fong remembered her mother, who was also on the verge of death. The student said to himself: "My mother's pain is many times greater than mine, but she persevered and fought hard and overcame it. I too have to be very resilient, not let myself become weak."
Several days passed, and with the dedicated care of doctors and relatives, his wound gradually healed. Fong learned to walk with a manual wheelchair and learned to walk with crutches. At first, he had to close his eyes because of the heavy steps, the weight of his body on his pelvis, and the pain caused by his injured legs.
"Every beginning has difficulties. Try your best, son" his mother encouraged over the phone, helping Fong calm down after a time of boredom and feeling like giving up. Every day, this male student tries his best to practice taking the next step.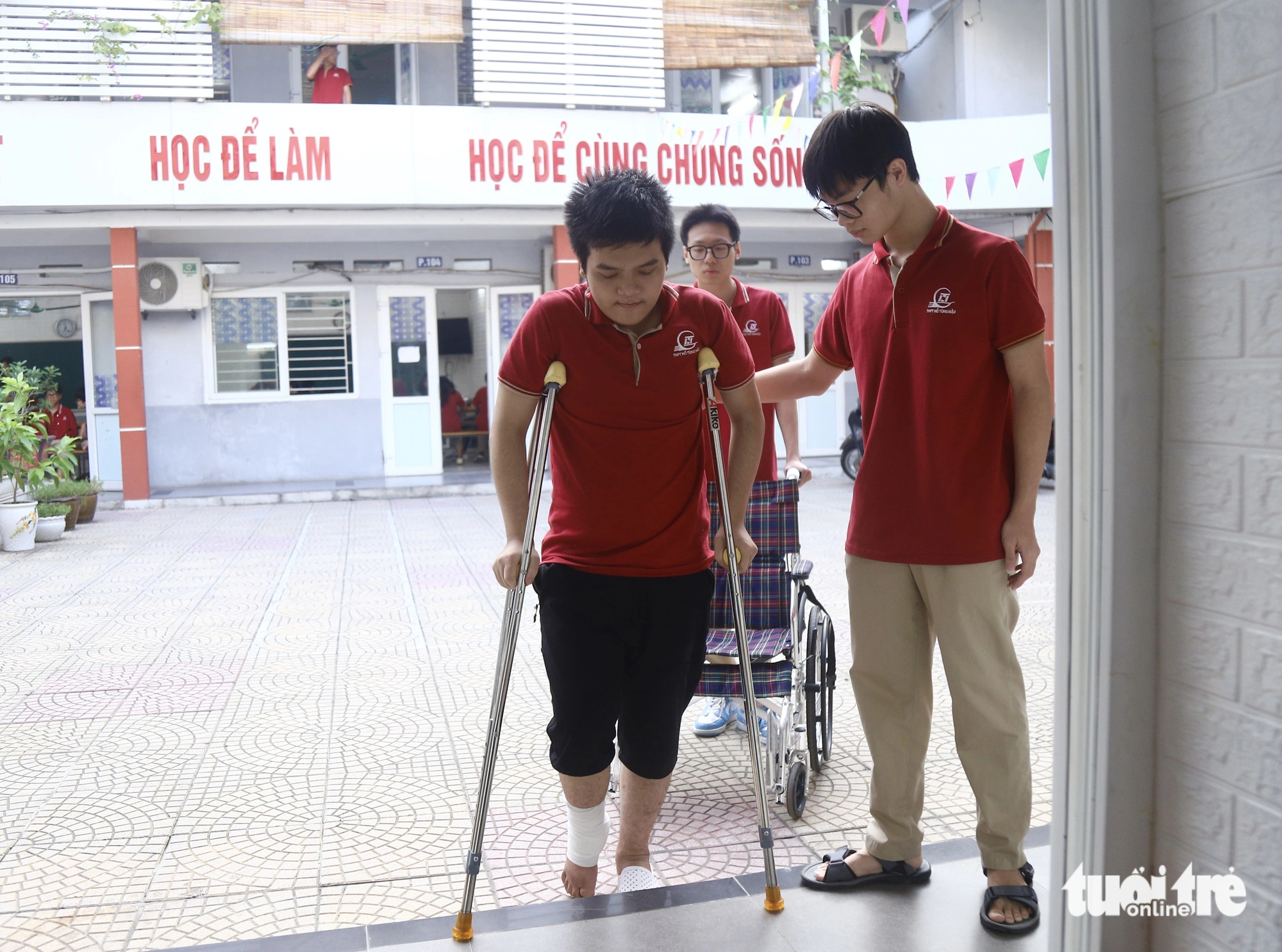 Fong's Special Desk
Apart from his strength, this boy is lucky because he always has relatives, friends and teachers to encourage him. For about a month while Fong was in the hospital, everyone took turns to visit and sent hundreds of messages "I wish Fong gets well soon".
Fong shared, "The comforting words of teachers and friends are like spiritual medicine, helping me forget the pain and fatigue. I feel myself gaining strength, motivating myself to get well soon." I am doing it." And said he had asked the doctor several times to allow him to be released from the hospital early so he could go back to school.
After being out of school for more than a month, Fong sat in a wheelchair and was taken to school by his grandmother. The boy became thinner than before and started attracting everyone's attention.
Seeing Fong, teachers and friends rushed to welcome him happily. People pushing wheelchairs, people holding crutches, people carrying school bags, together helping male students to class. After school, his friends took Fong back to the boarding house, which was about 500 meters from the school.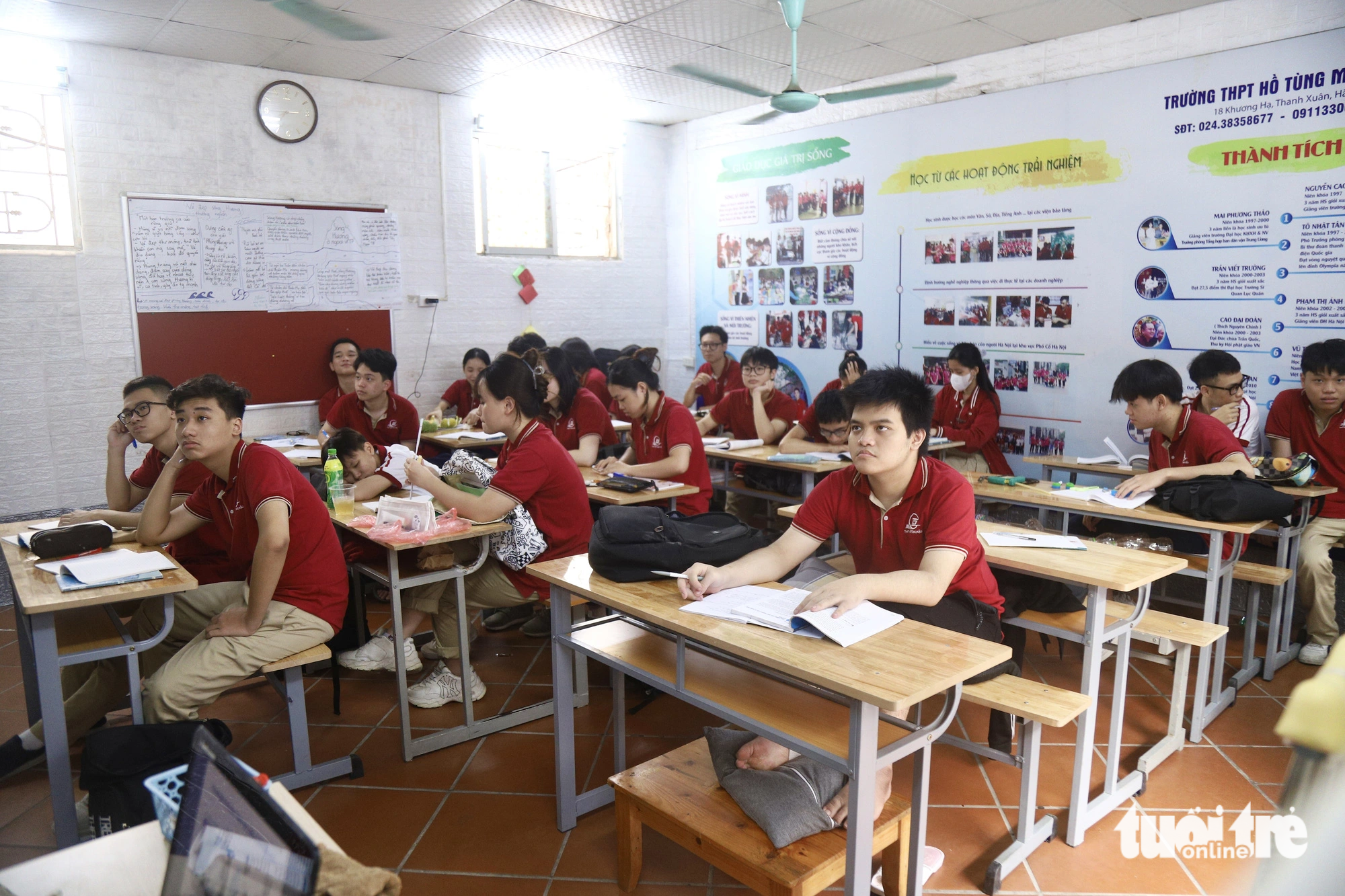 Knowing of Fong's difficulty walking, the school board moved the classroom from the second floor to the first floor for his convenience.
Fong's seat is also very specially arranged, with a small table, a pillow to rest his injured leg, and another pillow to rest his head when he gets tired. Due to his poor health, Fong could only sit the first two periods. In later periods, the school allowed him to lie on a chair and listen to lectures.
Fong wants to study well so that he can count on everyone's help and realize his dream of becoming a programmer.
Ms To Thi Thuy, principal of Ho Tung Mau High School, said Fong is a student with special circumstances, who is currently living with his mother.
"Understanding the situation, right after the night of Phong's accident, teachers from the school immediately rushed to the hospital to encourage and reassure her to help her recover from the pain," Ms Thuy said.
According to Ms Thuy, the school's board of directors, parent representatives and teachers from Ho Tung Mau High School also visited and presented approximately 124 million VND to Tran Dai Phong. This is an amount donated by the students, parents, teachers, alumni of the school, hoping that this male student can overcome the difficulties and study with peace of mind.
Additionally, the school also waived 100% of tuition for Fong for the 2023-2024 school year.
(TagstoTranslate)Apartment fire(T)Mini apartment(T)Mother and child jumping from 9th floor(T)Ho Tung Mau High School