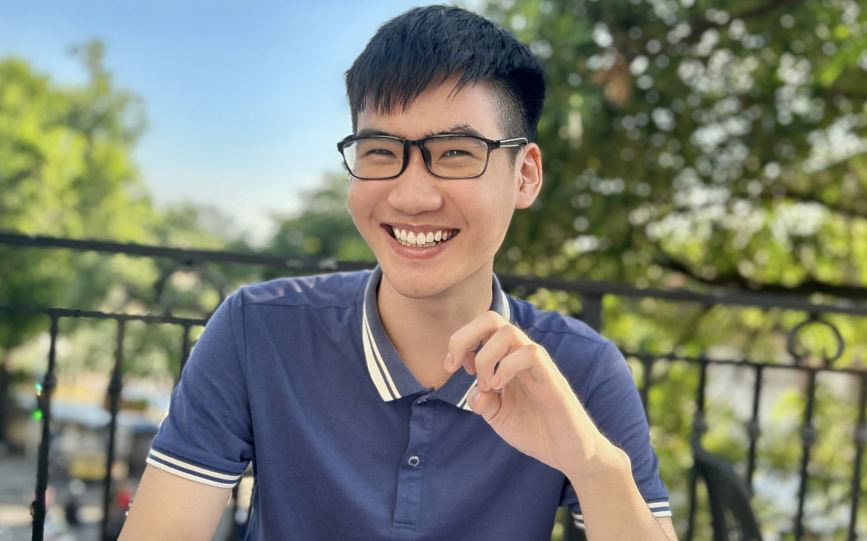 – "I was born in a family that is not very rich but always creates opportunities for children to study in the best environment. Since high school, I have got used to an independent life, I live within the limits provided by the school. "I started living in a hostel. More than 30 kilometers away from home. My first subject was mathematics, not physics", Tuan Phong began the story with a "secret" that very few people know.
failure sometimes becomes luck
* Why was mathematics the initial choice but physics ended later?
– In middle school, like many other students, I focused only on math because I thought it was the most important subject. However, I could not keep up with my friends in the team and as a result stood last in the district examination. Of course I was shocked, but later I was grateful for that failure because it made me fall in love with physics.
This new subject helps me to realize that I have the opportunity to apply it more closely, to solve problems or issues more intimately. Over time, my interest in physics grew and I found that the above failure proved to be a blessing, providing another, more suitable door.
* Many people think that you must have excellent intelligence so studying is easy?
– I believe that intelligence is just a catalyst that helps us learn more thoughtfully and with less stress. To achieve high achievements one needs to put in efforts day and night.
It is impossible for an intelligent person to experience and understand the problems that take many other people months or years to learn and research and understand the problems in only a few days. A lot of knowledge is closely related to life experience.
hone your own skills
* Apart from effort and the right approach, what other factors do you think young people need to study effectively?
– Another personal failure that I think is worthwhile and want to share. At the Asian Physics Olympiad, I came second on the Vietnamese team, losing to a friend whom I had often "beat" before.
Thinking back, I realized that the above exam did not require complete accuracy in the solutions whereas I am a very meticulous person and it was an unnecessary waste of time. Every game has its own rules and to win, sometimes we must not be too perfectionistic.
Instead, try to understand the competition and focus on being the best fit for the criteria.
* Is there something about yourself that you need to improve?
– During my last years of high school, I spent most of my time hanging out with the team and studying in a different area, so I had little contact with my friends and barely had time for other training activities .
So I think I have many limitations like English or communication ability. I am currently focusing on improving my above skills as well as many other points.
I like a quiet life, having enough money to take care of my family and personal interests means success and happiness.
A little more ambitious would probably be to try to win a scholarship to study abroad at the Hong Kong University of Science and Technology (HKUST), get a doctorate and research, and create something to make a name for yourself in the future. Many people have left memories of the people.
impressive gold board
Nguyen Tuan Phong (alumnus of Bac Ninh High School for the Gifted) won the second prize for the outstanding national student in Physics in grade 11, having won the first prize in this national examination in grade 12. He also won a silver medal in the Olympic Physics examination. Bronze medal at the European Physics 2022, 2023 Asia-Pacific Physics Olympiad…
Tuan Phong created a "miracle" when he won the gold medal at the 2023 International Physics Olympiad (the highest-scoring competitor in the Vietnamese team) and directly entered Hanoi University of Science and Technology. This examination will be conducted by Japan in July 2023 in which 398 candidates from 84 countries and regions will participate.
(Tags to translate)Nguyen Tuan Phong(T)International Olympic Gold Medal(T)Asian Physics Olympics(T)Physics