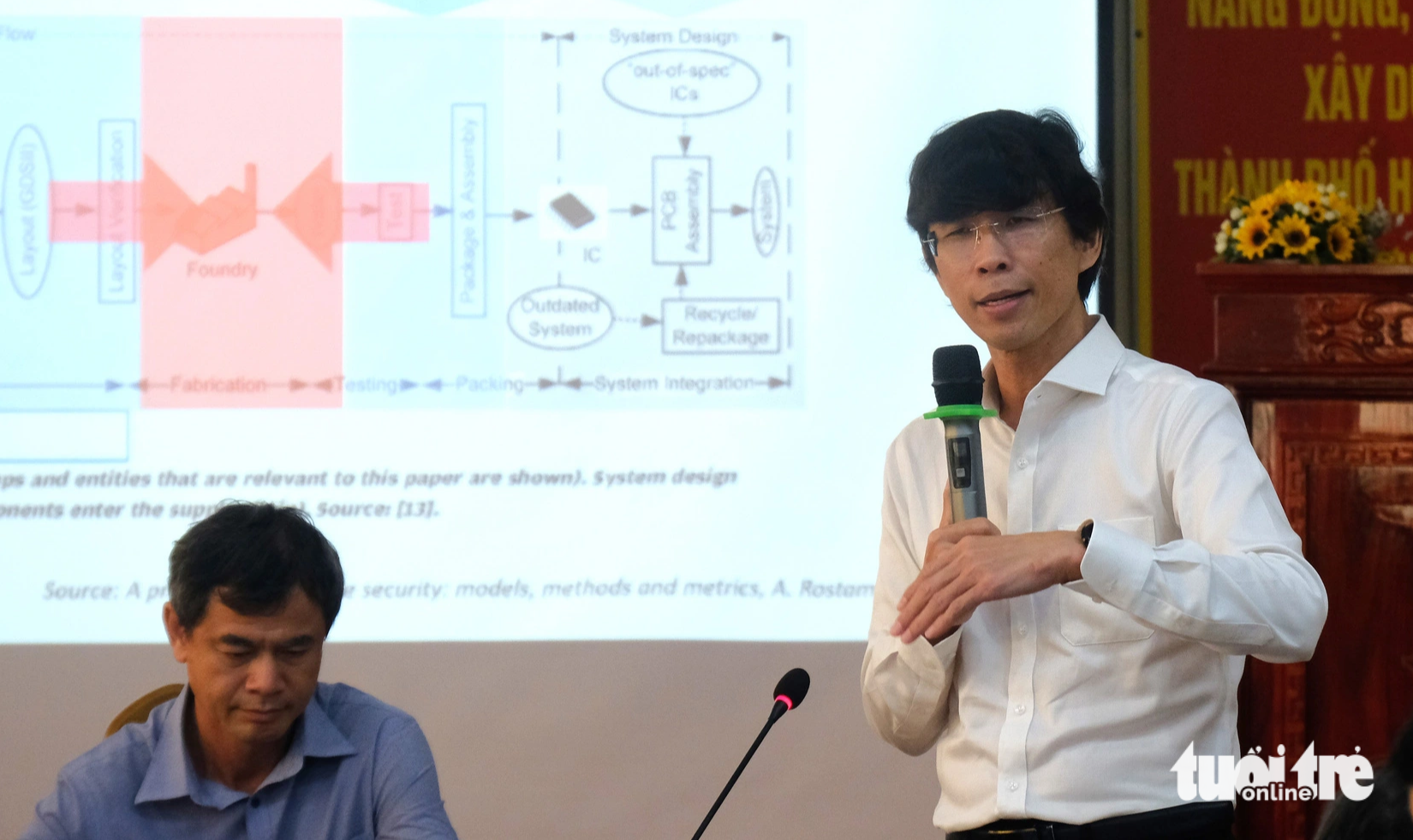 Training of 50,000 human resources in microchip industry
The proposal was raised in the morning at the scientific conference "Strategic orientation of labour, employment and skills development in Ho Chi Minh City for the period 2023 – 2025 and the outlook to 2050" at the Ho Chi Minh City Development Research Institute in the morning. 8-11 In a speech by Dr. Nguyen Anh Thi, Associate Professor.
The global semiconductor chip industry has grown 14% per year since 2001 and is still growing strongly, expected to reach USD 1,000 billion by 2030. Also, this industry needs to add about 1 million more human resources.
There is a shortage of human resources in the microchip industry in most countries. Of which America is short of 55,000, Europe is short of 40,000, China is short of 55,000, Korea is short of 50,000…
Vietnam also aims to become a regional and world IC design hub, ranking among the top 5 in the world by 2030 with a requirement of approximately 50,000 human resources for this industry. Mr Thi commented that the training target is feasible with this number.
However, it is necessary to focus on opening up new and expanding the scale of specialized training in microcircuits and semiconductors at the graduate and doctoral levels. Also, provide advanced training to human resources from appropriate and adjacent industries.
Mr Thi recently briefed about the standard skills training course run by Hi-Tech Park IC Design Training Center and ESC Vietnam Training Institute.
Implementing a 50% student, 50% business model, with tuition of approximately US$1,000 over 2 months, students commit to working for businesses started by the center for the first 6 months.
The results of the pilot enrollment were assessed as quite good, with the learning needs and tuition policy considered appropriate to the paying ability of the students (mostly final year students).
"To achieve the goal of becoming a regional and national circuit design center, Ho Chi Minh City needs to train and improve the skills of approximately 40,000 engineers from now to 2030, or about 6,000 engineers/year.
With the estimated repayment cycle for the IC Development Fund being 6 months (from attending a training course to obtaining a job), Ho Chi Minh City needs to create a large-scale IC Development Fund. About USD 3 million (about VND 75 billion)," Mr Thi offered.
Invest in human resource development
Le Van Thinh, director of the Department of Labour, War Invalids and Social Affairs of Ho Chi Minh City, said that the department was assigned by the Ho Chi Minh City People's Committee to chair the project "Labor and Employment Strategy in Ho Chi Minh City" Was. period 2023 – 2025 and the outlook to 2030" and he believes that Ho Chi Minh City is fully capable of generating this fund.
"If you want to develop, you have to invest. If Ho Chi Minh City wants a qualified workforce to meet development goals and orientations, you have to invest in human resources training. I see a proposal for a microchip development fund suitable for the city.
Ho Chi Minh City also needs a high-quality human resources development fund to train human resources for many other businesses within the city's development orientation," Mr. Thinh said.
He suggested that researchers need to pay attention and propose policies to attract workers, including policies related to wages and labor relations, to solve the problem of low wages that do not ensure a good life. Do it. The life of workers in factories and enterprises, how to "make workers feel happy when they come to work in Ho Chi Minh City".