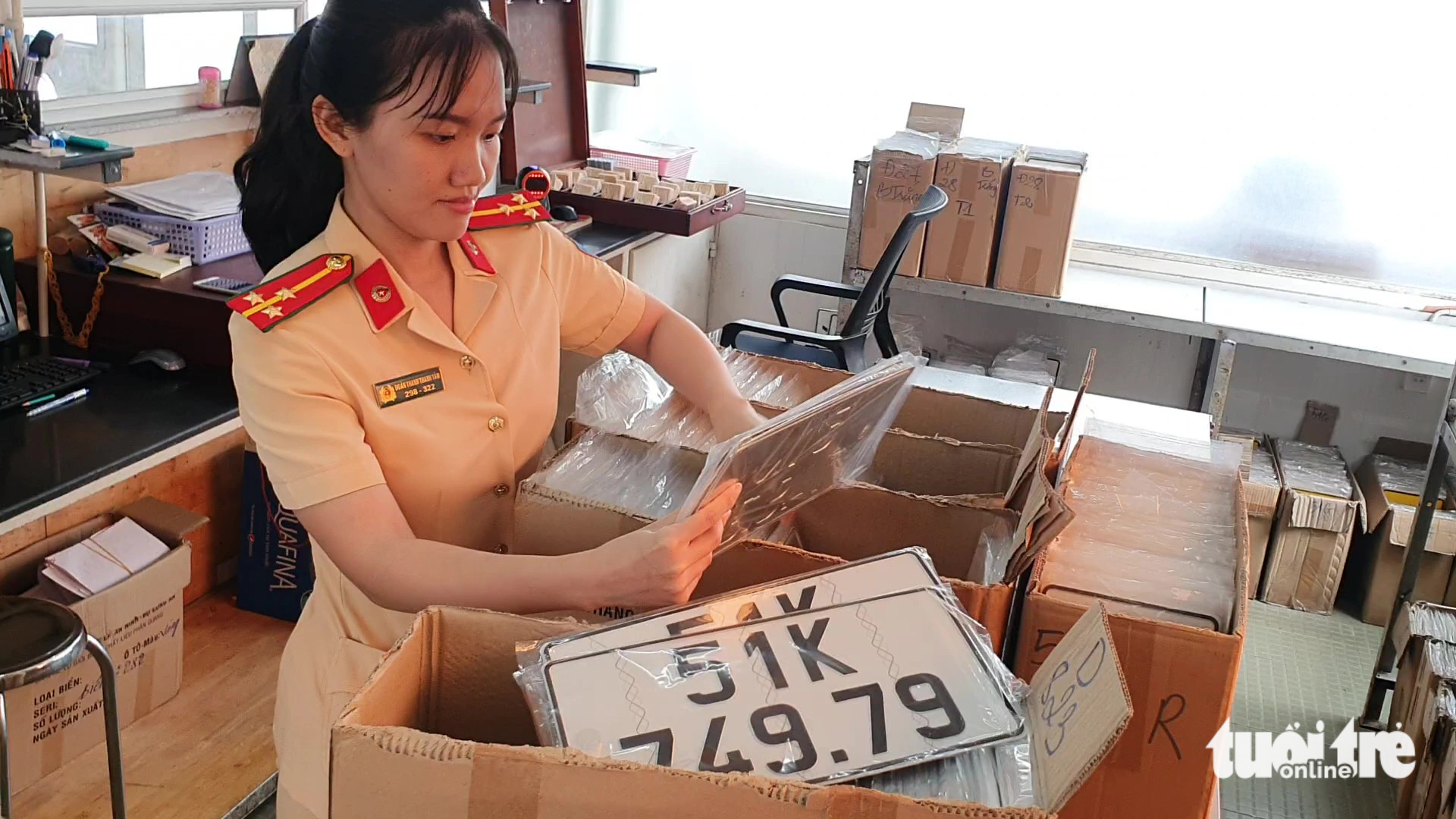 Recently, the Traffic Police Department (C08) of the Ministry of Public Security sent a document to the police directors of provinces and centrally-run cities on the registration and issuance of license plates stipulated in Circular 24/2023 of the Ministry of Public Security. , One.
License plates with one letter and one number will not be reissued
According to the contents of the document, through monitoring of professional work, local police reports and press reports about long times in returning vehicle registration results, the problems of issuing motorcycle license plates have been resolved. Remember.
The document annotating the motorcycle license plate is cancelled, but the vehicle registration system does not reissue it if the vehicle owner registers another vehicle. According to Section 3, Article 3 of Circular 24, the identification number plate is the number plate with symbols, number plate series, shape of letters and numbers, and color of the number plate in accordance with the rules in this circular.
According to the provisions of Point D, Section 5, Article 37 of Circular 24, motorcycle license plates have a white background, black letters and numbers, and the combined use of two letters in the license plate series (MD or license plate series Do not use). 1 letter combined with 1 natural number) for issue as per vehicle type and cylinder capacity as prescribed by Circular 58/2020/TT-BCA.
In particular, according to the provisions of Circular 58, license plates with serial numbers that were produced before the effective date of Circular 24 will continue to be used until the end to avoid wastage (Article 39 of Circular 24).
Therefore, the current vehicle registration system only issues motorcycle license plates with white background, black letters and numbers, and a license plate series with 2 alphabetical characters (for example, 29AA, 36DC…). For motorcycle license plates with serial numbers not specified in Circular 24 (for example: 29C3, 47A1…), when carrying out recovery procedures, the vehicle registration system will again Vehicle registration authorities need to explain and guide people so that they can know and press the new license plate.
There are cases where one letter and one digit license plates are still reissued.
However, after August 15 (the effective date of Circular 24), several registration cases for re-issuance of identified license plates (including beautiful license plates) were successful. A typical example is the case of Ms. BTHT (30 years old, living in Long An Province), who successfully registered for the reissue of her identified license plate, which is also a beautiful license plate, which she owns.
November 9, talk to tuoi tray onlineMr. LDT (lives in Long An Province) said that he bought a Wave car with the beautiful license plate number 62E1 – 234xx before August 15, and he and his wife, Ms. BTHT (30 years old, lives in Long An) Let it be. Province), take name.
Then, in early September 2023, Mr. T. sold the Wave car and completed the process of canceling the vehicle's registration and license plate. By the end of October 2023, he purchased another motorcycle and successfully completed the vehicle registration process, attaching the license plate number 62E1 – 234xx (identification for Ms. T.) to another newly purchased motorcycle.
"When I first went through the procedures to register a new car to attach an identified license plate to my wife, I encountered some problems. The system crashed and the license plate did not display for a few days. After, I was able to register, Mr T said… Share.
(TagstoTranslate) license plate identification