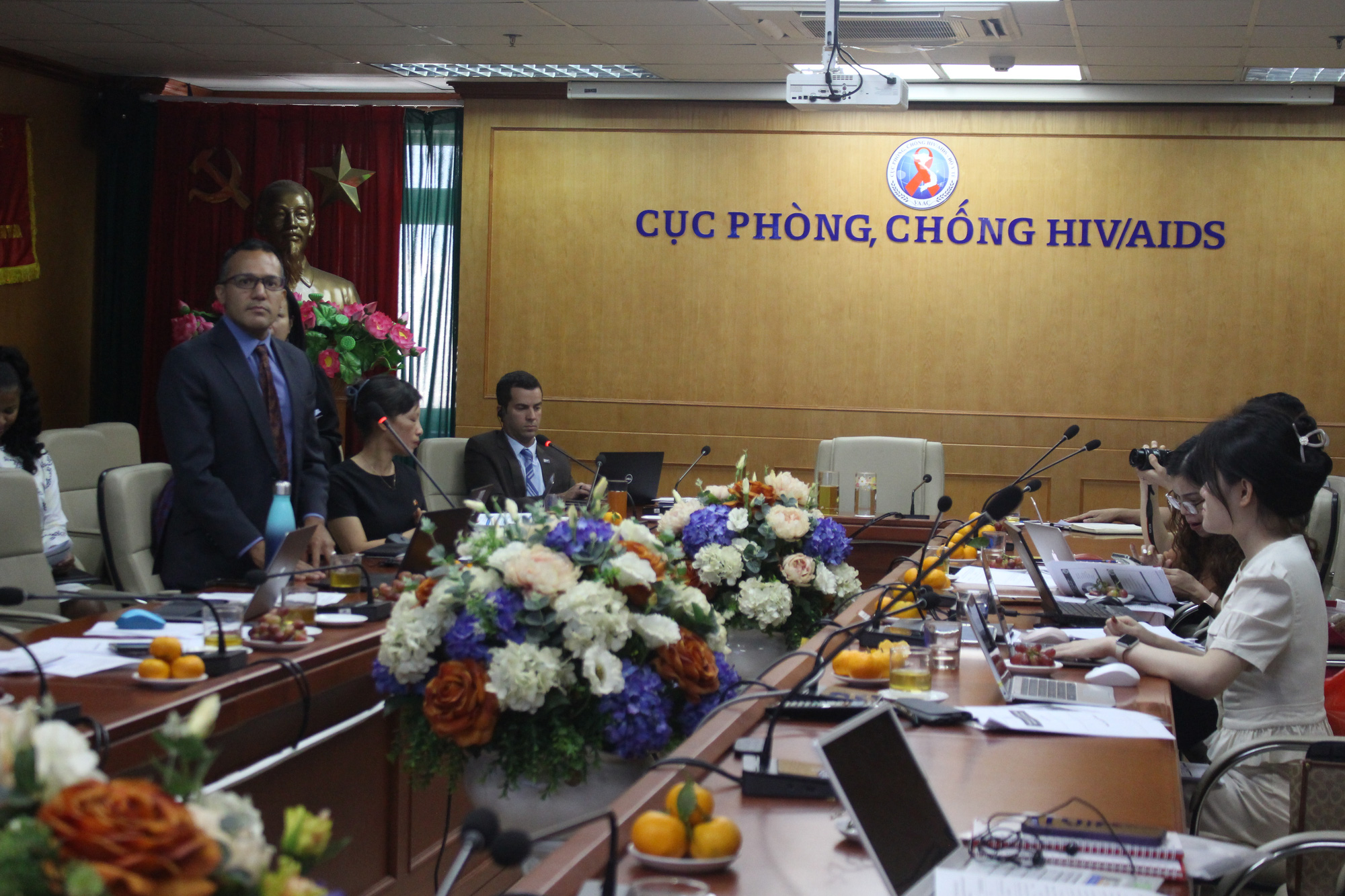 On the afternoon of November 9, the Department of HIV/AIDS Prevention and Control (Ministry of Health) held an event to provide press information on the occasion of National Action Month, HIV/AIDS Prevention and World AIDS Day.
Mr. Vo Hai Son, Deputy Director of the Department of HIV/AIDS Prevention and Control, said Vietnam is facing new challenges in HIV prevention. In particular, there has been a change in disease transmission and an increase in the relapse rate of HIV-infected people.
According to a report by the Department of HIV/AIDS Prevention and Control, 249,000 people are currently estimated to be infected with HIV in Vietnam. In the first 9 months of the year, 10,200 new cases were recorded in the country, with 60% of HIV-infected people newly found in the Mekong Delta, the Southeast, and Ho Chi Minh City.
In particular, the HIV transmission route has changed, from blood transmission being the main route to sexual intercourse now being the main transmission route.
According to Mr. Bui Hoang Duc of the Department of HIV/AIDS Prevention and Control, what is worrying is that the rate of people infected with HIV is decreasing. Notably, people infected with HIV in the 16-29 age group increased from 37.2% in 2019 to 48.7% in 2022. In the first 9 months of the year, this age group recorded 47.3% of infected people.
Furthermore, the number of new HIV infections is predominantly among men who have sex with men, at 49%, while drug users account for only 6%, and sex workers account for 0.5%.
"The disease transmission route has changed, the risk of the HIV epidemic is increasing, especially as HIV-infected people are becoming younger, the trend of the epidemic in the MSM group (men who have sex with men) is clearly increasing. And warnings are increasing. Other groups.
Furthermore, rates of sexually transmitted HIV infection are increasing, and risky behaviors of high-risk groups are becoming increasingly complex, such as using synthetic drugs and using chemsex (using substances during sex ). , group sex,…difficult access to intervention implementation.
Meanwhile, currently, there are still many barriers faced by people living with HIV, especially as discrimination still exists in the community," Mr Duck said.
Many social organizations also organize HIV communication and counseling programs to reach newly HIV infected groups. Among them, there are clinics for Transgender Women's Community Groups (VNUS), or the LGBT community, that provide PrEP (HIV Pre-Exposure Prophylaxis)… to help people in high-risk communities like MSM easily access health services. Let's help.
HIV is no longer a death sentence
Speaking to the press, the US CDC representative in Vietnam said that since HIV first appeared, the whole world has seen many scientific advances in HIV treatment.
"When HIV first appeared, it was considered a death sentence. But now we can consider HIV a chronic disease, patients can live fully with HIV.
HIV prevention methods are considered safe and currently Vietnam is doing a very good job, the work to prevent HIV infection has achieved many results. Treatment will increase and HIV infections will decrease in Vietnam in 2022. This is a good sign and Vietnam needs to move forward.
However, according to reports, there are still 10% of people living with HIV who are discriminated against in the community. This persistent stigma will hinder Vietnam from achieving its goal of eliminating HIV. We need to change community perception in the near future," the US CDC representative shared.
(TagstoTranslate)homosexual intercourse