Dangerous challenge from social networks
Recently, the challenge of breaking the dragon knife (spring folding arm bar) has been widely shared on social networks. Just search the keyword "breaking dragon sword" and you will get thousands of results that are challenging videos. Those seen in the video are only a few years old boys or primary school students.
The folding capacity of these dragon swords ranges from 20 kg to 120 kg. It is noteworthy that many adults carelessly give this spring bar to challenge children who are only a few years old, without knowing that they pose unexpected dangers.
In order to attract views, many accounts on social networks also bring out dragon swords to challenge neighborhood children. Those who can break the dragon sword will receive a reward. Many stores also adopt the challenge trend, arranging prizes for those who break the dragon sword.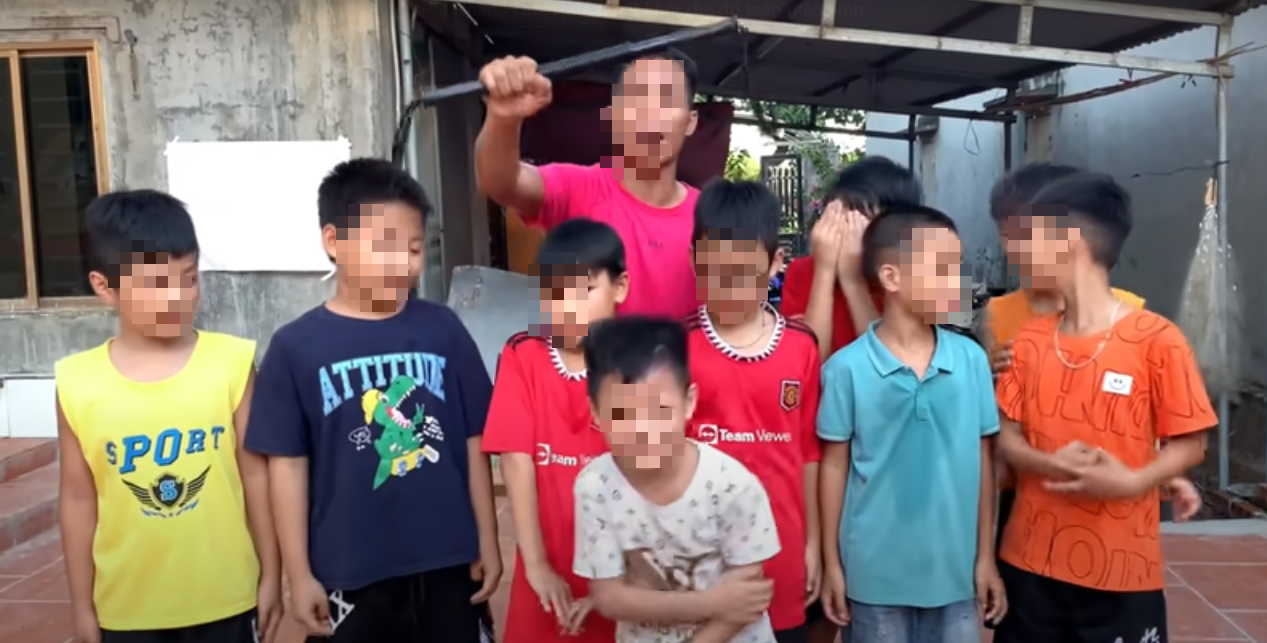 Create a wave of challenges with a seemingly harmless sports training tool. However, many people, especially young children, have suffered injuries as a result of participating in this challenge.
Recently, doctors at the Department of Cosmetic and Maxillofacial Surgery at Hospital E said that they had given emergency treatment to a boy (10 years old, in Bac Tu Liem, Hanoi) who was stabbed in the face with a dragon knife, causing injury. It had started. Critical nose area.
Family members said that the boy met with an accident during school holidays. The boy and his friends were playing with a dragon sword weighing 30 kg, which a friend had brought to the class. While participating in the challenge, a male friend threw a dragon sword at the child's face.
The boy was admitted to the hospital with a swollen face, multiple injuries in the nasal area and a concave deformity in the right nasal area.
This is one of several cases of injuries sustained while participating in the challenge. A video shared on social media shows a picture of a strong young man having a dragon knife thrown at his face, leaving him bleeding from his chin.
There are also cases where the dragon knife hits the mouth and chin area hard, causing serious injuries.
Muscle tears and bone fractures may occur
According to Dr. Nguyen Trong Thuy, former doctor of Vietnam National Team, many people are not aware of the danger of this practice.
"Dragon swords were originally a tool to support sports training for chest and arm muscles. But now, young people are turning to the trend of catching up and challenging each other. It is the ignorance that Caused unwanted injury.
There are also people who give dragon swords to children to challenge them, or children see them on social networks and buy them to use without predicting the dangers," Dr. Thuy said.
According to Dr. Thuy, sports practice requires gradual practice. In particular, for dragon swords, it is necessary to master the technique and practice physical strength. A normal practitioner should practice from small bars to big bars.
Meanwhile, this tool is currently being used for wrong purposes. Not for practice but for challenge. The most common accident when using a dragon knife is improper use, causing the hand to slip, causing the spring to bounce back toward the holder.
In this case, it can cause injuries to the face, head, neck… or when too much force is used at once beyond the limits of the body, it can tear the muscles of the arm, bones of the arm. , can break a shoulder blade…
"These are dangerous challenges so young people need to be careful when participating. In particular, children who do not have the skills and physical strength should absolutely not participate in this challenge to avoid injury and affecting their health. Should not be taken." Health," Dr. Thuy recommended.
(TagstoTranslate)Dragon Sword(T)Social Network(T)Sports Practice(T)Accident(T)Blue Whale(T)Internet Trend(T)Internet Hot(T)Internet Challenge Life(T)Challenge Dragon Sword(T) break dragon sword