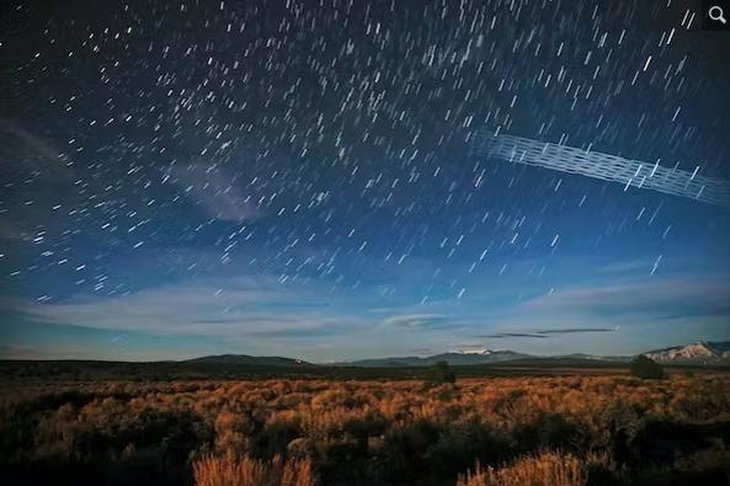 In September 2021, Rwanda – an African country in the top 25 poorest countries in the world – announced that it planned to launch more than 300,000 satellites.
Three months later, a Canadian company, which had launched the first 20 CubeSats, said it would launch 100,000 more satellites. Later a French company also did the same.
And SpaceX, which has launched about 5,000 satellites, now plans to launch more than 60,000.
According to The Conversation news site, before launching a satellite, a country or company must submit its satellite system project to the International Telecommunication Union (ITU) so that the agency can coordinate radio frequency spectrum for satellite operators.
This filing was made several years before the satellite's launch, so ITU had time to monitor coordination between different satellite operators and ensure that new satellite signals did not dominate existing signals.
"Satellite Jam" in orbit.
A new Policy Forum article published in Science magazine shows that between 2017 and 2022, countries have applied to launch 1 million satellites on more than 300 different systems. In this, many satellites operate together, which is called satellite constellation.
This phenomenon creates two interrelated problems.
First, if many of these satellites were actually launched into orbit, it would cause an environmental crisis through thousands of launches and Earth's orbit would become increasingly crowded.
Second, operators apply to launch more satellites than they plan. There are two understandable reasons here: either they want to hedge risks and attract investor attention; Or worse, they "share" the radio frequency spectrum to resell or sublease it for profit purposes.
After careful investigation, the International Telecommunication Union found the second possibility to be the most realistic.
In fact, if only 10% of the registered satellites were launched, even low Earth orbit would become overcrowded, with over 100,000 additional satellites.
Collisions between satellites would spread space debris, which would burn up as they reentered the atmosphere, potentially affecting the climate, while suspended debris could hit aircraft.
However, the story here may be more mundane, in the sense that satellite operators are manipulating the numbers to defraud investors. Take the French company E-Space as an example. The company is behind a constellation of 337,320 satellites to be sent over Rwanda in 2021 and a constellation of 116,640 satellites to be sent over France in 2023.
The company's CEO Greg Wyler claims they plan to launch "at least 30,000 more satellites", while their product development director says "just a few thousand." Which of these is real?
Big words for renting a place in heaven
There are further signs that companies are trying to take advantage of the ITU system.
OneWeb, which has 634 satellites in orbit, has applied for an additional 6,118 satellites in three countries: Mexico, France and the UK.
SpaceX has applied in the US, Norway, Germany and now the island nation of Tonga.
It is not clear why this happens, but all of these countries have different administrative rules, and different fees associated with satellite registration.
Tonga, an island nation home to only a million people, is currently home to 29,998 SpaceX satellites until October 2023. In the 1980s, they applied for 16 satellite slots, eventually winning nine, and immediately leased them to foreign operators.
Other satellite operators were not happy, with one operator even moving his satellite to a location in Tonga in protest. However, Tonga has earned several million dollars through this lease.
International Telecommunication Union (ITU) – an agency of the United Nations and predates the United Nations, being the organization's oldest agency.
Every three to four years, the alliance's 193 member states meet at the World Radiocommunication Conference to discuss and adopt new rules.
In 2019, member countries agreed to create "milestones" for the deployment of the satellite constellation: registered countries must deliver 10% of satellites within 2 years of first launch, 50% within 5 years, and all satellites within 7 years. The group needs to be launched.
However, the first satellite could be launched seven years after the application was filed, giving companies significant time and flexibility.
From 20 November to 15 December 2023, ITU member states will gather in Dubai to participate in this year's World Radiocommunication Conference.
(TagstoTranslate)Satellite(T)Orbit(T)Radio Frequency(T)Environmental Crisis(T)Investors