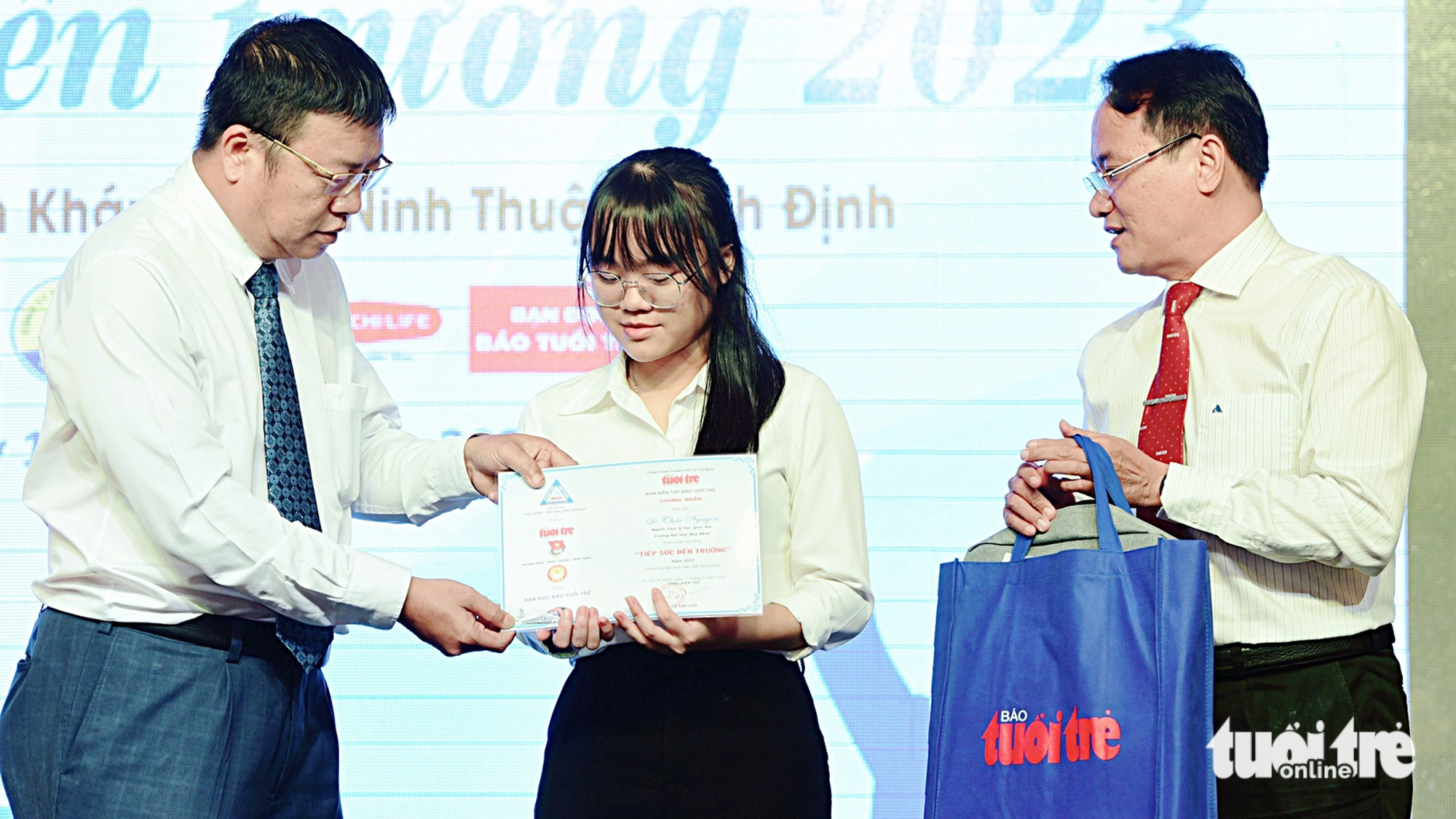 The awards ceremony was organized by the Tuoi Tre newspaper in coordination with provincial unions. Which includes 48 scholarships (VND 15 million/ticket) and two special scholarships (VND 50 million/four years) to help new students overcome difficulties and realize their dream of studying abroad.
Mr. Nguyen Hoang Nguyen (Deputy Editor-in-Chief of Tuoi Tre Newspaper)
"No one drowns in their own sweat and tears"
The story of two new orphan students, Ngo Thi Hong Hanh (Nha Trang University) and Le Van Si (Khan Hoa Medical College), moved many to shed tears of sympathy at the awards ceremony. His father died when both Han brothers were young and his mother passed away from heart disease. Hanh lives with a kind neighbor, Mrs. Ngo Thi Bay, who took care of her friend.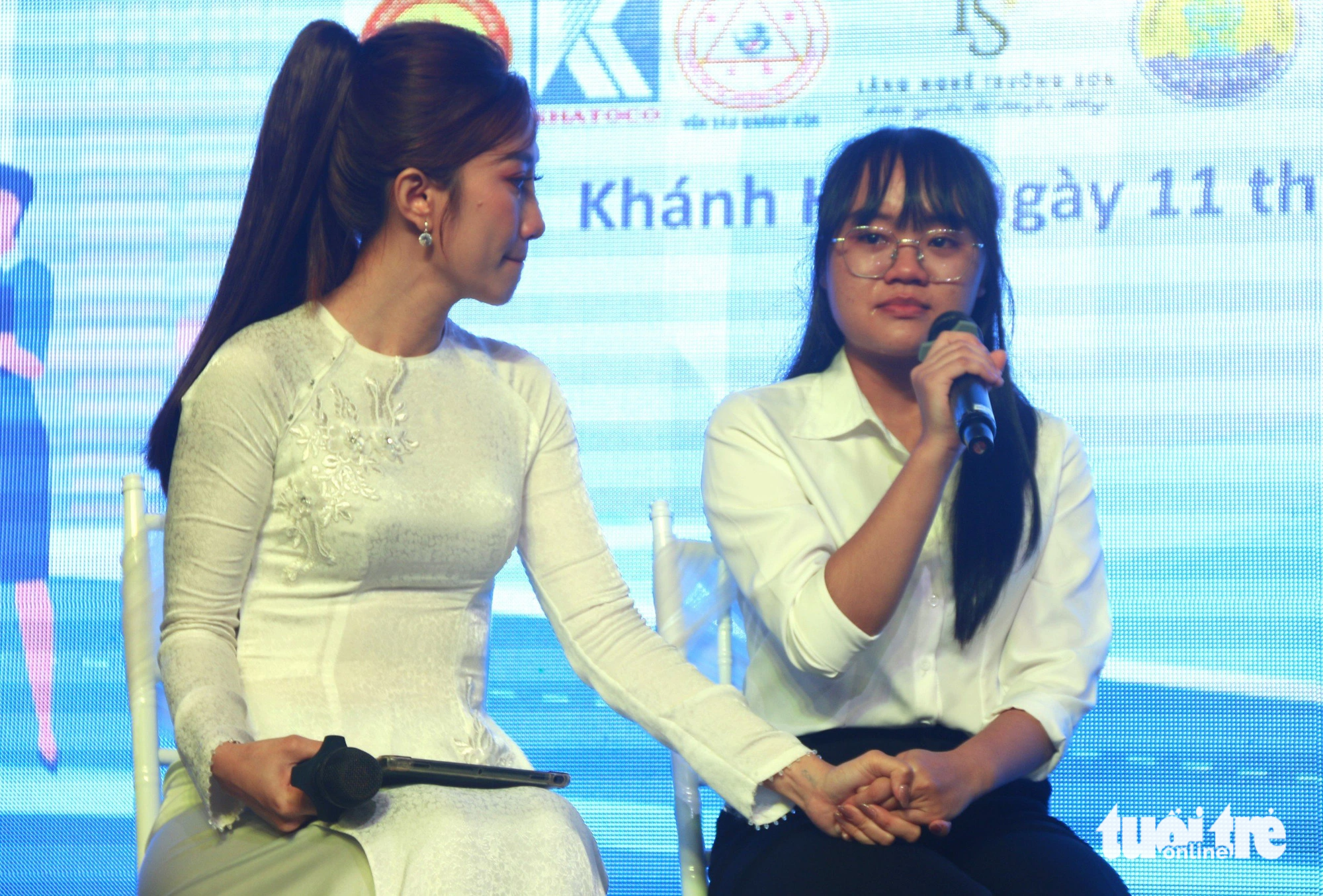 Hanh rarely shows her sadness outwardly. Tears are often kept to ourselves. Instead, people see that she is always optimistic and continues to strive.
Hanh tells the story of Thomas Edison trying out his 10,000th light bulb to remind himself that he must work hard every day because innate talent is only 1% and 99% is sweat and tears.
"This is also the motivation for me to strive every day because no one can put up with my sweat and tears. Looking back, I still feel lucky that I have enough strength and intelligence to study, that "I still have people who love you." Hanh shared.
Hanh said that Mrs. Bae was like his second mother. Mrs. Bae wiped away her tears and admitted that she felt lucky to be able to take Hanh home because he was both hard-working and obedient. But life was so bad that once Hanh asked for money to learn English but she could not afford it. At the time, she said she was very sad and wanted to help but didn't know how.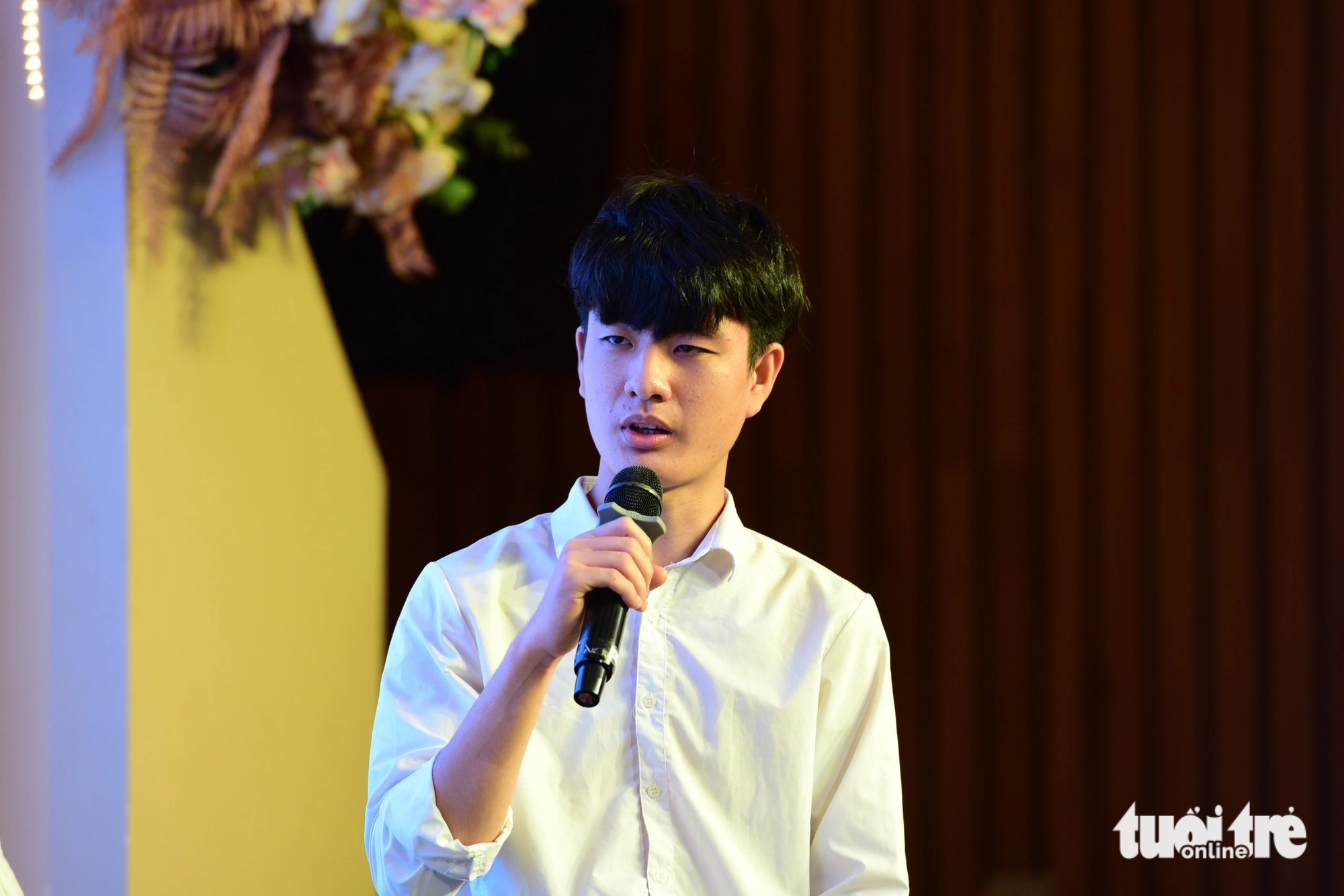 Meanwhile, Le Van See lost both of his parents in an accident 13 years earlier. His grandfather raised the four brothers single-handedly, trying to compensate for the love of his poor grandchildren. "When I entered school, my grandfather had to borrow money from many places. At that time, I was planning to leave school to work, but I thought I had to try my best to study so that "I can repay my grandfather for his kindness and take care of my younger brother," said Sai.
Say wants to become a dentist, later open a dental clinic and spend part of the profits to help students in difficult situations like himself.
Hong Hanh came to the lecture hall to fulfill her dream of becoming a pharmacist to find a medicine to cure heart disease patients like her mother, and also to fulfill a promise she made to her brother , who is currently doing military service and gave him the opportunity to continue. I am working. Study for my sister.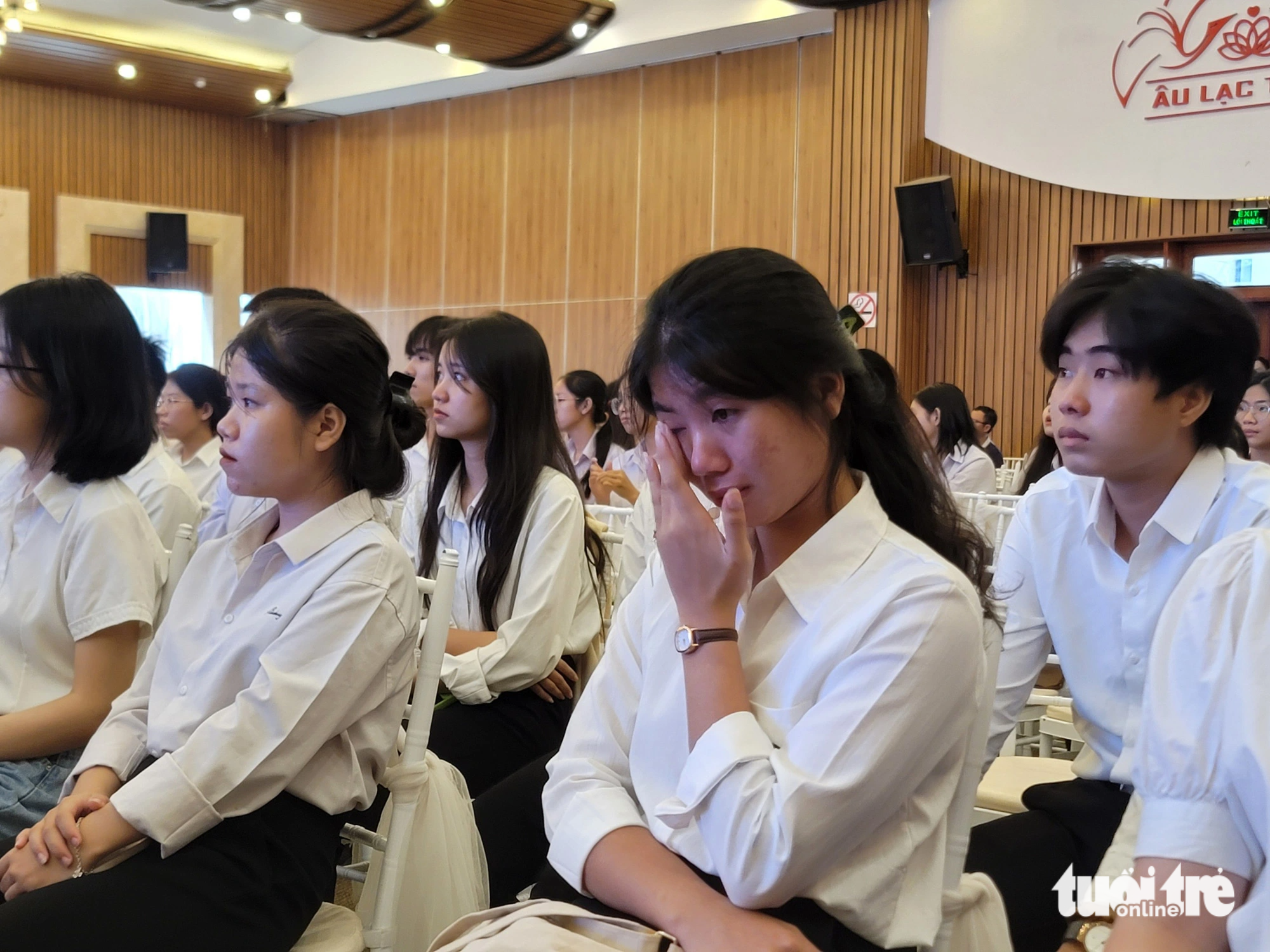 Let's empower the next generation
Encouraging the new students, Nguyen Hoang Nguyen, deputy editor-in-chief of Tuoi Tre newspaper, said the gratitude in scholarships goes beyond the material benefits they receive. It is about giving confidence and hope to the youth who know how to strive for excellence.
Journalist Hoang Nguyen said, "Proceed toward success with flexibility because you never surrender to fate."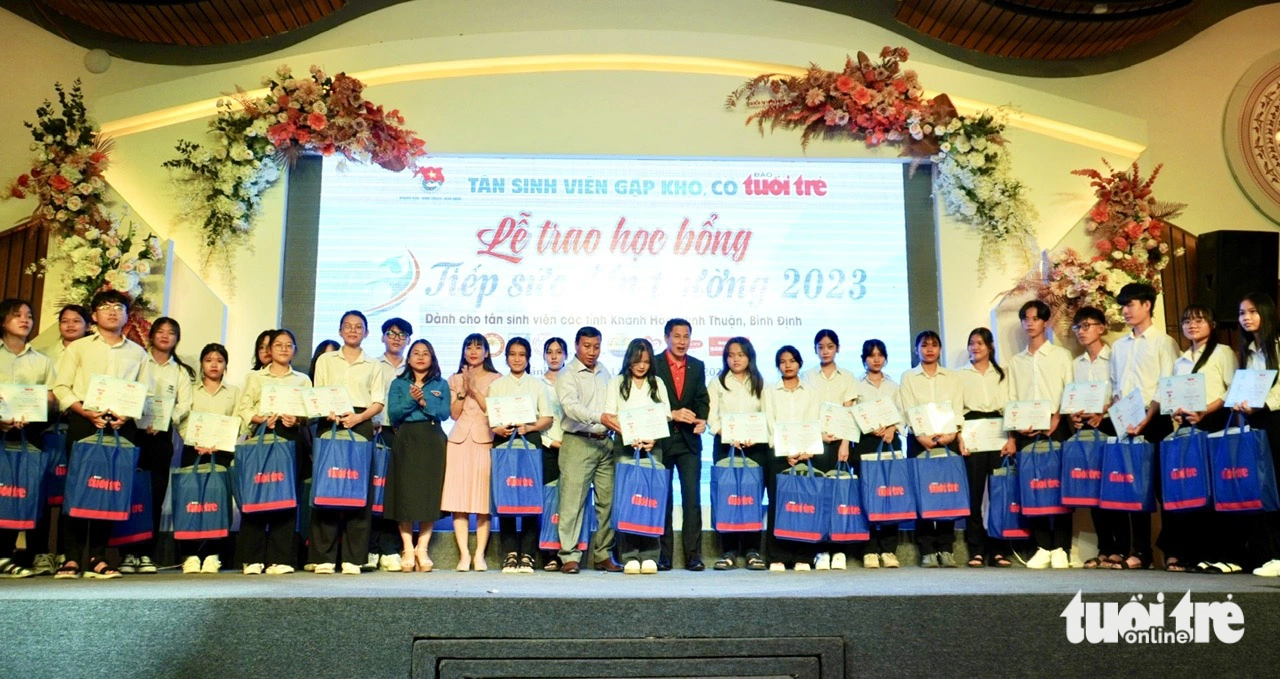 Ms. Trinh Thi Hong Van, Deputy General Director of Khanh Hoa Bird's Nest Beverage Joint Stock Company and Chairman of the Board of Directors of Khanh Hoa Bird's Nest Beverage Joint Stock Company, said the unit's representative accompanying the program through several scholarship award sessions. The company said it will continue to support new students and students in difficult situations who need help so that they can feel confident and have more tools to enter life.
Mr. Dinh Van Thieu, Vice Chairman of Khanh Hoa Provincial People's Committee, evaluated the program relay for school Tuoi Tre newspaper has been an inspiration and enthusiasm for generations of students. "The program has given the new students pride in their studies and the will to overcome difficulties in order to firmly face the great responsibility of the intellectual team in front of the coming scientific horizons." – Mr. Thieu said.
A special gift for Le Van C
What was special at the scholarship award ceremony brought tears to the auditorium when, in addition to the special scholarship, Ms. Bui Thi Dung – President of Anna Dental Company – decided to support all of Le Van See's study expenses during his time Did. Studying Dental Prosthodontics at Khanh Hoa Medical College.
Receiving the unexpected gift, Cy said he had never seen his dream of becoming a dentist come so close.
(TagstoTranslate)School Support(T)New Students(T)Scholarship Awards(T)NGO Thi Hong Hanh(T)Nha Trang(T)Han Hoa(T)Binh Ping(T)Ninh Thuan