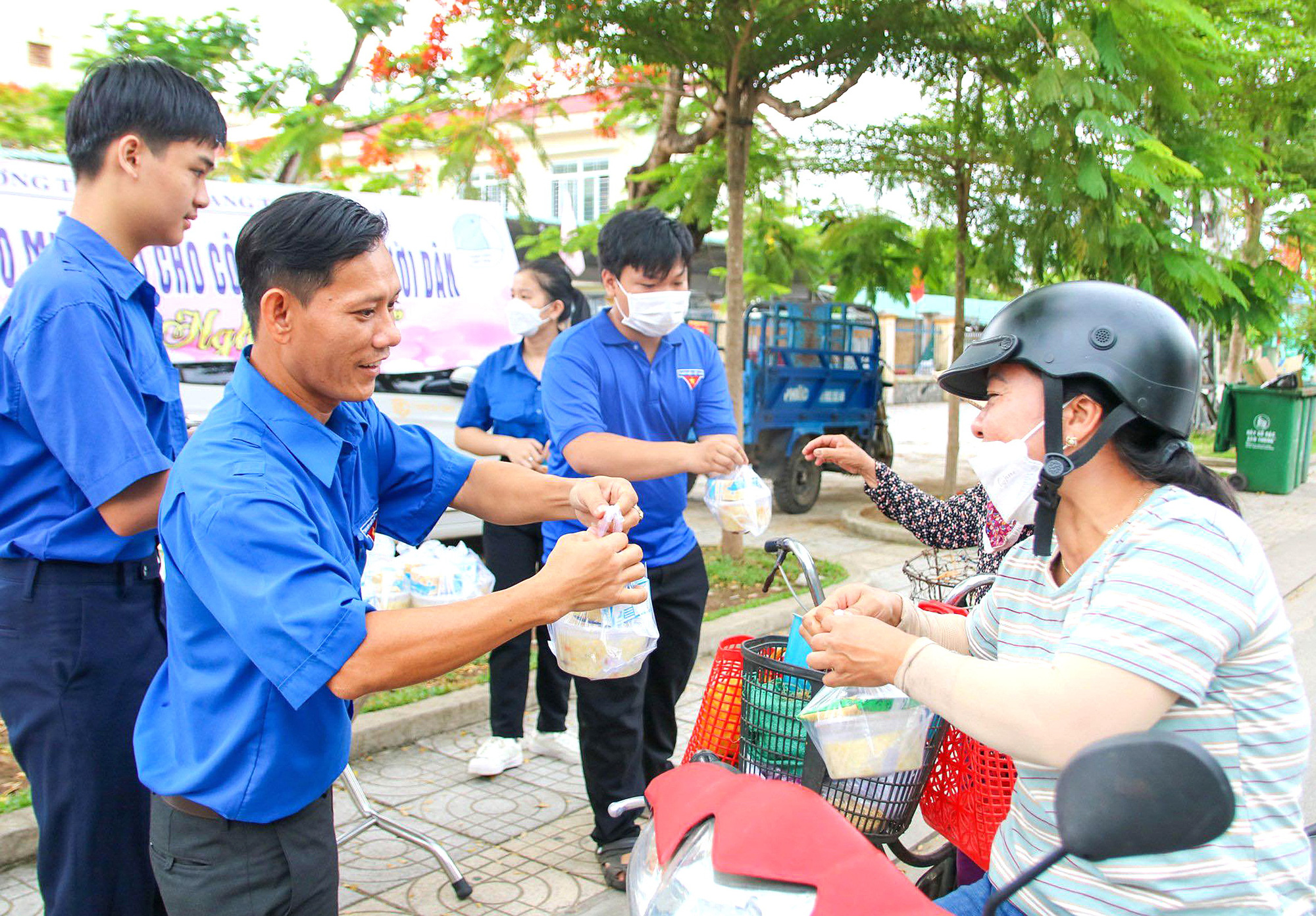 But he asked the question, "Why not do something for a more stable source of wealth?"
Create a stable source of money
The question was to find a solution, but the problem of 'something' remained stuck for a long time. By 2020, Mr Than met union members with a shared heart and desire to start businesses in the ward. They found each other and shared the same direction.
The vacant land located on Nguyen Van Linh Street (Truong Quang Trong Ward) has been vacant for a long time and has been encroached upon, making management difficult. People constantly contemplate how to solve this environmental black spot.
Mr Than sought permission to open a café and restaurant here to generate employment for youth, funds for volunteer activities, and is also a way to completely treat pollution. The government and the public unanimously support it.
In 2021, the shop was opened with the name "Doan Vien" by youth with entrepreneurial spirit. Mr Than said that reunion has two meanings – a reunion and a reunion; The second is a shop set up by youth union members.
This shop provides regular jobs to more than 20 youth. Mr. Than is happy with this.
"From the very beginning, what I hope most for is to create jobs for many young people, thereby making the union movement a reality. Many students have difficulty going to school and working part-time." Here, instead, I can support myself without worrying about troubling my parents," Mr Thanh said.
Do Dinh Nhat (Tinh Ha Commune, Son Tinh District) have a hard life, their parents are farmers, work hard in the fields yet there is not enough to survive. Over the past year, Nat has been given the best possible conditions to study and work.
"I don't ask my parents for money anymore, I bear all the expenses for my studies and living by myself. Mr. Thanh creates a lot of conditions for me, school hours are not fixed, so whenever I go to school "I go to school, and when I can't study, I go to school. When I study, I go to work. Here I also learn to love and share with my brothers and sisters," Nat said.
Doan Vien coffee shop is also a destination for poor workers every morning. There the poor will be given free breakfast and drinks.
In turn, those mornings are also filled with philanthropists who come to drink coffee and donate to help maintain the 0 VND breakfast. Just like that, the shop became a sharing point for many people.
humanities
From the Doan Vien restaurant, the Doan movement spread, with many young people uniting to do kind deeds with their strength. The sports movement in the ward is growing day by day.
Sri Thanh and the ward's Vietnam Youth Union organize swimming classes, football, badminton, martial arts classes to equip children with the necessary skills. The person teaching the class is a volunteer who has graduated in physical education and sports but does not have a steady job.
"The brothers have a high income, and support opening free swimming classes for children in difficult situations. Thanks to a team of qualified teachers, popularizing swimming and water survival skills for children in the ward, teaching them systematically are taught. We are trying to popularize swimming for children in the entire ward through these free swimming classes," said Mr Than.
This enthusiastic young union secretary is very happy when the income of workers from self-started business model is increasing day by day (from 2.5 to 10 million VND/month).
Positive energy can be easily seen among the youth at the shop. Apart from youth association work, Mr Thanh is also passionate about social security and volunteer activities.
Every month, he deducts a portion of the shop's expenses to the For Dear Juniors Fund to share with difficult and disabled students.
Now, volunteer funding is more active than before, which Mr Than is happy with. When he heard that there was a difficult situation in the ward, he immediately came for support.
Many needy families who received assistance compared it to a lifeline for a drowning person.
Ms. Pham Thi Suong (Truong Tho Tai Bi Residential Group, Truong Quang Trong Ward) has a 5-year-old daughter who suffers from epilepsy. The house is crowded, but she has to stay at home to take care of the children, and her income depends on her husband's meager salary.
Knowing his family's situation, Mr Thanh and the ward's union members and youth would regularly visit, encourage and give gifts.
Ms. Suong said, "I am grateful for the help the Doan Vien Restaurant brothers gave my family. In order to have money to help me, they brought coffee, stayed late and got up early every day."
More than 30 blood donations
During so many years of working with the youth association, Thanh has participated in blood donation to save lives. Till now, he has donated blood more than 30 times voluntarily, regularly and at times unexpectedly, to provide emergency care to patients.
From this blood donation leader, the blood donation movement in Truong Quang Trong Ward has always grown.
"I am still young, whatever I can do, I will try to do. I hope everyone will do the same. If we have health, we should give it away because with every drop of blood We donate, we work together with doctors to save a life," Mr Thanh said.
(TagstoTranslate)Sharing Coffee(T)Trung Truong Quang Trong Ward(T)Quang Ngai