Sheet israel time On 13 November Minister Gallant was quoted as saying: "No Hamas forces can stop the Israel Defense Forces (IDF). The IDF is attacking everywhere. Hamas has lost control of Gaza, gunmen move southwards." "Civilians are fleeing, controlling Hamas bases. They have no confidence in the Hamas-led government."
According to Mr. Gallant, Israeli forces are "attacking according to plan and executing tasks precisely and decisively."
Referring to the fact that Israeli Foreign Minister Eli Cohen had previously said that international pressure could force Israel to change its actions in Gaza, the Israeli Defense Minister stressed: "We have a goal. We will achieve their goals".
Mr. Gallant said the IDF had in recent days "intensified" its operation to clear Hamas' tunnel matrix in order to free the 239 hostages held there, as hopes of a deal with Hamas dimmed. Are going.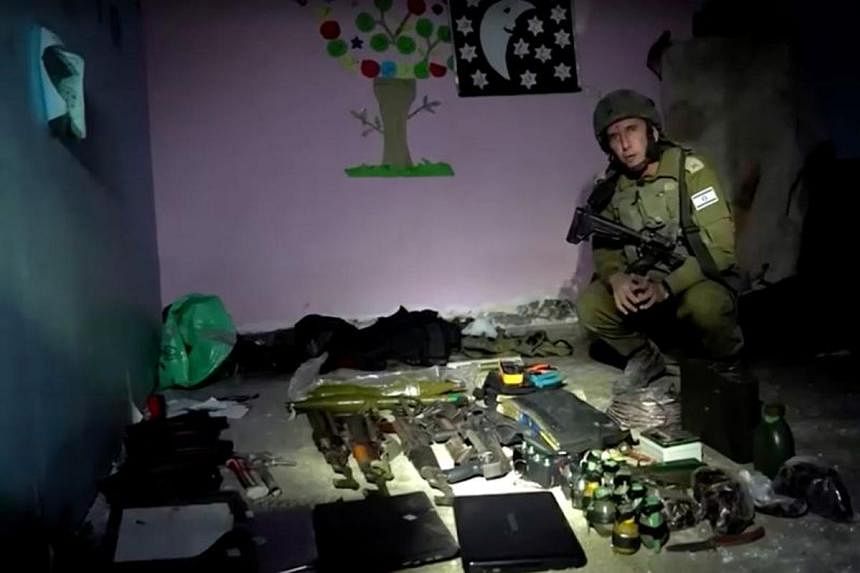 The Israeli military said in video and photographs that the basement of a children's hospital in the Gaza Strip contained weapons stored by Hamas. Photo: Reuters
According to Mr. Gershon Baskin, an Israeli negotiator, efforts to negotiate the release of the hostages on 7 October are approaching a "critical moment". He told The Times, "Within the next few days or hours, if there is no agreement to release the hostages, a military operation will begin targeting places where the hostages may be held."
Since October 27, the IDF has been conducting ground operations in the northern Gaza Strip to destroy Hamas and rescue hostages.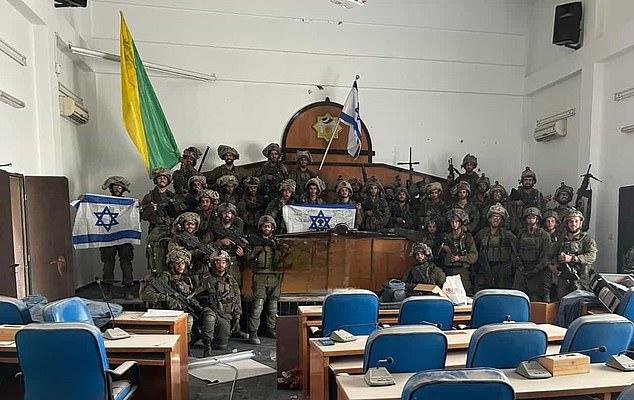 A photo shows soldiers with guns and Israeli flags inside the Hamas legislature in Gaza City. Photo: Daily Mail
Meanwhile, information emerged that Israel appeared to have captured the Hamas legislative building in Gaza City. Sheet daily Mail The news was accompanied by a photo on November 13 that showed soldiers with guns and Israeli flags inside a room.
IDF told daily Mail The authenticity of the photo has not yet been determined. However, a spokesperson said: "We have no reason to think the photo is not genuine."
Also on November 13, the Israeli military shared video and photos of what they believe to be weapons stored by Hamas in the basement of a children's hospital in the Gaza Strip. Israel also said it appeared that hostages were being held there.
IDF spokesman Rear Admiral Daniel Hagari said the military found a command center with a cache of weapons, including grenades, suicide vests and several explosives, stored by Hamas in the basement of Rentisi Hospital (a hospital specializing in treating pediatric cancer patients).
The scene in the video appears to be a simple living area, consisting of a small kitchen as well as a nearby tunnel, which Daniel Haghari said leads to the residence of a senior Hamas naval commander .
Mr Daniel Hagari said in a televised press conference: "We also have indications that Hamas has taken hostages here. We are confirming it. But we also have intelligence to confirm it."
The army found a motorcycle riddled with bullet holes, which had apparently been used to transport hostages to Gaza after the October 7 surprise attack.