After more than a month of conflict between Israel and the Hamas movement in the Gaza Strip, the Vietnamese community in Israel is still safe as they live in areas far from the conflict zone. In Israel, about 500 migrants live permanently and about 200 do short-term work and study.
Although the road ahead is full of difficulties, we still encourage each other: everything will be fine! My husband's parents also travel more than a hundred kilometers to meet their children and grandchildren.
We are worried about him because his home is just 10 km from the Lebanese border. Every day we would beg our grandparents to stay with us for peace of mind, but all they replied was that they would come home if needed. From the day the struggle began till now, he has always encouraged me, not the other way around.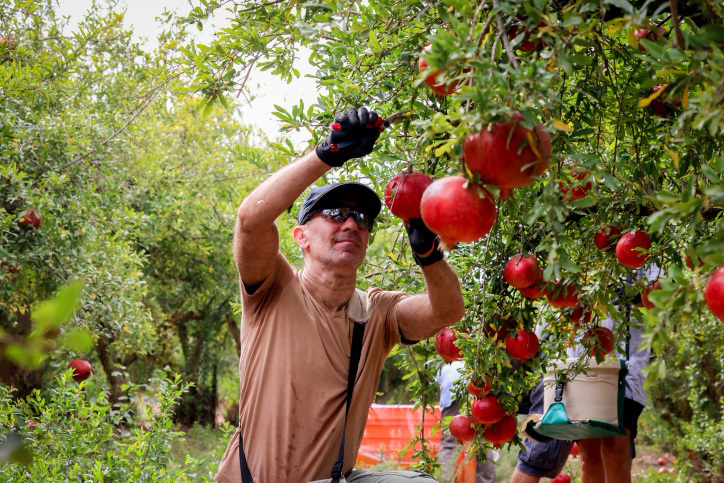 Urban people in Israel volunteer to help farmers harvest pomegranates in Kfar Menahem. Photo: FLASH90
It will take a long time for life to return to the way it was before October 7, 2023. But everyone has to move forward. Students returned to school several days early, only to learn another activity that no one expected: how to avoid a rocket! Adults also continue to work.
As conflict broke out, approximately 22,000 Palestinians were not allowed to work in Israel and several thousand Thai workers returned home during the harvest season for many products. Thus a massive volunteer campaign began. A few days ago, my husband and his team at a high-tech company had gone to harvest pomegranates for farmers.
Saving agricultural products generally does not have much impact on life, not only the results are not wasted but also the value added as well as the shortage of vegetables, tubers and fruits in each family can be avoided.
The Liaison Committee of the Vietnamese Embassy in Israel and the Vietnamese Association in Israel recently held an online meeting, connecting representatives of the Vietnamese community living, studying and working from the North and Central regions to the southern part of Israel.
Media agencies were also participating in the meeting. At the meeting, a group of agricultural trainees living near the Sredot area in the south, near the border with Gaza, told stories of the early days of the conflict. To date, 15 trainees have been provided assistance to move to safe areas. Some other overseas Vietnamese and trainees also spoke about their concerns after hearing the rocket sirens, but now they are more confident.
We are all happy to hear that our Vietnamese people are safe. Ms Son Nguyen, an overseas Vietnamese who runs a restaurant in downtown Haifa, said her life has not changed much because it is far from the conflict zone. However, business and income have declined as Israelis have limited their going out.
Vietnamese Ambassador to Israel Le Duc Trung informed us that although the situation is currently quite safe, one should always prepare for the worst if the conflict spreads out of control. At present, foreign airlines have stopped operating in Israel.
One of the plans being prepared by the embassy is to help people get to a safer area by road across the Jordanian border. Of course, this is just a casual situation and no one wants that to happen.
Truly, all we wish for right now is peace and good health!