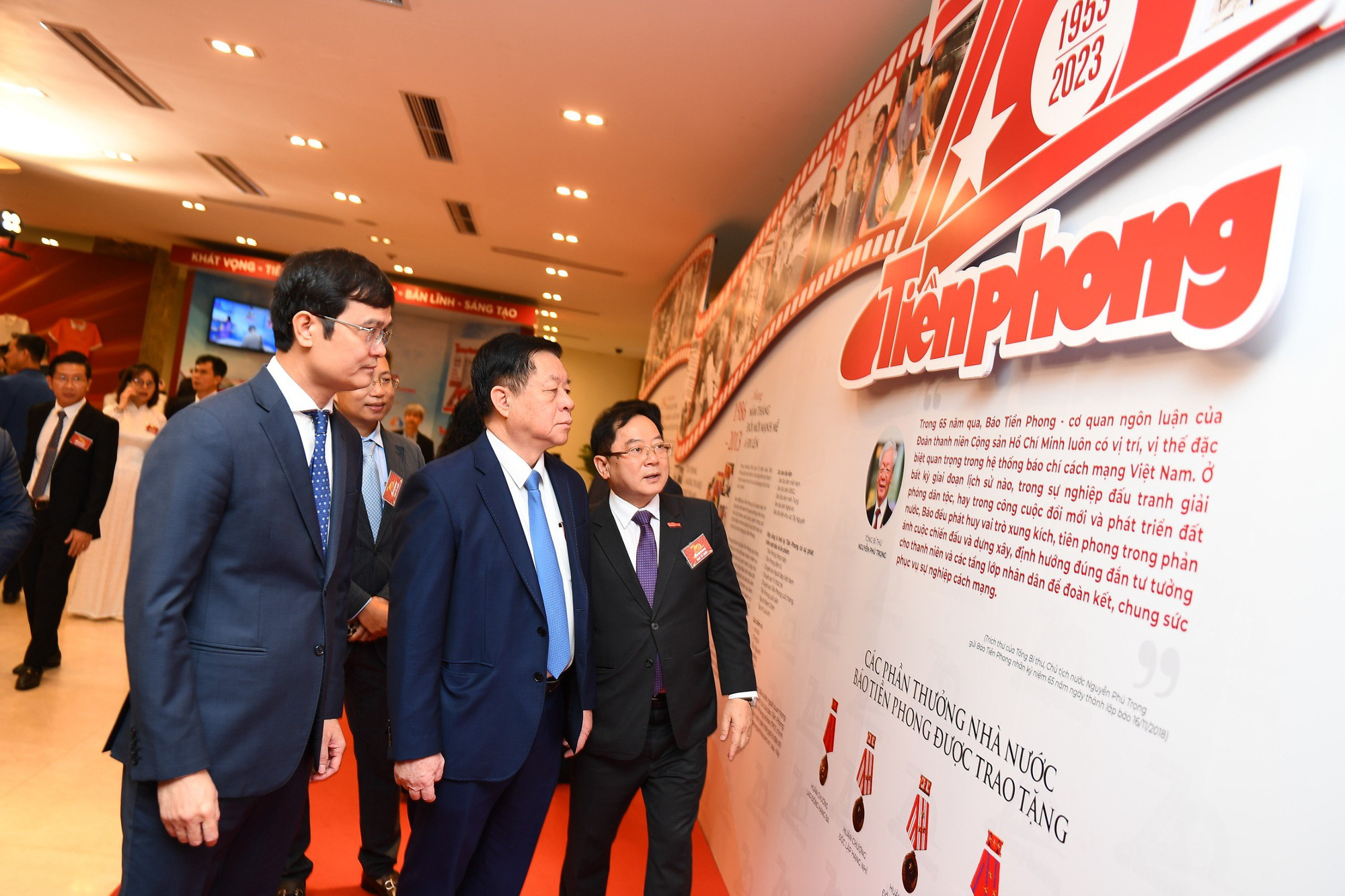 Hanoi, November 16, newspaper Tien Fong – The Central Agency of the Ho Chi Minh Communist Youth Union held a ceremony to celebrate the 70th anniversary of the newspaper Tien Fong First issue published.
Newspaper of November 16, 1953, exactly 70 years ago Tien Fong Under the direct direction of Comrade Nguyen Lam – Secretary of the Central Youth Union at that time, published the first issue of the newspaper in Don village (Than La Commune, now Minh Thanh Commune, Son Duong District, Tuyen Quang Province).
Four black-and-white pages were printed in the first issue. The editorial appeared on the front page of the newspaper: "I would rather die than join the enemy's army"President Ho Chi Minh's letter to French youth…
Newspaper on the occasion of 70th anniversary Tien Fong Received a basket of congratulatory flowers from General Secretary Nguyen Phu Trong; President Vo Van Thuong; Prime Minister Pham Minh Chinh; Vuong Dinh Hue, Speaker of the National Assembly.
President Vo Van Thuong also sent a letter praising the newspaper's staff and journalists Tien Fong Told about the achievements and tasks assigned to the newspaper in the new era.
Attending and speaking at the festival, Mr. Nguyen Trong Nghia, Head of the Central Propaganda Department, sent his greetings to generations of officials, journalists and newspaper staff.
He recalled that at the 12th Congress of the Ho Chi Minh Communist Youth Union, General Secretary Nguyen Phu Trong made a statement affirming that youth are a great social force, the pillars of the country, the owners of the country's future. This is a shock. The force in building and protecting the fatherland is one of the factors determining the success or failure of industrialization, modernization, international integration and the building of socialism.
To do this, the head of the Central Propaganda Department said that it is necessary to promote propaganda work, including the role of the press. Newspaper Tien Fong We need to be leaders in implementing this mission, spreading and awakening the power and mission of the young generation.
He also stressed that the press needs to continuously innovate and have new thinking in propaganda work, ethics and lifestyle, especially oriented towards patriotism, self-respect, national pride and the desire to build a developed country. The task of awakening should be given importance.
"As we enter a new era, I am eager to announce that Tien Fong Continue to strive to be worthy of becoming the newspaper of the Vietnamese Youth Forum – Ho Chi Minh Communist Youth Union.
Every news article in the newspaper should come from "pure heart, sharp pen, great ambition", which articulates great humanity, highlights kindness, resonates strength, spreads good things in the society, the young generation Guides to remain steadfast on the path. Socialism, towards a bright future.
Every officer, reporter and editor of the newspaper tn phoneWe must constantly train to have strong political courage, moral purity, professional expertise, impartiality, courage, boldness in our work, and mastery of science and technology in journalistic activities." – Excerpt of the President's letter to newspaper officials and journalists Tien Fong,
(TagstoTranslate)Pioneer Newspaper(T)President of the country(T)Vo Van Thuong(T)Chief of the Central Propaganda Committee(T)President Ho Chi Minh