President Zelensky made the announcement on the Telegram messaging application on the morning of 16 November and posted a short video of his meeting with Mr Cameron. The Ukrainian leader also posted a photo of himself and Mr Cameron shaking hands.
The President of Ukraine said that both sides discussed providing weapons. Mr Zelensky announced on social networks: "Weapons for the front line, strengthening air defence, protecting our people and critical infrastructure. I am grateful for Britain's support."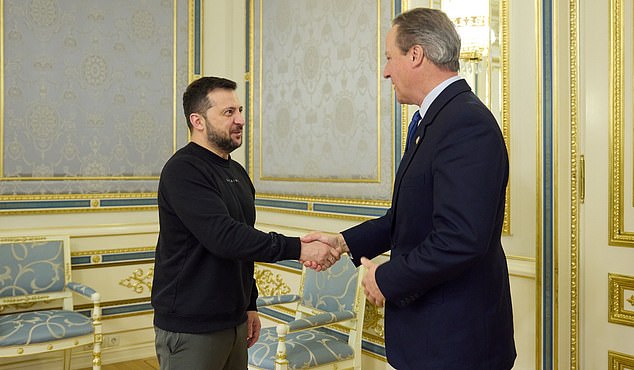 Ukrainian President Volodymyr Zelensky shakes hands with new British Foreign Secretary David Cameron on November 16. Photo: Daily Mail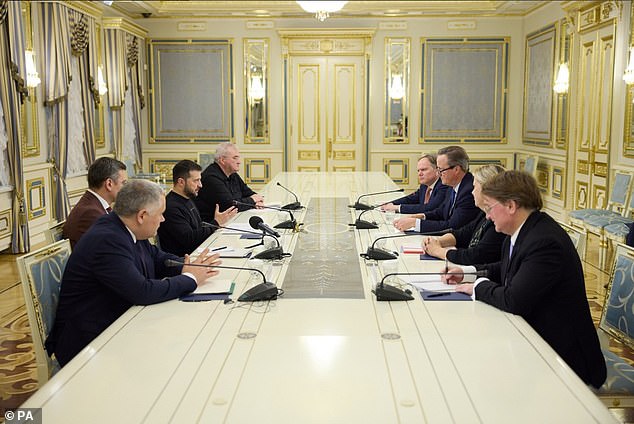 Mr Cameron's visit to Kiev is aimed at demonstrating Britain's continued support for Ukraine. Photo: PA
Meanwhile, the British Foreign Secretary said in a video posted by President Zelensky's office that he had "long wanted" to emphasize London's support for Ukraine.
Mr Cameron said: "What I want to say when I'm here is that we will continue to support you mentally, support you diplomatically, support you economically, but above all financially Will support you. The military, not just this year and next year."
Mr Cameron joked about his "disagreements" with former Prime Minister Boris Johnson, but said supporting Ukraine was the "best thing" Boris Johnson's government has done.
The new British Foreign Secretary said: "I want this to be my first visit. I personally admire the will and determination of the Ukrainian people."
Mr Cameron's visit to Kiev was unannounced. according to the newspaper IndependentThe visit aims to demonstrate the UK's continued support for Ukraine. British Prime Minister Rishi Sunak once pledged that Britain would maintain support for Ukraine, following in Mr Johnson's footsteps.
Mr Cameron is also planning to visit Israel as soon as possible due to the unstable situation in the Middle East.
British Prime Minister Rishi Sunak appointed former Prime Minister David Cameron as Foreign Secretary in a cabinet reshuffle on November 13.
Hue Binh