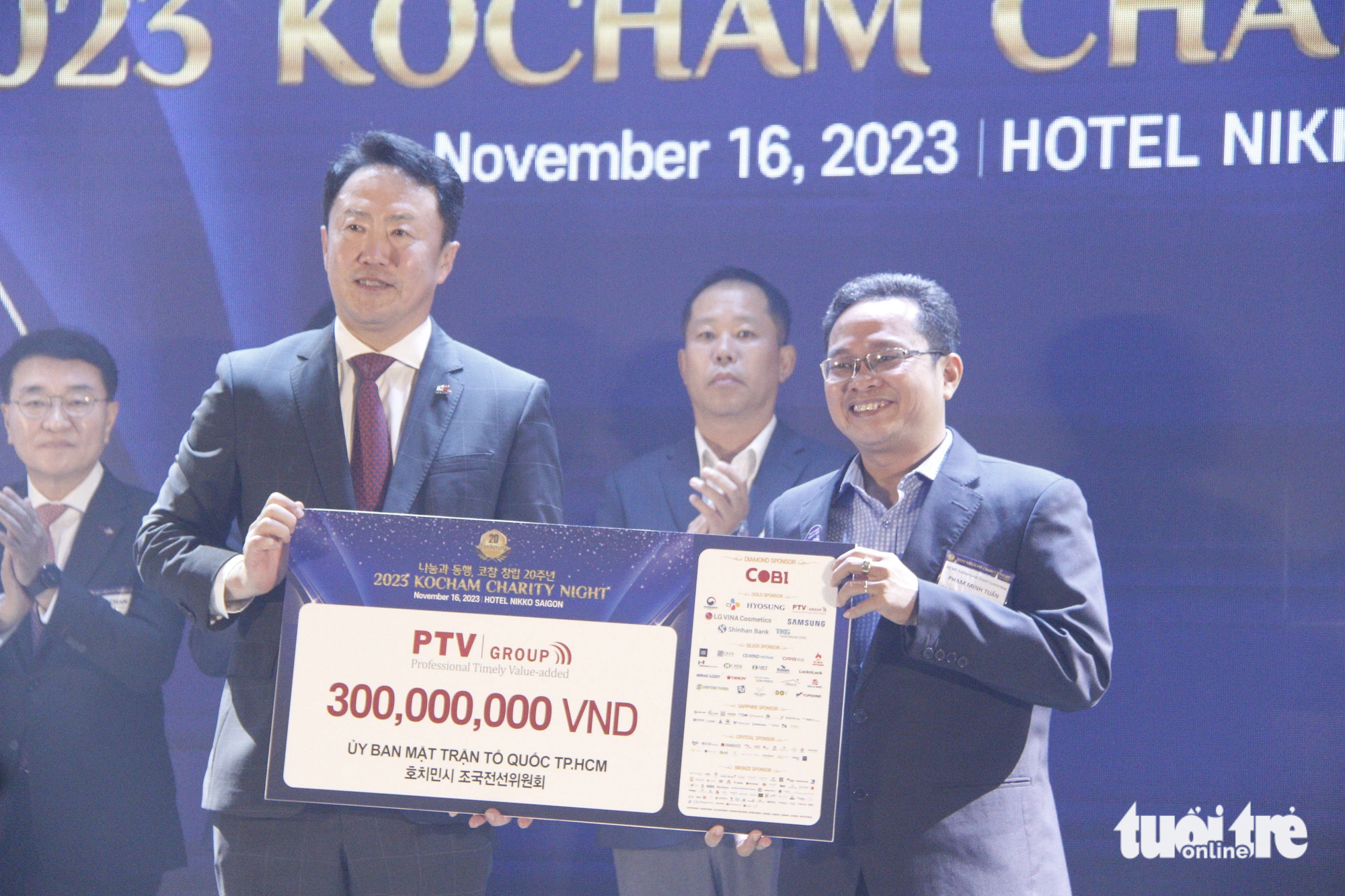 active in social responsibility
Mr. Kwon Soon Chil described the Kocham Charity Night 2023 organized by the Korean Chamber of Commerce and Industry (Kocham) as an intense event.
According to him, the world economic situation is unstable due to conflicts, businesses are going through tough times, there is slow growth due to low interest rates and trade wars.
Thanking the businesses, the Korean Deputy Consul General in Ho Chi Minh City said that even though they are in a difficult economic context, they still actively participate in social responsibility activities and support friends in difficult situations. . More difficult.
The Kocham Association serves as a bridge to convey the voices of Korean businesses in Vietnam to Vietnamese government agencies.
At the same time, it actively contributes to improving the business environment, ensuring the interests of businesses and their trust, which forms the foundation of friendly cooperative relations between Vietnam and Korea.
"In the spirit of love, sharing and caring, Kocham has actively carried out corporate social responsibility activities year after year," he said.
efforts to develop vietnam
Kocham President Mr. Choi Bun Do shared that Korean businesses are community-conscious.
Since its establishment in 2003, the association and the Korean business community have held an annual charity night with many sharing and cooperation activities with Vietnamese society.
Over the past 20 years, Kocham has become a symbol of its contribution to improving the business environment in Vietnam and embracing Vietnamese society based on the support and encouragement of Korean companies operating in Vietnam.
In recent years, there has been a focus on programs to provide scholarships to encourage study in Vietnam for future generations.
"The business community of the Korean Chamber of Commerce and Industry will always play a great role in the process, cooperation and development between the two countries.
At the same time, we will sincerely try our best to promote cooperation with Vietnamese entities and organizations," said Mr. Choi Ban Do.
More than 12 billion VND to support difficult conditions in Vietnam
Through Cocham Charity Night 2023, the association has raised more than VND12 billion from 119 participating units to run programs under difficult conditions in the central and southern regions of Vietnam.
The association currently has approximately 1,000 member businesses, representing more than 5,000 Korean businesses investing in the central and southern regions of our country. These include many large enterprises operating in key economic sectors.
In addition to supporting the investment activities of Korean businesses, contributing to Vietnam-Korea development and economic cooperation, Kocham also has a number of activities demonstrating corporate social responsibility.
(TagstoTranslate)Consulate General(T)Kocham(T)Kocham Charity Night