On the afternoon of November 15 (local time), in San Francisco city – USA, President Vo Van Thuong attended the APEC 2023 Business Summit and delivered a speech.
The APEC 2023 Business Summit, to be held from 14 to 16 November at the Moscone Convention Centre, will be attended by approximately 2,000 leaders from leading businesses, international organizations, research institutions and universities from across the world and the Asia-Pacific region.
It is the most important event of the regional business community, held every year on the occasion of APEC Summit Week, to create opportunities for businesses to meet the APEC leader, discuss directly and present recommendations.
With the theme "Generating Economic Opportunity: Sustainable. Inclusive. Resilient. Creative", this year's conference featured 20 discussion sessions focusing on the top issues of concern to the business community. Such as: the world economic situation, global geopolitics, trade policy inclusion and sustainability, the role of the state and businesses in driving change, and enhancing future trade resilience. A world in crisis, the role of innovation, the future of artificial intelligence, building an ecosystem for creative ideas…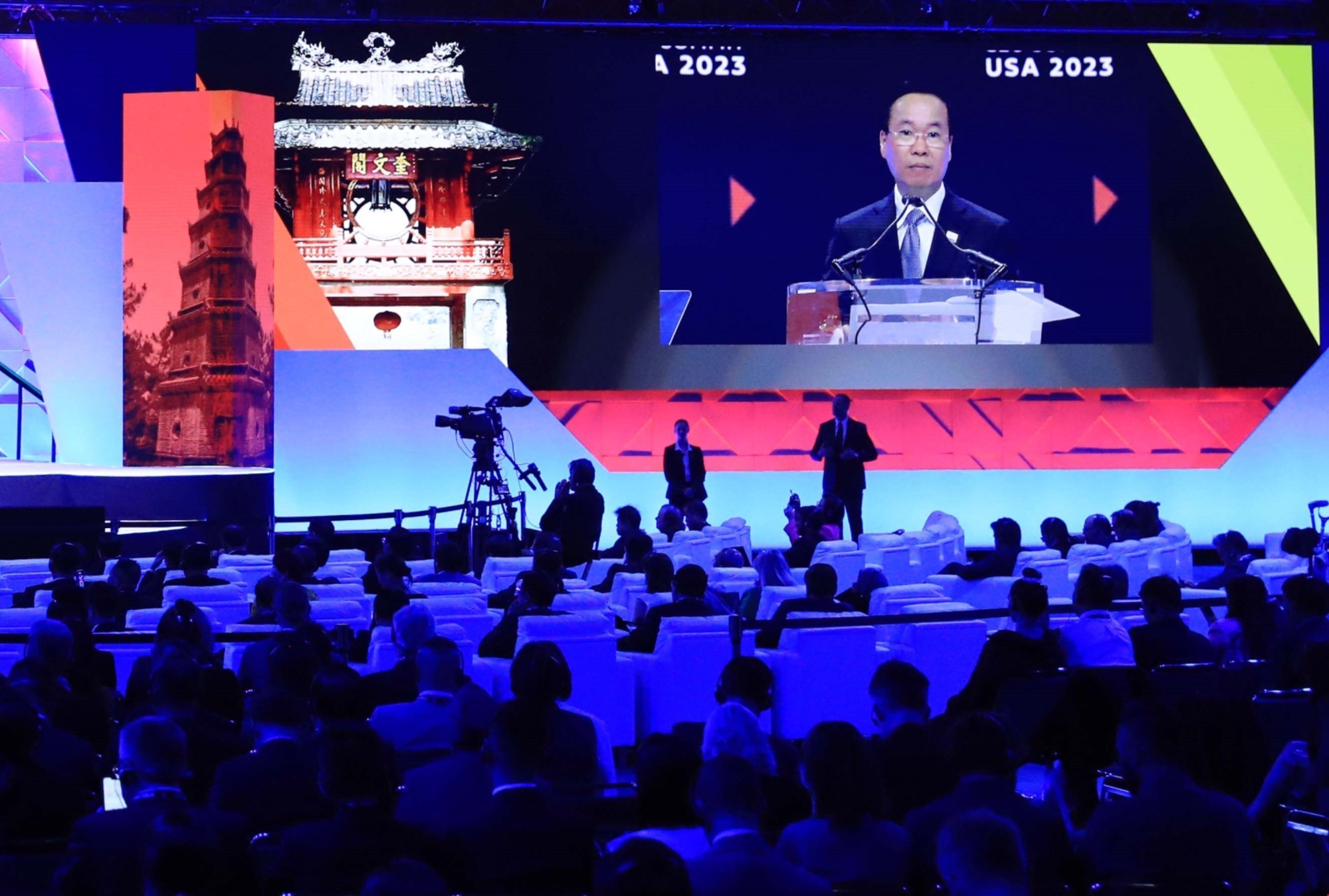 President Vo Van Thuong speaks at the APEC Business Summit. Photo: VNA
Speaking to guide the discussion session on "Sustainable and Inclusive Development", President Vo Van Thuong emphasized 3 ingredients. First of all, new thinking and new methods are needed to deal with problems. Second, APEC's contribution in solving challenges. Third, Vietnam's perspective and development orientation in the changing world.
Affirming that APEC is an incubator for economic integration ideas, laying the foundation for global cooperation agreements, the President said that from 2019 alone, more than 3,000 trade barriers have been established, destabilizing the world economy and There is a danger of global collapse. economic output.
Therefore, APEC needs to reaffirm its commitment to maintaining market openness, promoting international economic relations, and supporting an open, inclusive and sustainable world economy; Ensuring that the benefits of trade are distributed widely and equitably across society…
The President confirmed that with a policy of taking quality, efficiency, high technology and environmental protection as top criteria, Vietnam gives priority to attracting investment projects in areas such as industries and science. – Technology, innovation; Green economy, digital economy, circular economy, knowledge economy; Electronic components, electric cars…; Semiconductor production, new energy (such as hydrogen), renewable energy; developing financial centers and green finance; Biotechnology, Medical…
President Vo Van Thuong called on the business community to join forces in implementing commitments on sustainable development, pursuing long-term economic, environmental and social goals. It is an opportunity for businesses to make their mark in the society, build trust and brand value.
The President stressed that APEC's success can only be achieved on the basis of friendship and trust among members, businesses and people-to-people cooperation, and affirmed that Vietnam has a bright future with APEC members and the Asia-Pacific business community. Ready to work for construction. A future for all people.
The same day, President Vo Van Thuong attended and delivered a speech at a policy exchange at the US Council on Foreign Relations (CFR); roundtable discussions connecting Vietnamese and American businesses and localities; American Business Alliance – Meet and Discuss APEC.
The President received Mr. Tim Cook, CEO of Apple Corporation; Welcoming Dr. Brendan Nelson, Senior Vice President of Boeing Corporation and President of Boeing Global. The President also welcomed the Governor of California, Mr. Gavin Newsom and the Deputy Mayor of the City of Los Angeles, Erin Bromaghim. The President and his wife met with the family of overseas Vietnamese Pham Van Teach and a number of overseas Vietnamese at Mr. Teach's private home.