Mr Litovkin told Anadolu news agency: "Russia is waiting for Ukraine's retaliatory forces to be completely exhausted before continuing the attack."
Ukraine now faces a particularly complex situation as Western support has declined significantly in recent months, especially since the beginning of the conflict between Israel and Hamas.
Ukrainian media also reported growing disagreements between the country's civilian and military leadership.
On 2 November, Ukrainian Commander-in-Chief Valery Zaluzny said there was a "stalemate" on the front line, and acknowledged that Ukrainian forces were having difficulty advancing, partly due to lack of ammunition.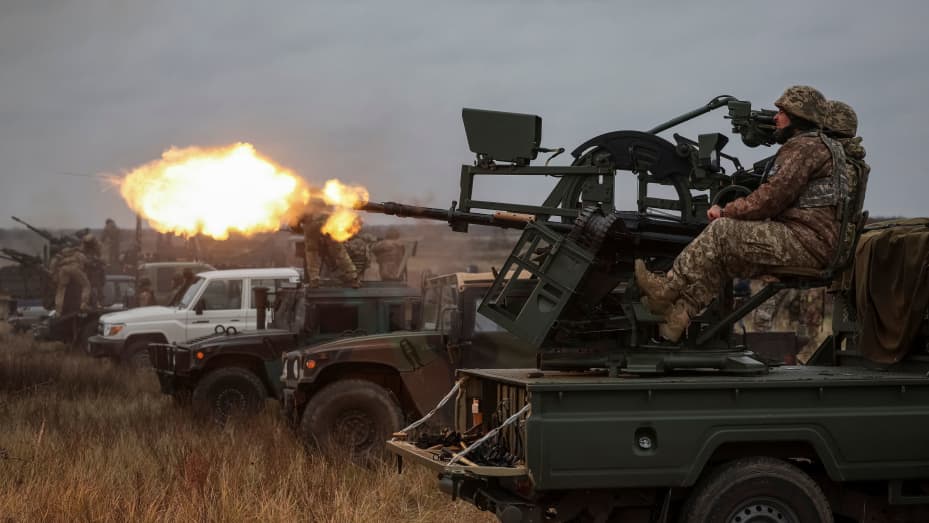 Ukrainian troops take part in air defense exercises in the context of Russia's attack on Ukraine in the Chernihiv region this month. Photo: Reuters
According to Mr. Litovkin, there were several different factors that prevented Russian forces from attacking, including bad weather, particularly heavy rains that made many roads impassable. Mr Litovkin said the Russian military was waiting for dry conditions to deploy the equipment needed for the upcoming attack.
The expert said Ukraine currently lacks the means to sustain an offensive that requires air superiority and the ability to overcome complex defense systems and landmines.
According to him, the situation will change with the expected arrival of F-16 fighters from the US and deliveries of the aircraft will begin immediately after the end of training courses for Ukrainian pilots. Mr Litovkin said that despite practical challenges, peace talks were unlikely to happen.
According to Mr. Litovkin's assessment, the ongoing crisis in the Middle East has no impact on Western support for Ukraine.
In relation to developments in the Ukraine-Russia conflict, local officials confirmed that Russia has shelled various locations in the Kherson region of southern Ukraine over the past 24 hours. Kherson Governor Oleksandr Prokudin announced on Telegram on 17 November that Russian forces had attacked residential areas in the central and Dnipro districts of the region.
Meanwhile, the Ukrainian military said on November 17 that its forces had captured several positions on the east bank of the Dnipro River in the Kherson region. It's a small but potentially significant strategic move in the midst of a nearly age-old conflict.
The Dnieper River is considered the boundary separating the battle lines between Russia and Ukraine after Russia withdrew its troops from the river's west bank to the east bank late last year.
According to the Guardian, the Ukrainian military is trying to push Russian forces out of Dnipro to stop continued shelling of civilian areas on the Ukraine-controlled West Bank.