On the night of November 18 (local time), the White House announced that no agreement had been reached on a temporary ceasefire in the Gaza Strip, but that progress would be made. Some time ago, Israeli Prime Minister Benjamin Netanyahu also confirmed in a press conference: "At the moment, there is no agreement. But I guarantee to make an announcement once something is achieved."
The above statements were made after the release Washington Post It is reported that Israel, the US and the armed group Hamas have reached a preliminary agreement after weeks of discussions in Qatar. Accordingly, all parties halted military operations for at least 5 days in exchange for releasing approximately 50 or more hostages in groups every 24 hours. The ceasefire period was also used to accelerate relief operations.
Hamas took about 240 people hostage in a surprise attack in Israel on October 7 that left 1,200 dead. To date, Hamas has released only 4 hostages, Israel has rescued 1 person and the bodies of 2 hostages were found near Al-Shifa hospital in northern Gaza. The conflict, entering its seventh week, has killed 12,300 people in Gaza, including 5,000 children, according to Gaza health officials.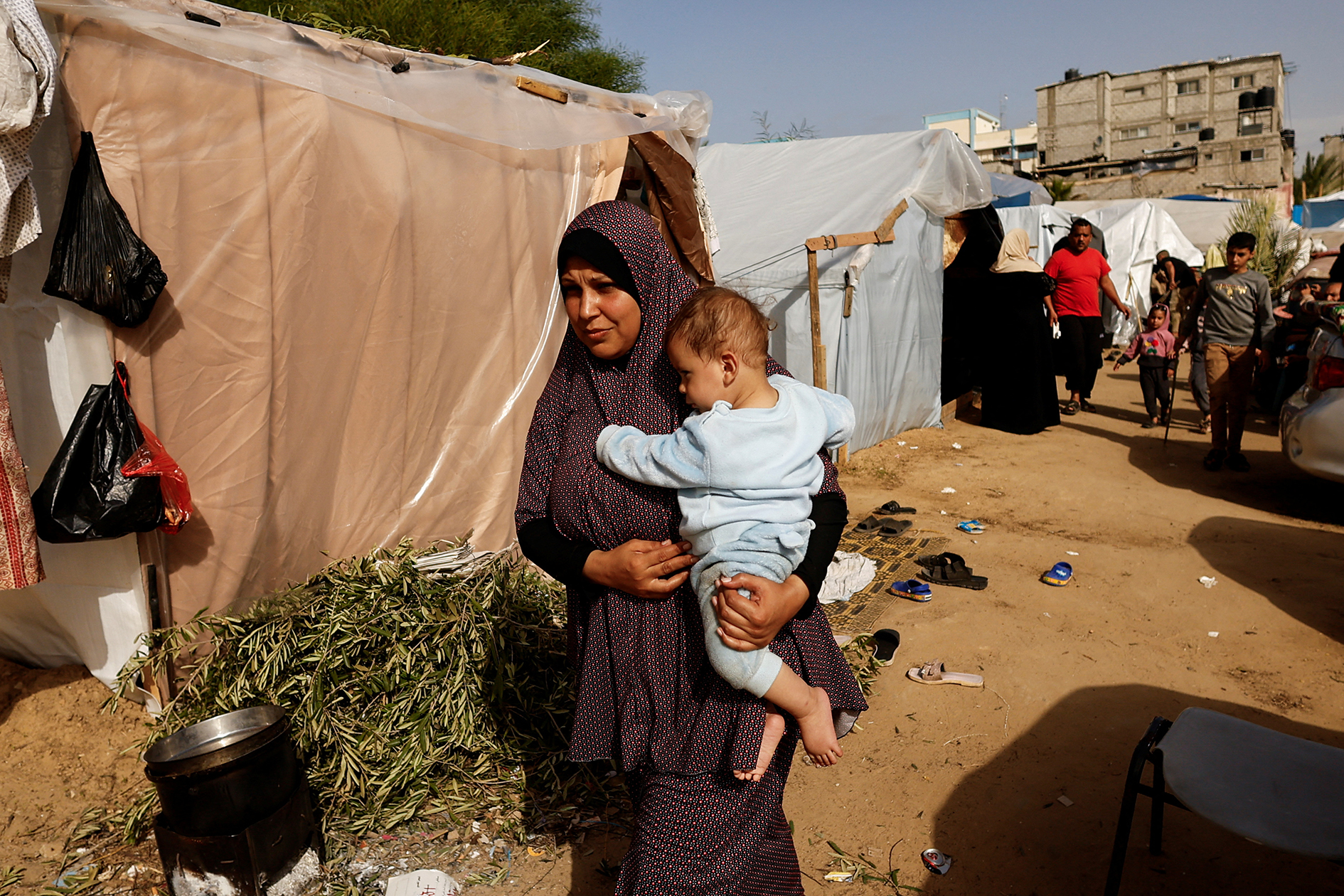 Palestinians take shelter in makeshift tents at the Nasser hospital complex in the town of Khan Younis in southern Gaza. Photo: Reuters
Emphasizing the goal of eliminating Hamas, Israeli Defense Minister Yoav Galant announced that the country's military was stepping up operations inside Gaza City and would do the same in the southern strip of land "in the next few days."
This is very bad news for Gaza civilians, who have fled southwards in desperation for a chance at survival. According to the news agency, the evacuation zone in southern Gaza is currently very tight and refugees do not know where to go when Israel expands its offensive. AP,
Israel also warned the international community after several days of siege and raid on al-Shifa hospital, the Gaza Strip's largest. On 19 November, a day after a World Health Organization (WHO) field team arrived at the hospital, WHO described the place as a "dead land" filled with bullets and shelling.
In just 1 hour of understanding the situation inside Al-Shifa, the WHO team realized that the hospital was no longer functioning normally due to lack of clean water, fuel, medicine and other necessities. The corridors and floors of the hospital are littered with medical waste and solid waste.
WHO said it was planning to immediately evacuate the 25 medical staff and 291 patients, including 32 critically ill infants, remaining in Al-Shifa.
Before the WHO team reached Al-Shifa, approximately 2,500 shelter residents and outpatients and medical staff had left the hospital. Elsewhere in northern Gaza, UNRWA, the United Nations aid agency for Palestinian refugees, confirmed that Israel had bombed two UNRWA-run schools, one of which contained more than 4,000 civilians hiding there.
witnesses also told reuters About the fierce battle that took place throughout the night of 18 November and the morning of 19 November between Israeli infantry and Hamas gunmen in Jabaliya, Gaza's largest refugee camp, located in the northwest of the strip. About 100,000 people live here. In addition, two refugee camps, Bureij and Nussirat in central Gaza and the city of Khan Yunis in the south were also hit by airstrikes.
Palestinian Authority (PA) President Mahmoud Abbas on November 18 called on US President Joe Biden to intervene to end Israel's campaign in Gaza. That same day, in a comment posted above Washington PostPresident Biden wrote that the PA should be allowed to run both the Gaza Strip and the West Bank after the conflict ends.
Asked about this opinion of the White House boss, Israeli Prime Minister Netanyahu insisted that in its current form, the PA "is not capable of taking over Gaza".
Israel did not reveal its strategy for Gaza after the conflict, but Mr Netanyahu insisted that the Israeli military "must be completely free to operate inside Gaza" to move forward. According to the AP, the statement reflects the possibility of Israel regaining control of the coastal strip, at least temporarily. Israel withdrew its forces from Gaza in 2005.