theo reutersThe delegation includes ministers from Saudi Arabia, Jordan, Egypt, Indonesia, the Palestinian Authority, representatives of the Organization of Islamic Cooperation… and United Nations (UN) security forces to meet each of the council's five permanent members. America, China, Britain, France and Russia.
At the first stop on November 20, the delegation talked to Chinese Foreign Minister Wang Yi. "We are here to send a strong signal: end the conflict immediately, provide humanitarian goods to the Gaza Strip immediately" – stressed Saudi Foreign Affairs Minister Prince Faisal bin Farhan Al Saud.
Also at the talks, Mr Wang Yi called for immediate action to prevent a "humanitarian disaster". Earlier, the Egyptian Foreign Ministry's X (Twitter) account posted comments from Minister Sameh Shoukry: "We expect a stronger role from powers like China to stop the attacks." Palestinians in Gaza.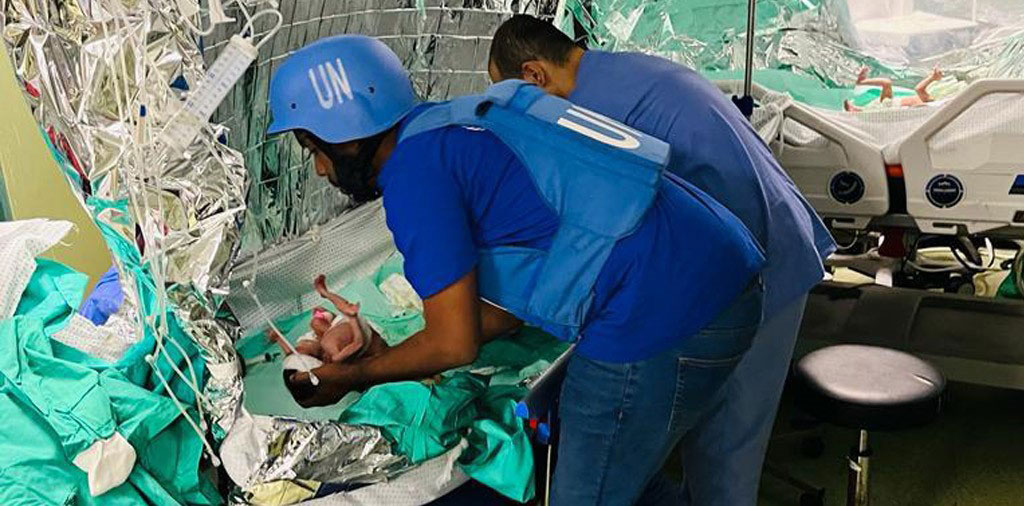 Uniformed United Nations staff evacuated premature babies from Al-Shifa hospital on 19 November. Photo: WHO
Meanwhile in Gaza, Israel warned residents of the strip's largest refugee camp, Jabaliya, and a nearby coastal camp to evacuate. On 20 November, Israel advanced towards the Indonesian hospital in northern Gaza, where approximately 600 patients, 200 medical staff and 2,000 homeless people are currently sheltering.
A medical worker here told the AP that Israeli tanks could be seen from hospital windows, while women and children were frightened by the constant sound of explosions and gunfire. Israel accused Hamas of using civilians and civilian infrastructure, including hospitals, as human shields.
According to a statement from the World Health Organization (WHO), a second joint UN delegation led by WHO, in collaboration with the Palestinian Red Crescent Society, conducted a preliminary investigation in al-Shifa, another hospital in northern Gaza. 31 premature babies were evacuated from al-Helal al-Emraati maternity hospital in southern Gaza on 19 November.
The initial number was 33 children, although 2 children died before they could be evacuated due to lack of electricity to operate life-sustaining equipment. These babies are currently being cared for in the neonatal intensive care unit, with 11 of them still in critical condition.
Al-Helal Al-Emraati Maternity Hospital was attended by 6 medical staff and 10 of their relatives, but sadly no relatives of any of the children were found. The United Nations is planning the evacuation of another 250 seriously ill patients and 20 medical staff trapped in Al-Shifa, which is expected to take several days.
As Israel continues to expand its ground campaign in Gaza, Qatar's Prime Minister Mohammed bin Abdulrahman Al Thani said efforts to safely return the hostages in exchange for a temporary ceasefire are now within reach, just still. There are some small details that have not been resolved.
Another worrying problem has arisen. Iran-backed Houthi forces in Yemen captured the Galaxy Leader, a cargo ship belonging to Israel, in the Red Sea on Nov. 19 and took 25 crew members hostage, according to the AP. The ship's operator, NYK (Japan), said there was no cargo on board the ship at the time of the arrest. The crew includes citizens of the Philippines, Bulgaria, Romania, Ukraine and Mexico.