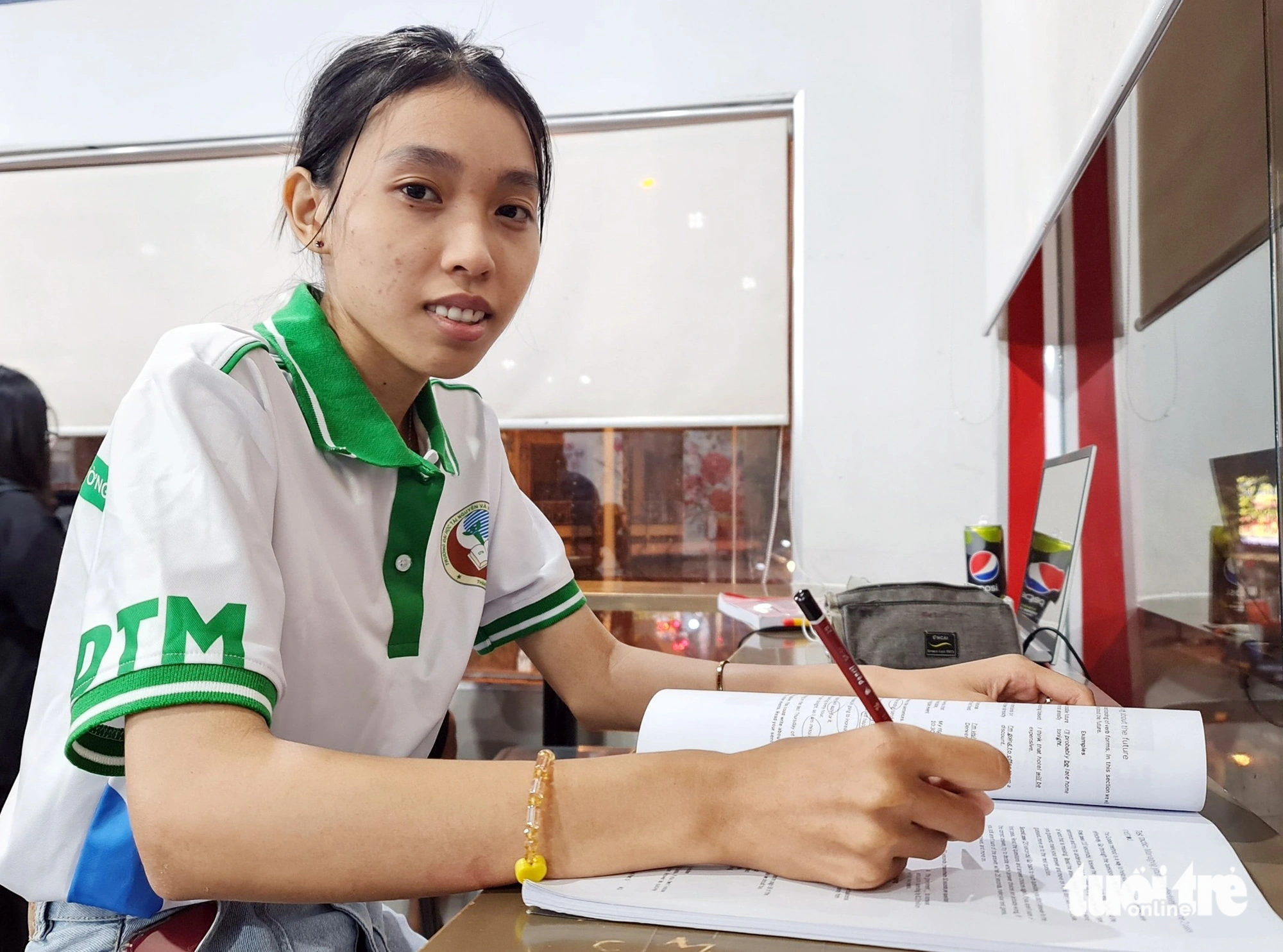 The girl, who weighs less than 38 kg, is very shy and timid and whenever someone asks about her mother, her eyes fill with tears. But she is also an amazingly mature and mature girl.
Ms. Nguyen Kim Khanh (teacher of An Dong Middle School – High School, Trinh)
became orphan at the age of 10
Trinh slowly told her about a time that is still imprinted in her memory when she was just 3 years old. Those were the days when I followed my mother almost all over Ho Chi Minh City to sell lottery tickets. Life was miserable, drenched in rain and sun, but for Trinh it was full of fun and happiness.
The day she turned 10, that's when cruel cancer took away her mother forever. Due to going to school late, Trinh was only in the third grade when her mother passed away, and she took a year off from school, so she was a new student at the age of 20. You once lived in a shelter in Dong Nai for a long time.
Besides Trinh, her mother has eight other children, but only she and her youngest brother, 15, have the same father and mother. Trinh has a father. He still lives somewhere in Ho Chi Minh City but has cut off almost all contact. Trinh has no clear memories of his father. When she met him a few times while selling lottery tickets, her mother whispered to her that he was your father. He likes to gamble and often only looks out for her and her child when he needs money. When someone asks about her family, Trin often ignores or continues to say that she does not have a father.
Trinh began independent living in the 10th grade. You rent a shabby and damp apartment of about a dozen square meters in District 8, so you have a place to lie down every night. "I lived in a room with my brother and his wife, but they were also very poor, the room was cramped and I always felt like an extra burden for them, so I decided to move out myself. I have to Be free," Trinh Tam said.
have to struggle to earn a living
Whenever Trinh remembers her mother or is sad, she often folds her hands. But being independent, one has to run around everywhere, have to do many things to make ends meet, there is no time to be sad.
When she moved out on her own, Trinh went to school during the day and worked at a convenience store that was open 24/7 at night. After seeing online that people needed to hire models to practice makeup, Trinh signed up as well.
The job requires sitting while a makeup artist applies makeup to the face. The salary is 30,000 VND/hour, which is easier than staying up all night selling goods in a convenience store.
The higher she studied, the more difficult her schedule became and her health did not allow Trinh to stay up late, so she had to give up working at a convenience store. But I can't do that because where will I get the money for accommodation, food and tuition? So, taking advantage of the weekend, Trinh applied for a job as a waitress at a wedding restaurant.
Each party takes about three hours and is paid 155,000 VND. During peak wedding months, Trinh may work three consecutive shifts every day. If you work hard you will be rewarded, if you meet customers for more, you can even get millions of dong for two days of weekend work.
Currently, Trinh is helping with housework for a family in District 10. She has been engaged in housework since childhood, so it is not too stressful, her income is about 7 million VND/month, it is okay to try to help Trinh temporarily. The university is full of schedules almost the entire day, so when class ends, Trinh has to rush to finish work and ends the day late.
Then you pulled out a thick stack of medical records and prescriptions for the name Nguyen Thi To Trinh from your backpack. Trin is being treated for stomach ulcers, duodenitis, weakness, anemia, vestibular disorders, mixed anxiety and depression…
"One day I was sitting in class but I was so tired that I fell asleep. The teachers kindly let me sleep, but later I heard what my friend said to me, and I realized that I was very wrong ," Trinh said shyly.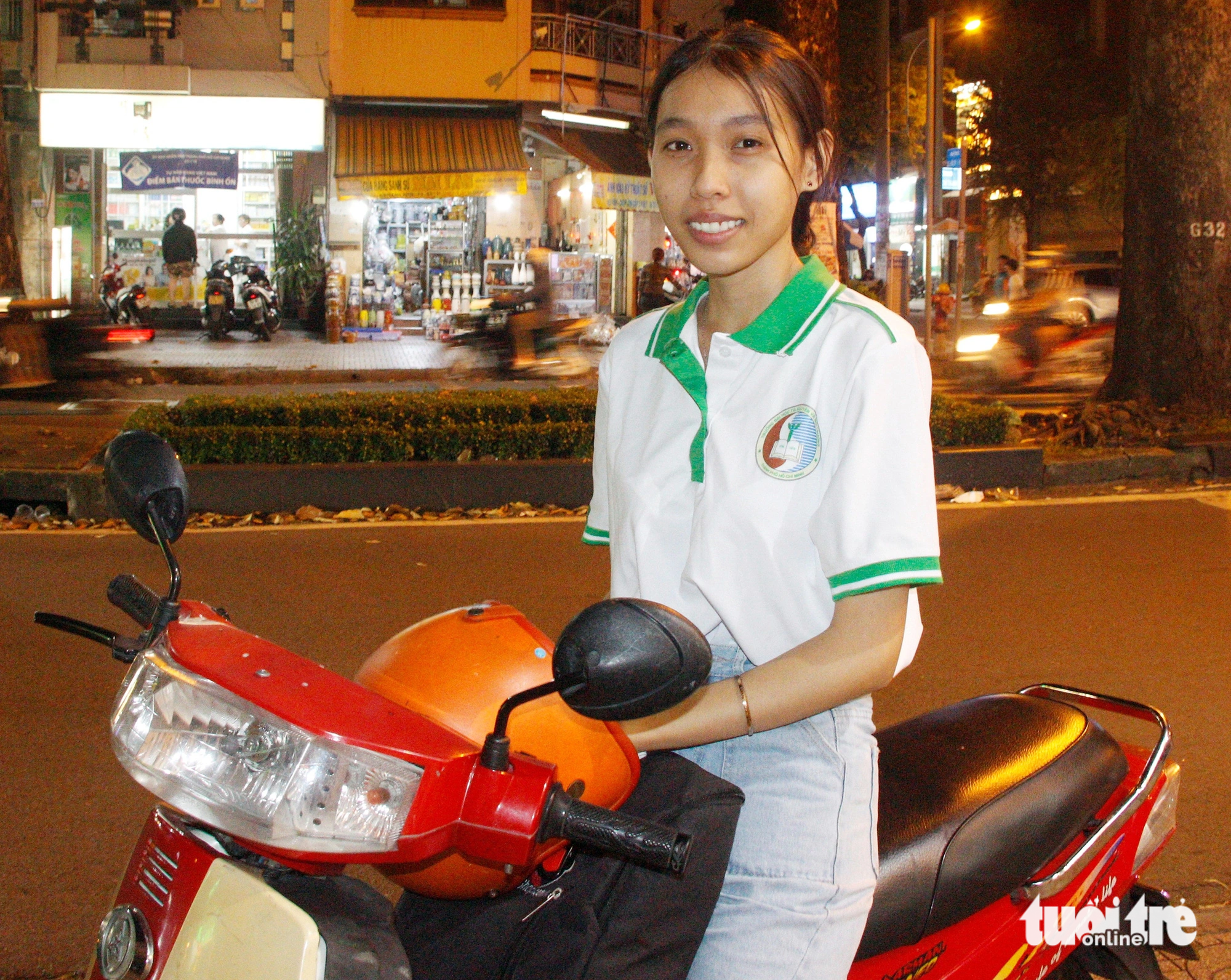 Great food to reward yourself
An unhappy life makes you frugal. To save money, Trin prepares her own food and takes it with her to school and work. Eating instant noodles and bread without skipping meals is very familiar to him. It is said that "old-fashioned" laptops are almost unable to download the platforms and applications that Trinh is studying. The motorcycle my brother bought from a junkyard several years ago has recently broken down, making this even more difficult.
Every time she gets her pay, Trinh rewards herself with a sumptuous meal. "I bought 30,000 VND of white shrimp from the market, took about seven shrimp, cooked instant noodles, added some coriander, then added eggs to make a bowl of spicy noodles like the restaurant. Compared with normal noodles and boiling water, it's very luxurious .", Trinh said of his sumptuous meal.
scholarship award points relay for school end of 2023
Tonight, November 21, the Ho Chi Minh City Youth Union, together with Tuoi Tre newspaper and Ho Chi Minh City Television (HTV), launched the Relay to School program for 20 years (2003 – 2023) and 35 years of scholarship awards and arts exchanges. -Organized the presentation. The program Five Tomorrows for Development (1988 – 2023), will be broadcast live on HTV1 from 7:30 pm.
This is the final award point for 2023 for 138 hard-hit new students in seven Southeast provinces (Ho Chi Minh City, Dong Nai, Binh Duong, Binh Phuoc, Ba Ria – Vung Tau, Tay Ninh, Binh Thuan) and some others. Other provinces are currently studying in Ho Chi Minh City. Each scholarship is 15 million VND and five special scholarships (50 million VND/four years).
A total amount of more than 2 billion VND was donated by the German-Vietnamese Mutual Aid and Cooperation Association, Mr. Duong Thai Son and friends, Vinacam Education Promotion Fund (Vinacam Group Joint Stock Company), Farmers Companion Fund (Joint Stock Company). ) Binh Dien Fertilizer Division), Fund for a Beautiful Life (Dai-Ichi Life Vietnam Company), Ho Chi Minh City Union of Commercial Cooperatives (Saigon Co-op), Hoang Kim Joint Stock Company, Company Tan Son Nhat Airport Aviation Services Joint Stock Company (SASCO), Ho Chi Minh City Electricity Corporation, Ho Chi Minh City University of Economics, Ho Chi Minh City University of Industry, University of Finance and Marketing and readers of Tuoi Tre newspaper sponsored children.
Nestlé Vietnam Co., Ltd. donated backpacks to new students, VinaCam Study Promotion Fund sponsored seven laptops for new students lacking learning equipment, Vietnamese American Association English System provided IELTS exam preparation to new students studying in Ho Chi Minh Provided 10 English scholarships for courses. City.
(TagstoTranslate)Wildflowers(T)New students(T)Orphans(T)Help to go to school(T)Scholarships(T)HCMC University of Natural Resources and Environment(T) Nguyen Thi To Trinh