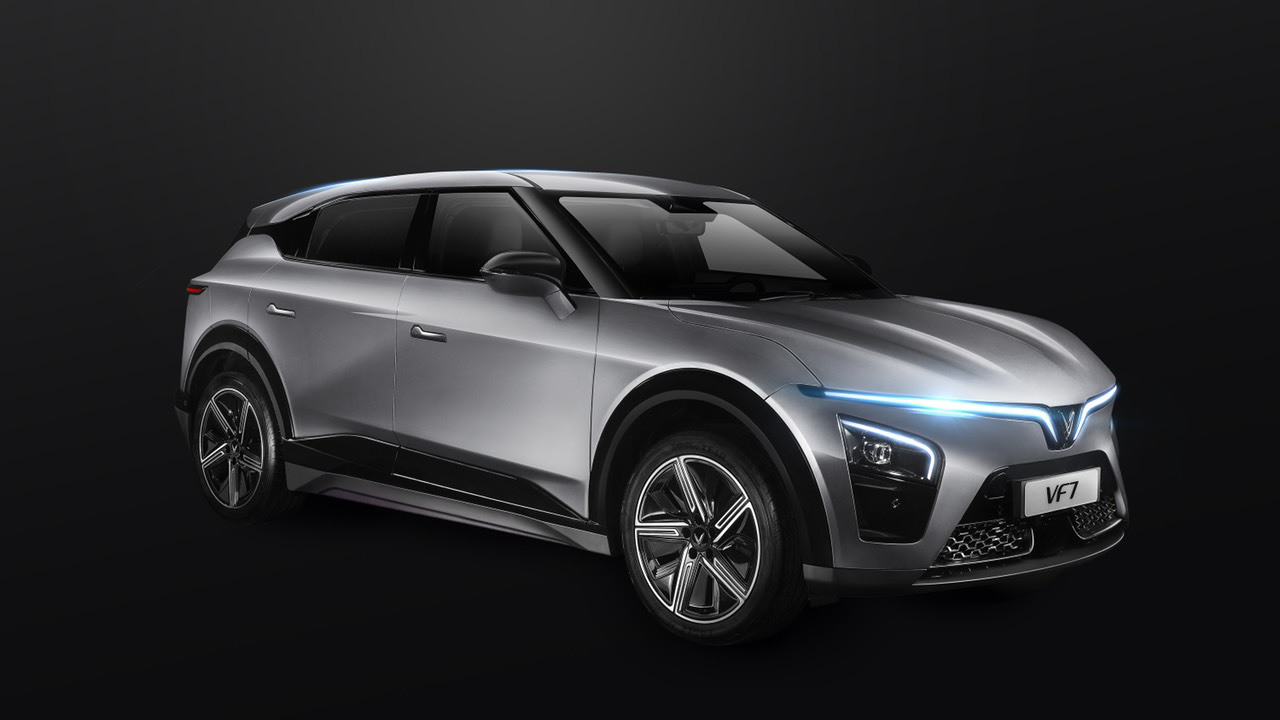 It is the sixth smart electric SUV model, completing the pure electric SUV product line, covering all segments from A to E of Vinfast.
The VF7 has two versions: Base and Plus, designed in the "Asymmetric Aerospace" language written by Torino Design (Italy), which symbolizes freedom, technology, fashion and individuality. Counting.
VinFast's signature bird-wing LED light strips are prominently placed at the front and rear of the car. The coupe-style hood sweeps to the rear with large wheel cavities and alloy wheels measuring up to 20 inches, contributing to a strong and sporty aesthetic.
With a length of 4,545 mm (wheelbase 2,840 mm), width of 1,890 mm, height of 1,635.75 mm and ground clearance of 190 mm, the VF7 has a spacious interior with high leather seats. Grant.
The VF 7 is designed with the driver in mind, with interior highlights being a large 12.9-inch touch entertainment screen, a HUD information display system and a coordinated D-cut steering wheel. A set of two unique colors and gearshift keys delicately designed in the form of piano keys.
To enhance personalization, the VF7 has 6 exterior color options, 2 interior colors, of which the Plus version has two interior color tones, suitable for each individual's personality, style and preferences.
In addition, users can also choose the panorama glass ceiling (Plus version) to bring luxurious experience and better experience than the C segment.
Regarding operation, Vinfast equips the VF7 Plus version with two electric motors with a total maximum capacity of 260 kilowatts (equivalent to 349 horsepower), a maximum torque of 500 Nm and a two-wheel drive system. Full-time, turning This model is the most powerful machine in this segment.
With a 75.3 kWh battery pack, the car can travel up to 431 km/full charge (as per WLTP standards).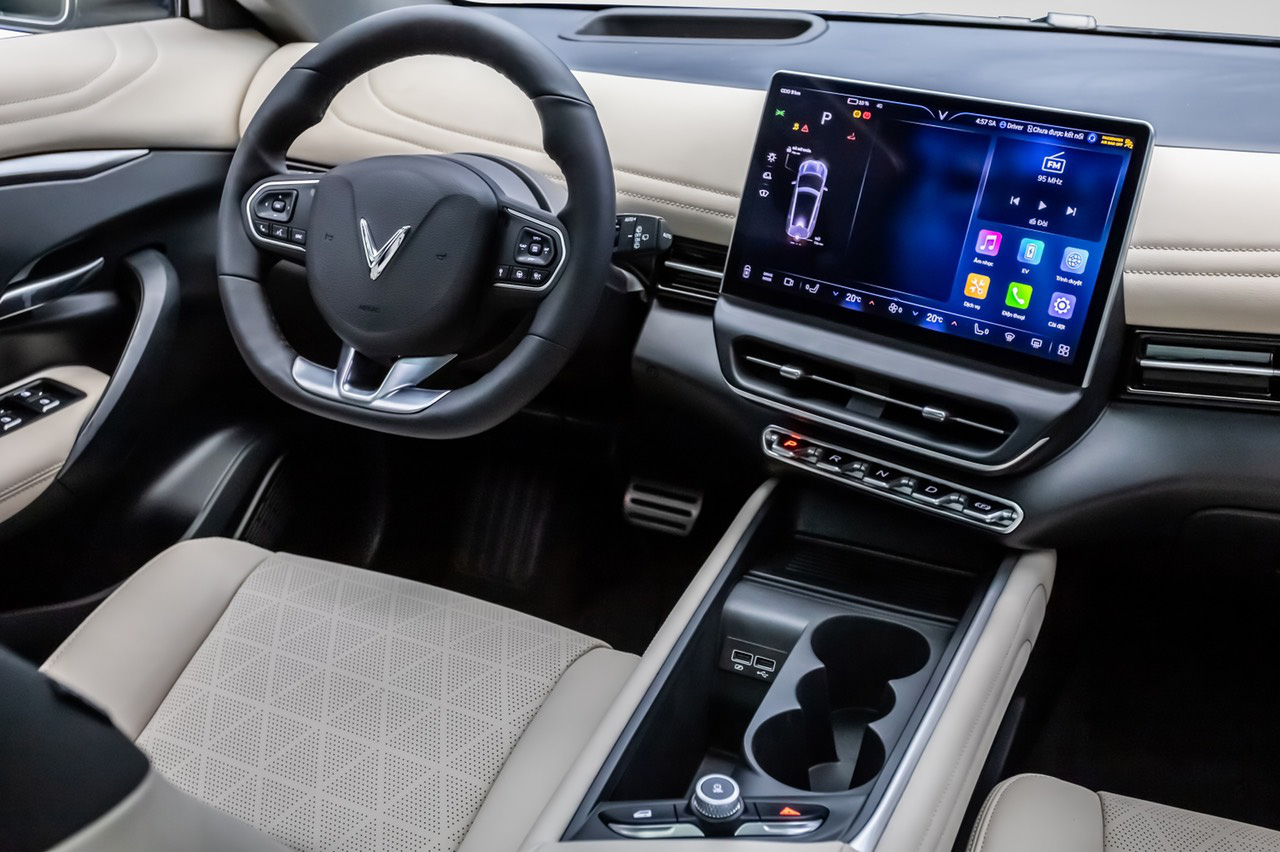 Meanwhile, the VF7 base version is equipped with an electric motor with a maximum capacity of 130 kilowatts (equivalent to 174 horsepower), a maximum torque of 250 Nm and a battery pack with a capacity of 59.6 kWh, with a maximum range of up to 1,500mAh. 375 km/full charge (as per WLTP standards).
If the Plus version will satisfy the passion for speed and the need to travel long distances, the Base version will be a stylish and flexible option on urban roads.
Regarding safety features, the car is equipped with 8 airbags and a full range of advanced active safety systems like anti-lock brakes (ABS), electronic brake force distribution (EBD), and emergency brake assist. (BA), Electronic Balance (ESC), Traction Control (TCS), Hill Start Assist (HSA), Anti-roll (ROM)…
Specifically, the Plus version is equipped with ADAS, an advanced driver assistance system with 11 basic features and 15 advanced features.
At the time of delivery, the VF7 will be available with basic ADAS features such as adaptive cruise monitoring, lane departure warning, forward collision warning, rear cross-traffic warning, blind spot warning, door opening warning, front automatic emergency braking, 360 degree warning, 360NaN2, etc. -Degree camera system…
Other features will be updated remotely for free by WinFast in 2024.
Both versions have the VF Connect Smart Service Package with a series of the most advanced technologies and a series of smart features such as a virtual assistant capable of multi-regional Vietnamese voice interaction, driving the car and able to ask and answer, tell jokes; Automatic rescue call function; Illegal intrusion monitoring and warning; Monitor and display vehicle information in real time… These are features that are completely different from gasoline car models in the same segment.
The VF7 base version costs 850 million VND (except battery) and 999 million VND (including battery); The Plus version costs 999 million VND (except battery) and 1,199 million VND (including battery).
Vinfast applies a battery rental package of 2.9 million VND/month for a maximum travel distance of 3,000 km/month, and a package of 4.8 million VND/month for a maximum travel distance of more than 3,000 km. The battery rental deposit is 41 million VND, which will be returned to the customer when the customer closes the battery rental contract, returns the battery to Vinfast or transfers the vehicle and battery to someone else.
The actual warranty on the car is 10 years or 200,000 km (whichever comes first), the battery that comes with the car has a 10 year, unlimited km warranty.
In addition, customers are also supported by a range of after-sales services unique to VinFast electric vehicles throughout the lifetime of the vehicle, including: Mobile Repair (Mobile Service), Mobile Battery Charging (Mobile Charging ), 24/7 rescue, exclusive support for incidents arising due to manufacturer errors that cause inconvenience to users, commitment to buy back used electric cars after 5 years…
The system of public charging stations covering highways, urban areas, schools, hospitals, shopping centers in 63 provinces and cities also makes it convenient and easy to use VinFast electric cars on the road. all over the country.
VinFast will officially accept deposits for VF 7 cars from 12:00 on December 2 at VinFast showrooms and distributors nationwide or through the website https://reserve.vinfastauto.com.
With a deposit of 50 million VND that cannot be refunded or canceled, leading customers who deposit before 24 hours on December 30th will receive a discount (deducted from the car price) of 30 million VND, And one year free charging will also be available. At a public charging post. If customers transfer their deposit to someone else to buy a car, they will not benefit from these incentives.