Just recovered from heart and lung disease, 2 times with Covid-19
Nguyen Phuong Quoc Dat (22 years old, Ho Chi Minh City) has just completed a delivery for an acquaintance. Dat hastily ran home to prepare lunch for his 8-year-old niece Le Nguyen Hoang Anh, who was about to return from school.
Drinking a cup of cool water temporarily, Dat sat down to rest to relieve fatigue. Dat said that since the second wave of COVID-19 infection, his already weak health is now weaker.
Sitting contemplatively, Dat said: "Before I contracted COVID-19, I had heart and lung disease for nearly ten years. I just got cured of my lung and contracted COVID-19, but got it twice. After the second time, My health got worse and worse. Many times while I was going to work, I was dizzy, unsteady, had to sit on the ground gasping for exhaustion. I went to the doctor and concluded that I had pulmonary fibrosis. The doctor prescribed medicine. , I only got one drink. Since then, I haven't dared to take more for a few months because I am afraid of the cost. The money I earn is not much, so I want to spend it to take care of Hoang Anh."
Referring to his niece, Dat sighed and confided that he had just finished the papers to adopt Hoang Anh because now she has no one beside him.
Hoang Anh is Dat's cousin. Eight years ago, Hoang Anh's mother – Dat's cousin – brought Hoang Anh (then a month old) to Dat's grandmother, Mrs. Nguyen Thi Tuong. After that, Hoang Anh's mother went to Malaysia to work as a hired worker with her own mother (Dat's aunt – Hoang Anh's grandmother).
In the first four months, Hoang Anh's mother still sent money and called to ask about her son, but from the fifth month, the woman was silent. After that, only Dat's aunt sent money to Hoang Anh to study.
"Now the closest people have also died because of COVID-19, I only have to take care of Hoang Anh," Dat said.
In the past, in the house, there were many peeling walls of 28m2, Mrs. Tuong, Dat and Hoang Anh just went through the days of "having vegetables to eat vegetables, porridge to eat porridge". Dat's granddaughter and granddaughter told her: "Even if it's hard, we have to raise Hoang Anh kindly, give him a proper education, because he's been abandoned by his parents." Therefore, in addition to the money sent by her daughter, Ms. Tuong also helps out at a noodle shop near her house, receiving 50,000 VND per day. Dat also works part-time to help the family.
Hoang Anh is also very knowledgable and obedient. She rarely whines or asks for anything from her grandmother or uncle, even knowing how to help with the housework. "She's only 8 years old, but she's very active, talkative and gets along with friends. Therefore, everyone loves her," Dat said about Hoang Anh.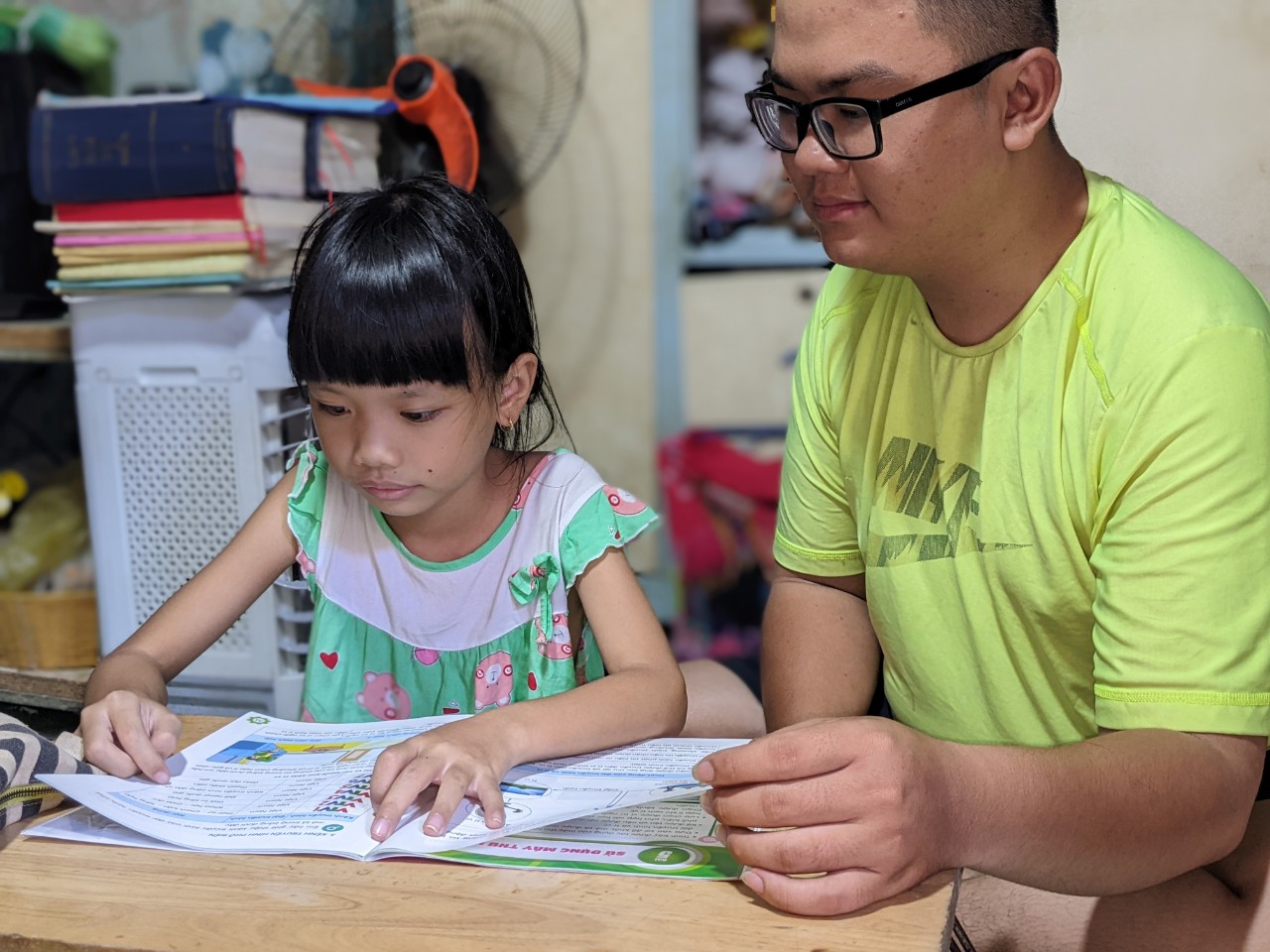 Hoang Anh is also very knowledgable and obedient. She rarely whines or asks for anything from her grandmother or uncle, even knowing how to help with the housework. Photo: NVCC.
The incident caused the two grandchildren to lose their loved ones
Until August 2021, the COVID-19 pandemic broke out in Ho Chi Minh City. Tuong was infected with COVID-19, so Hoang Anh was sent to a relative's house for a few days. But she didn't know that it would be the last time she would see her grandmother. Before her death, Mrs. Tuong advised Dat to try to raise Hoang Anh as a human, not to let him drop out of school midway.
The shock is not over, Dat received news that his aunt (grandmother Hoang Anh) in Malaysia has died because of COVID-19 and needs to transfer the ashes to Vietnam. After a week of contact, when Hoang Anh's grandmother's ashes were in Dat's hands, Hoang Anh's mother also continued to cut off contact.
When the epidemic was fine, Hoang Anh was allowed to return home, the little girl ran around the house looking for her grandmother, but only saw a photo on the corner of the wall. Since then, the girl has been quiet. There were many nights when Hoang Anh cried because he missed her. Sometimes the little girl even asked Dat innocent questions: "Doesn't she think the bed is too tight, so she should leave and make room for her grandson, right?".
The questions hurt Dat, he didn't know how to answer his nephew. The 22-year-old boy "loves himself one, then loves his grandchild ten" because the girl was not yet one year old and could not be with her parents, now she continues to lose someone close to her.
Since her grandmother and aunt died, Dat has also suffered a mental breakdown and above all, the economy is increasingly depleted. His health was weak, so he couldn't do much heavy work. In addition, in the past, when she was still alive, Dat had more time to work. But now, he still has to spend time with Hoang Anh.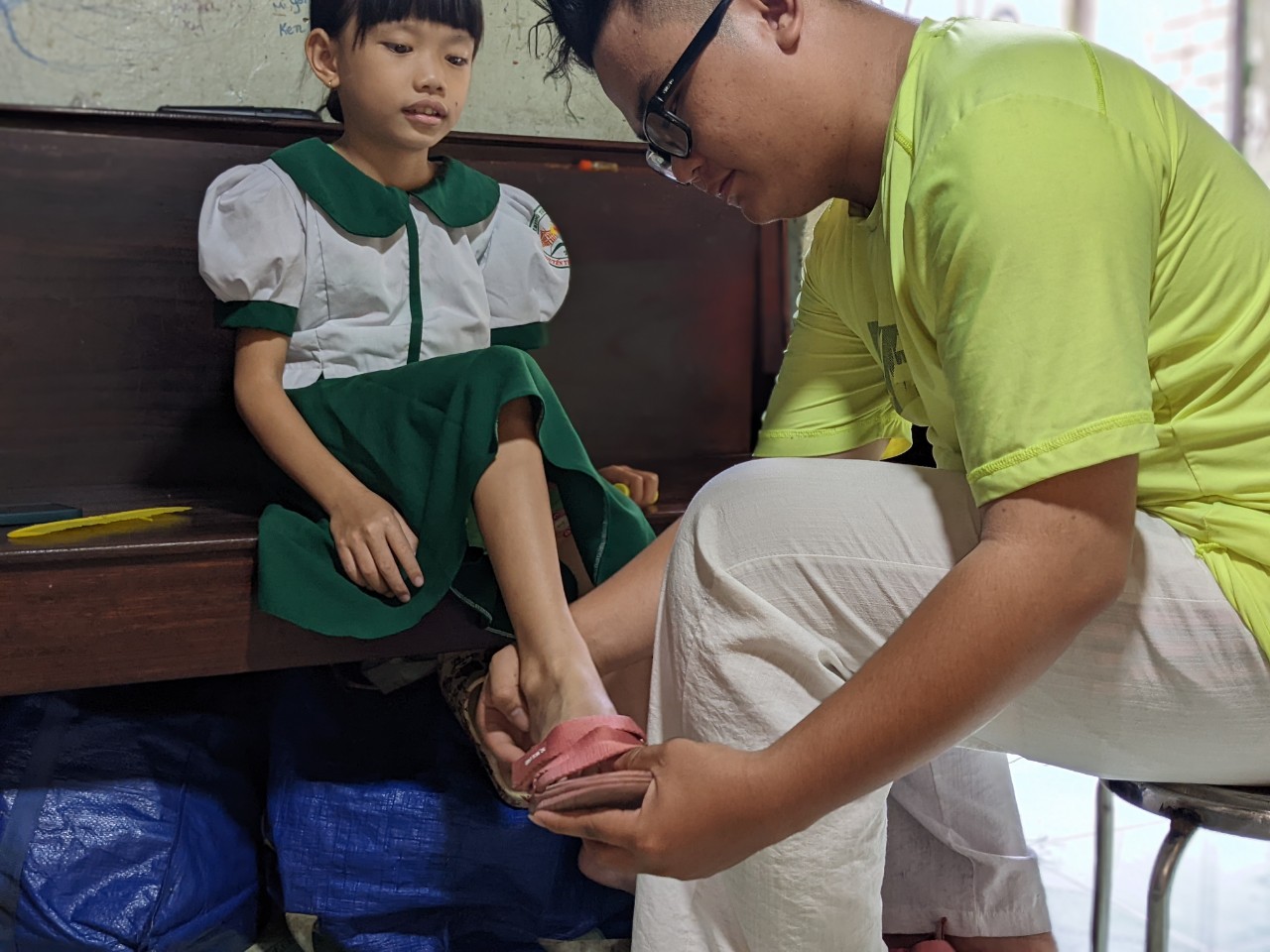 Only 22 years old, the guy has shouldered the responsibility as a father and mother with an 8-year-old child. Photo: NVCC.
In the morning Dat got up early to cook for his two nephews, then took Hoang Anh to school about 100m away from home before going to work. He works about 6 hours a day. In a very healthy month, Dat only earns about 1.5 million VND. One day, when he didn't have any strength left, the 22-year-old didn't dare to stay at home because all of his medical bills and money to support Hoang Anh depended on him.
Dat shared: "Recently, Hoang Anh's tuition fee was exempted… Particularly, my nephew's 2 million dong of COVID-19 orphan allowance each month will be kept separately, waiting for the oldest grandchild to have a small amount of capital for him."
Loving his niece, Dat decided to make an application to adopt him because Hoang Anh's official guardian had passed away. Many people said that Dat was "crazy" because he was sick and adopted a child. But for Dat, currently Hoang Anh is his spiritual support. With the promise to Mrs. Tuong, he will try to raise Hoang Anh until 18 years old, although he also doesn't know with his own illness if he will be able to survive until his granddaughter is an adult.
"As for my parents, both of them support me to accept Hoang Anh, but because my parents can't afford it, and my mother works far away, my father is a worker, so I don't have time to help me. take care of Hoang Anh", Dat said.
Talking to PV, a representative of the 24th residential group, ward 18, said that Dat's family is in difficult circumstances, the neighborhood group and the local government are very concerned. Whenever there is support for the family of someone who has died due to COVID-19, Hoang Anh's grandson receives gifts.
The two boys and girls live in a level 4 house that is severely degraded, peeling, and the roof is sagging and needs to be repaired. "We have proposed to the ward to repair the house, because we don't know when it will collapse, but we still don't have enough funds and resources to do it. We hope that the sponsors can join hands to help. ", the representative of the residential group said.
All support for the two boys, Dat, please send to the account number 1024420238 (account holder Nguyen Phuong Quoc Dat); Vietcombank bank; Tel: 0383281445 (Dat's number).