Answer VTC News On the morning of September 16, Prof. Dr. Hoang Anh Tuan, Rector of the University of Social Sciences and Humanities (Hanoi National University), said that last year the Journalism major took the C grade – 28.80 points. , block A01 – 25.80, block D01 – 26.60, block D04, 06 – 26.20, block D78 – 27.10 and D83 – 24.60. Journalism has always been in the top 5 of the schools with the highest admission scores in recent years.
This year, this subject continues to get a high standard score of 29.90 points (up 1.1 points compared to last year). "The school is not surprised, this scenario is somewhat predictable," he said.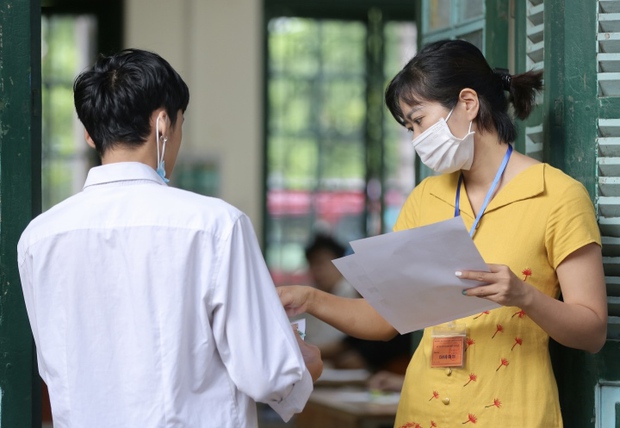 Students take part in the high school graduation exam.
According to the enrollment scheme in 2022, the University of Social Sciences and Humanities plans to recruit 55 targets for the Mass Journalism major. The school uses 5 enrollment methods, of which 25/55 criteria are reserved for the method of considering high school graduation exam scores – the highest compared to the remaining criteria.
At the same time, this major enrolls students in 6 combinations (A01, C00, D01, D04, D78, D83). On average, each group has less than 5 successful candidates.
Meanwhile, the school received a total of 2,544 applications for admission to the Journalism major in C00 (Language, History, Geography). The rest of the groups, the number of aspirations is not much, only a few dozen to a few hundred. Thus, it can be seen that the rate of admission to the Journalism major this year is very high, especially in block C00 – about 1 to more than 500 candidates.
On the other hand, this year's C00 composite high school graduation exam score is also somewhat higher than previous years, especially in History. The number of candidates scoring 27 or more points is higher than in 2021.
"Those are the reasons why the standard of journalism has increased, approaching the absolute threshold," Rector of University of Social Sciences and Humanities said.
Not only Journalism, this year the school also recorded many majors that received a large number of applications for admission such as: Public Relations 2,100 aspirations – with a standard score of 29.95 points with Oriental Studies and Korean majors. National Studies; Science manages nearly 2,000 aspirations – 29 points benchmark…
Other industries recruiting C00 groups have high standards, ranging from 27 to 28 points. Block C majors are inherently less attractive but the benchmarks are quite high such as Religion 25.5 points, Anthropology 26.75 points. Han Nom branch 27.5 points.
Block D industries have a benchmark score from 24 to 27.5. In which Public Relations and Press are 27.25 – 27.5 points. Some majors such as Japanese studies, Korean studies, Hotel management… are attractive, but only D block is recruited, so the standard score is moderate, from 25 to 27.25 points.
Some majors of this school recruit a combination of block A with the standard score ranging around 23 points.
Compared to the benchmark in 2021, this year the benchmark of the Hanoi School of Social Sciences & Humanities is about 0.5 – 1 point higher in many attractive disciplines.
Details of the standards for admission to the University of Social Sciences and Humanities – Vietnam National University, Hanoi in 2022: