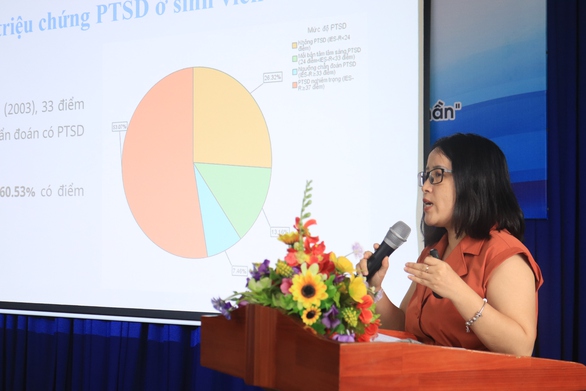 Research team members report at the workshop – Photo: PHUONG ANH
The above study is also one of four presentations presented at the 1st Mental Health Conference, topic: "COVID-19 pandemic: Problems with mental health care"taking place on September 30.
Dr. Le Thi Mai Lien – lecturer at the Department of Psychology, University of Social Sciences and Humanities (Vietnam National University, Ho Chi Minh City), member of the research team – said that post-traumatic stress disorder (PTSD) has can occur in people who have experienced or witnessed a traumatic event such as a natural disaster, war, terrorism, serious accident, or who have experienced the threat of death, sexual violence, or experiencing trauma serious.
When doing a survey of 22 statements describing 7 factors that are COVID-19, economy, learning, difficulties in relationships, infected relatives, bereavement and social influence with 228 students who are following Studying at universities in Ho Chi Minh City, the study found that more than 60% of the students participating in the survey were experiencing PTSD symptoms.
"This number is higher than other studies on PTSD in Vietnam," said Dr. Le Thi Mai Lien.
Explaining this problem, Dr. Le Thi Mai Lien analyzed: "Because the research subjects are students in early adulthood, the subjects are at high risk of developing mental disorders and special diseases. is after experiencing stressful situations".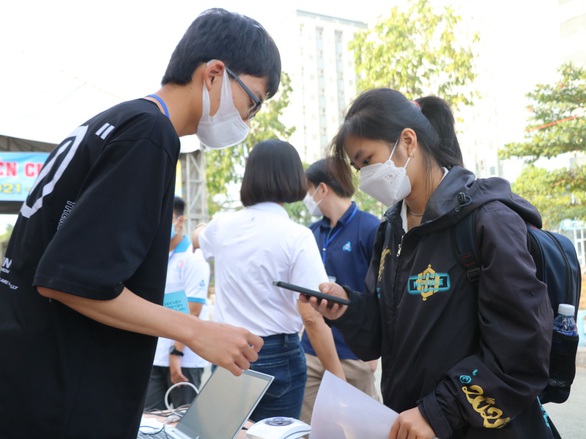 Students participate in activities of Vietnam National University, Ho Chi Minh City – Photo: TRANG NHAN
Dr. Le Thi Mai Lien recommends that schools conduct periodic screening to detect and support students with mental health difficulties. At the same time, the school can focus on psychological education to equip students with coping skills.
Students can also form support groups, so that they can share and support each other to overcome difficult situations.
In addition, state agencies can implement financial and food support policies for students in difficult situations such as pandemics, enhance psychological support for students and control information. communication to avoid the spread of false information, causing confusion and fear in the community.
PTSD symptoms are highest in sophomores

According to the results of student self-reports, the study indicated that second-year students were the group most affected by PTSD.
Dr. Le Thi Mai Lien informed: "When the COVID-19 epidemic first appeared, university sophomores were currently high school seniors, preparing for the final exams and university, so there was a lot of stress. straight".
"In the wake of the COVID-19 pandemic, sophomores are once again at greater risk of re-experiencing stressful events such as college entrance exams. Sophomores may also have disappointments because university life during the pandemic was not what I expected," added Dr. Le Thi Mai Lien.