Recently, the National Children's Hospital has issued a warning about the increasing number of children hospitalized due to adenovirus infection. According to the hospital's statistics, as of September 12, 2022, the total number of Adenovirus infections recorded at the hospital was 412 cases, more than the whole year of 2021 and an increase of more than 44.1% over the same period. There were 6 cases of pediatric deaths with adenovirus infection.
Before this information, many parents feel extremely worried when it is not clear whether adenovirus is a new virus, what disease they usually cause and how the disease is transmitted.
Here are the most important information about adenovirus that parents should know.
1. What disease can adenovirus cause?
In fact, adenovirus is not a new virus, but was first discovered in 1953. According to the Department of Preventive Medicine, adenovirus disease circulates widely around the world. In temperate regions, the disease occurs throughout the year, but incidence is higher in the spring. Epidemics of hemorrhagic conjunctivitis caused by Adeno also first occurred in Ghana in 1969 and Indonesia in 1970. There have been several outbreaks since then in tropical Asia, Africa, Central and South America.. .
In Vietnam, the disease caused by adenoids is widely circulated in many parts of the country. The disease often occurs sporadically throughout the year, there are epidemic years and the frequency of the disease is usually concentrated in the spring – summer months, so it is easy to confuse with other viral acute respiratory infections.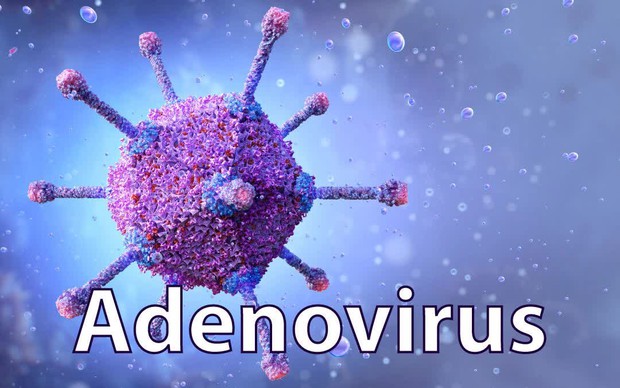 The average annual incidence of the 1996-2000 period in Vietnam was 17,486 with the rate of 23/100,000 population, with no deaths.
According to Assoc. Prof. Dr. Le Thi Hong Hanh (Director of Respiratory Center, National Children's Hospital): Adenovirus is divided into 7 groups from AG, of which there are more than 50 types that cause disease in humans and can cause disease in many organs in the body. body.
In particular, adenovirus often causes upper respiratory tract infections, lower respiratory tract infections, eye conjunctivitis (pink eye), gastrointestinal diseases (diarrhea, vomiting, nausea, …), cystitis. , meningoencephalitis, etc.
2. How is adenovirus transmitted?
The Department of Preventive Medicine warns, adenovirus can be transmitted through some of the following ways:
– The disease is transmitted by direct person-to-person contact through the respiratory tract.
– Can be transmitted through mucous membranes by swimming or washing water contaminated with secretions from eyes, nose caves, feces of patients or indirect contact through utensils of patients infected with adenovirus.
– Transmission of the disease usually occurs in the clinic, especially in the eye clinic. Healthcare workers are susceptible to infection and from there can be a source of transmission to other family members and people around.
The disease can also be transmitted by droplets such as aerosols by inhalation or through swimming pools contaminated with adenovirus.
3. Children infected with Adenovirus can face what complications?
According to Assoc. Prof. Dr. Le Thi Hong Hanh: "Adenovirus has the ability to spread rapidly in the community and cause many dangerous complications if not treated promptly such as: respiratory failure, sepsis, multi-organ failure. The disease can also leave complications for a long time. long-term, affecting children's health such as: post-infectious obstructive bronchiolitis syndrome, bronchiectasis, pulmonary fibrosis".
4. What are the signs of a child infected with Adenovirus?
When infected, children will have signs of high fever, cough, wheezing, possibly accompanied by conjunctivitis and digestive disorders. Children with severe symptoms may have difficulty breathing.
When children have symptoms of suspected Adenovirus, tests will be done to support the diagnosis such as: blood tests, chest X-ray, tests to determine the cause by Realtime PCR technique.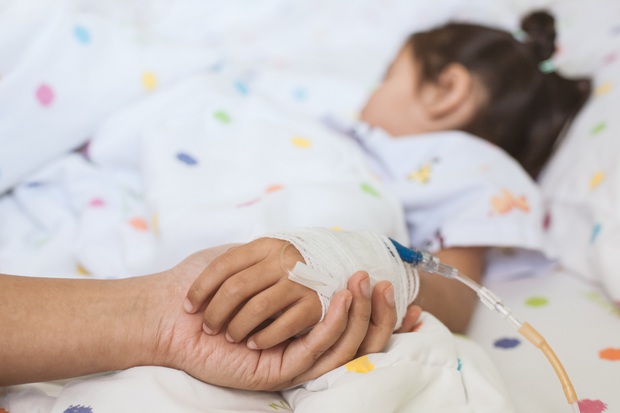 5. How will children with Adenovirus be treated?
Children infected with adenovirus upon admission will be isolated in separate wards.
Respiratory support (oxygen or mechanical ventilation) as needed.
Use antibiotics in case of superinfection of pneumonia.
Treat symptoms by: reducing fever when the child has a high fever, rehydrating electrolytes, nutritional supplements, using specific antiviral drugs in severe cases, immunosuppression (antiviral drugs are not indicated). routine for all patients).
6. What parents need to do to prevent adenovirus for their children?
"If the child has abnormal respiratory symptoms, parents need to immediately take the child to a medical facility for timely examination, diagnosis and treatment, to avoid potentially dangerous complications." – Assoc. Prof. Dr. Le Thi Hong Hanh recommends.
In addition, parents need to actively do the following:
– Feed babies early, right after birth, exclusively breast milk for the first 6 months, and continue to breastfeed until 2 years old.
– The children's weaning diet is reasonable and full of nutritional ingredients.
– Keep the children's living environment clean, cool, free of smoke, dust and tobacco smoke.
– Clean the nose and throat for children regularly: drop the nose with physiological saline (for young children), older children for physiological saline mouthwash.
– Clean the body, wash hands often, dress the child in clothes suitable for the temperature of the environment, avoid letting the child catch cold.
– Need to wear a mask when children go out, avoid contact with sick or sick children. Vaccinate fully and on time according to the national expanded vaccination program.
The Department of Preventive Medicine recommends:
– There is a source of clean water sufficient for daily life. During the rainy season, floods must be cleaned and disinfected with chloramine B.
– Maintain personal hygiene, do not share towels and regularly wash towels with soap.
– Regularly monitor and check standards of water hygiene and environmental sanitation at public swimming pools.