The patient is a NTA grandchild (born in 2018, Hanoi). According to information from family members, while squeezing fruit, the family did not notice, accidentally TA put his hand in the blender, so he got caught in it.
TS.BS Nguyen Quang Vinh – Department of Upper Extremity Surgery and Microsurgery, Institute of Trauma and Orthopedics, Central Military Hospital 108 – said that the examination results confirmed that the patient was hospitalized at the 4th hour due to being crushed by a fruit machine. grind into the right hand.
After the accident, the patient suffered a severe cut to the left of the right 2nd finger (only the right 2nd finger remained attached to the flexor tendon), the part of the broken finger was dangling, white due to the lack of blood supply.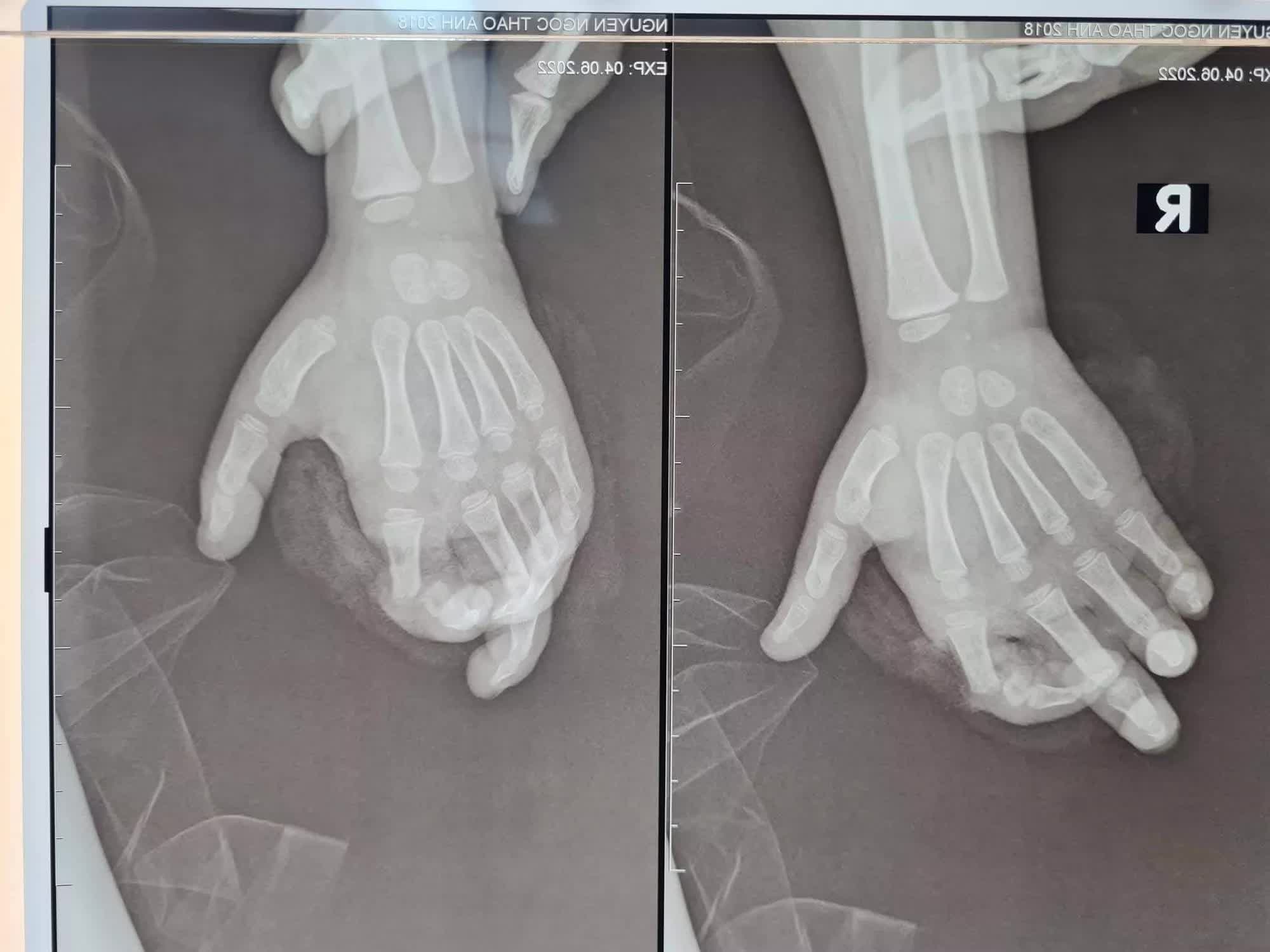 X-ray film of baby TA crushed 2nd finger by blender
The doctors had to reattach the bones, suture the extensor tendons, connect the nerves and especially the blood vessels (including arteries and veins) to re-supply blood to the finger.
Due to the small size of the blood vessels in children, the damage caused by the crusher, and a lot of bruising, it is very difficult to replant the child's finger.
In addition, the problem of anesthesia on pediatric patients for prolonged surgery, use of anticoagulants after surgery, care, post-operative dressing change… are also difficulties doctors mentioned before conducting surgery. , Dr. Vinh said.
After surgery, the patient's wound was dry, and the second finger was pink.
Every day, the Department of Upper Extremity Trauma and Microsurgery receives dozens of cases of daily-life accidents such as putting hands in fruit grinders or meat and fish grinders, cloth winches, washing machines, or occupational accidents. … The patients all experienced complicated injuries due to crushing, most of which could not save the whole hand.
Dr. Vinh said that young children are often hyperactive, curious, do not have knowledge and skills to avoid accidents, so they are very prone to accidents and injuries. Therefore, people need to be careful, take measures to ensure safety during use.
If there is an accident, the family needs to give first aid to the victim and quickly take them to the nearest specialized medical examination and treatment facility for timely emergency and treatment.