The journey from the city to the sea
In June 2021, Ms. Thien Binh (41 years old, from Hanoi) and her son went to Phu Quoc. Initially, Ms. Binh's plan was to go to Phu Quoc to rest after a stressful epidemic period. The peaceful life here made Binh and her son not willing to leave, at this time she began to think of "leaving the city to the sea".
"The fact that I left the city for the sea was a coincidence. When the covid epidemic came, I had many changes in the direction of my life and that of my mother and my daughter. That change made me decide to stick with an area. Partly because my job is not fixed, even if I go to another land, I can still flexibly look for new opportunities," said Ms. Thien Binh.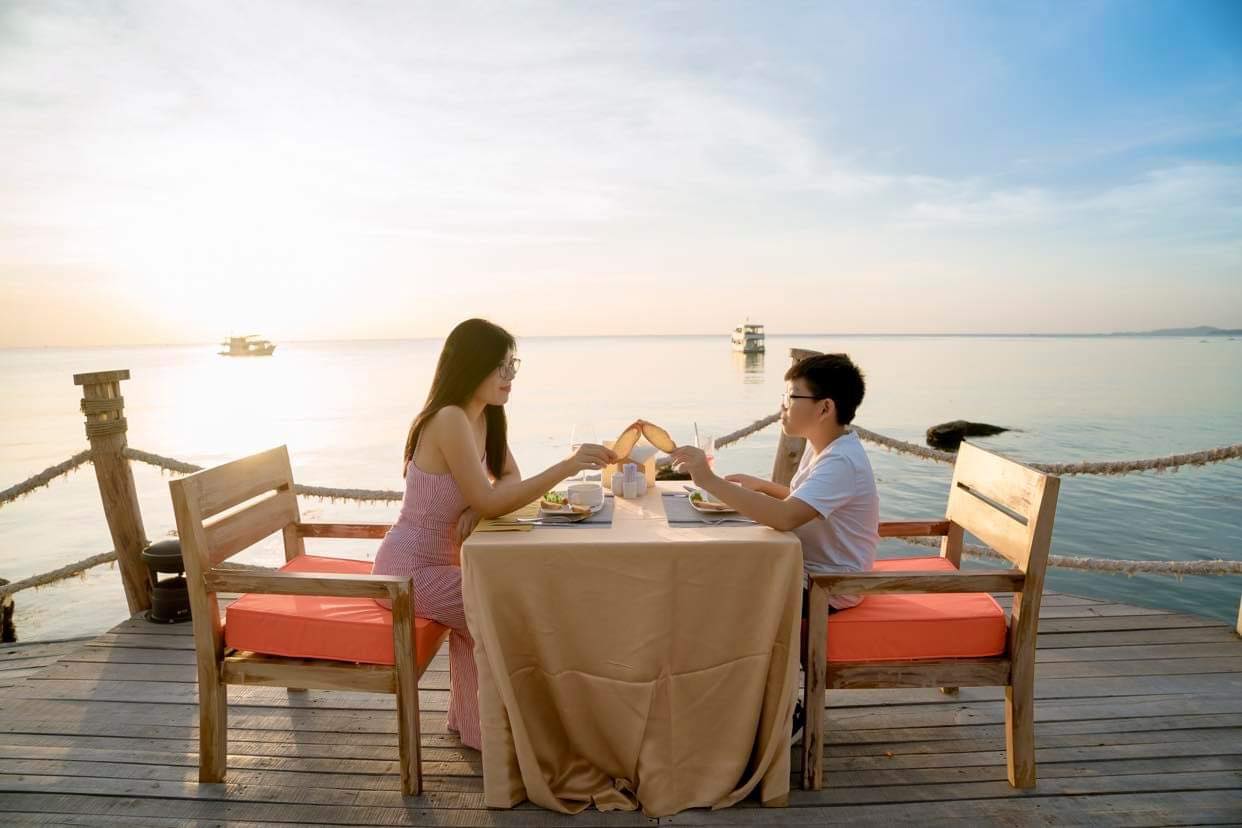 Sister Thien Binh and her son
Both Ms. Binh and her son study and work online, so moving to a new environment with both mother and daughter is not too difficult. However, the life of her and her son when returning to the sea had a great change. Ms. Binh shared: "In the past, I lived in an environment where the pace of life was always fast. Now, when I move to the sea, my life is simpler, more peaceful, far from my previous life. My health has also improved a lot."
Ms. Thien Binh said that many people think that she must have "a lot of money" to be able to leave the city to go to the sea like that. "People often wonder what to do with the sea and think that it must be a lot of money to leave the city to go to the sea like that. However, I want to affirm that I am a very ordinary woman, working normal job to earn money, to be able to maintain the life of mother and daughter, and to do meaningful things that I want to do."
"When I made the choice to leave the city and return to the sea like that, I also had to trade many things. My family, friends, and relationships are all in Hanoi. Coming to a new living environment, I almost had to start a new life. start again with the number 0 ", Ms. Binh added.
Established Touch Blue – Volunteer group to clean up trash on the beach
After 6 months of living in Phu Quoc, at the beginning of 2022, Binh's mother and daughter decided to move to Binh Lap village, Cam Lap commune, Cam Ranh city, Khanh Hoa to have more new experiences. This place is famous for its beach with clear blue water and long white sand beaches, unspoiled and peaceful landscape.
"But when I came here, the first thing I saw was the polluted environment. The whole Cam Lap commune has a total area of ​​more than 21 km2 but there is no concentrated landfill. Moreover, in recent years, the profession Lobster farming in this area is also thriving, so there is more waste in aquaculture.All waste from domestic waste, shrimp cages, bottles… here is treated by collection. then burn them on the beach or just let them float on the water, wash up on the beach," said Ms.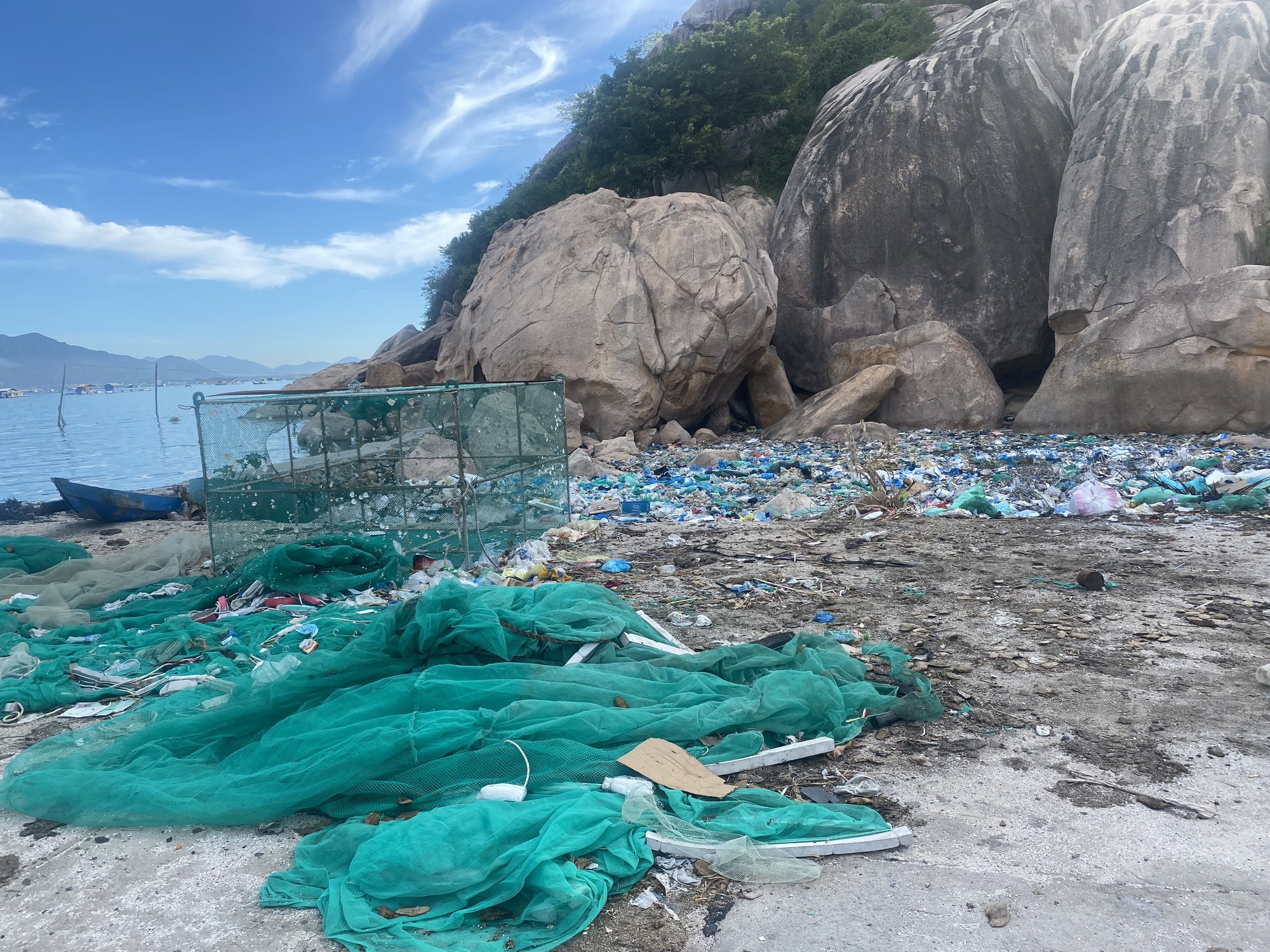 The beach is "flooded" with garbage
Witnessing garbage scattered on the beach like that, a sea that was once very clear was floating full of garbage and smelled "stinky", Ms. Libra could not sit still. Mother and daughter Libra and a few friends decided to clean up the beach together.
With the desire to have more people join hands to find the inherent blue color for the sea here, in June 2022, Ms. Thien Binh decided to establish Touch Blue group. The message that Ms. Binh wants to convey through the name "Touch Blue" is to touch the blue, touch the sea. The members of the group are people like Ms. Binh who diligently clean up trash every day, contributing to bringing green – clean – beauty to the sea. After a period of establishment, the group has nearly 400 members, including Binh's mother and daughter, villagers and people who want to protect the marine environment across the country.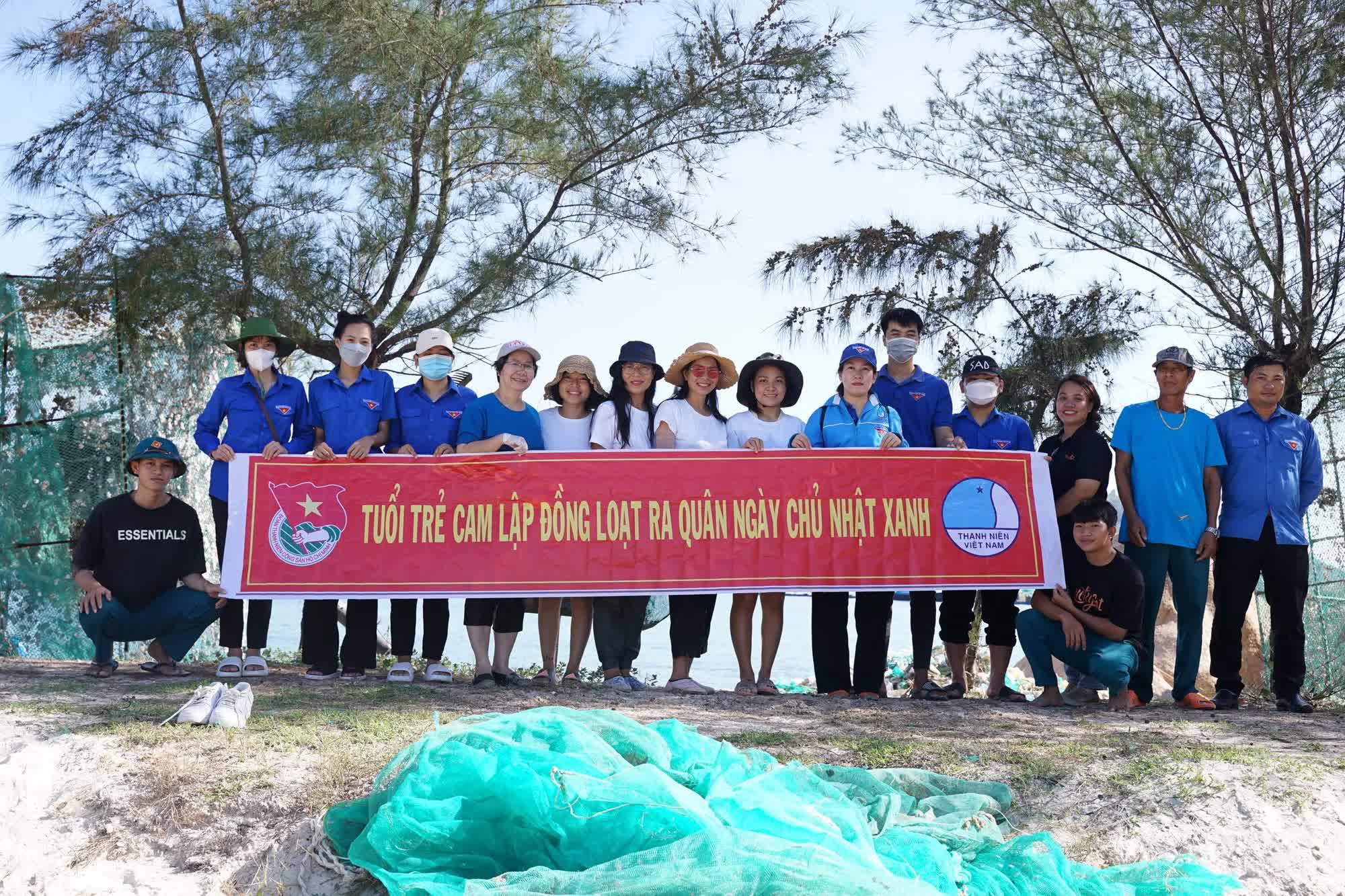 Every day, members of the Touch Blue team come to each stretch of the beach to pick up each bottle, collect all kinds of waste and then take it to treatment. When people feed shrimp, there are plastic containers that fall into the sea, Binh's group collects those plastic containers and recycles them into trash cans. There were pieces of wood drifting along the shore, which her group took back and wrote the names "Give me trash", and then put them in places where there was a lot of garbage. Last July, Ms. Binh and Touch Blue also launched a garbage collection festival in the village where she lives. She said that everyone in the village joined in and more than 20 people in Ninh Thuan, Binh Thuan, Nha Trang and Hanoi went to Ca Dao cape, Binh Lap village to clean up in 2 days.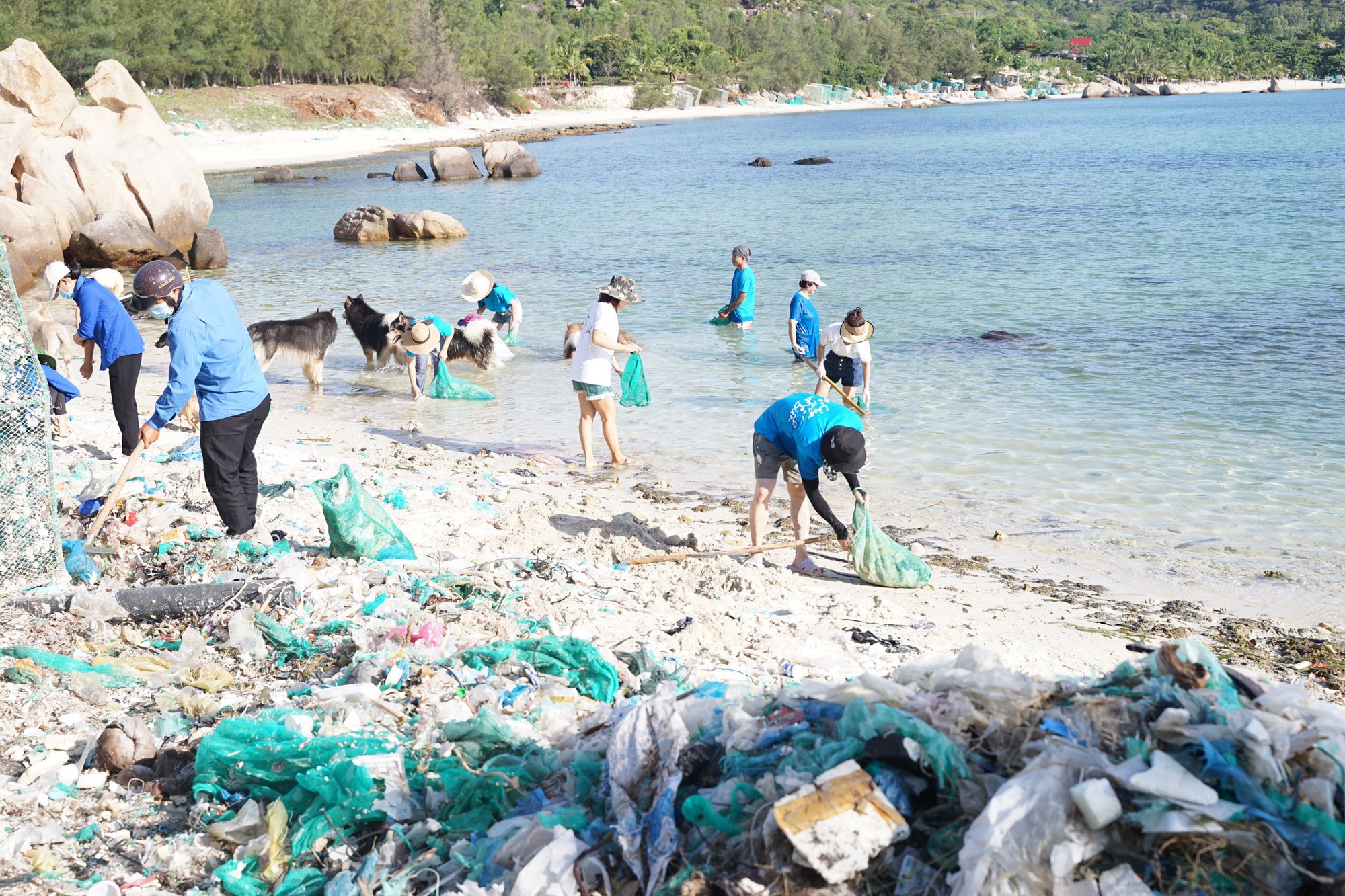 Ms. Thien Binh said that she and the members of Touch Blue group do not work according to any schedule because the garbage has to be cleaned every day. "Every day we have a plan to clean up trash on my beach, on my neighbor's beach, on my neighbor's beach. In places where there is a lot of garbage, we start to gather and clean up together. It's not that we don't have any. This is a long-term plan, but in the short term, I will do whatever I see in front of my eyes. Now, our goal is to clean up the trash in this village and urge everyone to take out the trash. into the bin".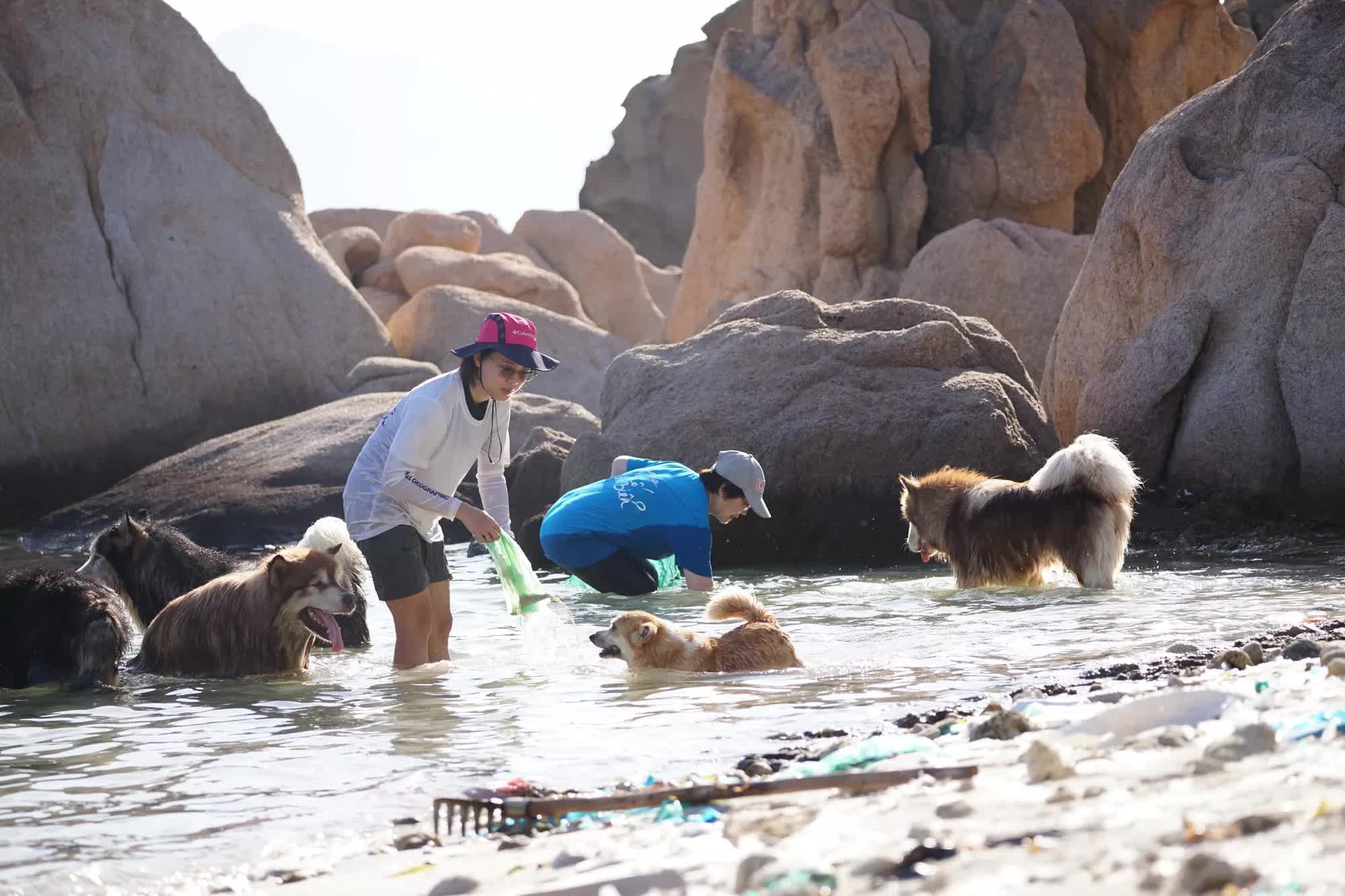 The journey to clean up the beach in Cam Lap of Ms. Binh and the members of Touch Blue also encountered some small difficulties at first. Ms. Binh shared: "Locals here are living a very normal life, naturally I come and want to change and participate in their lives. Therefore, the first difficulty is how to cope. I get used to their lifestyle and it's good to explain to them what we're doing."
Every day, Ms. Thien Binh keeps working hard to pick up trash and mobilizing people to join, meet anyone in the market or on the street, she always says: "Today, my house cleans garbage, everyone comes to clean up garbage together. are not?". Seeing that, many people said that Ms. Binh was "so free". But with that campaign, more and more people joined Ms. Binh and the members of the Touch Blue group to clean up the trash. The local youth union also joined her group.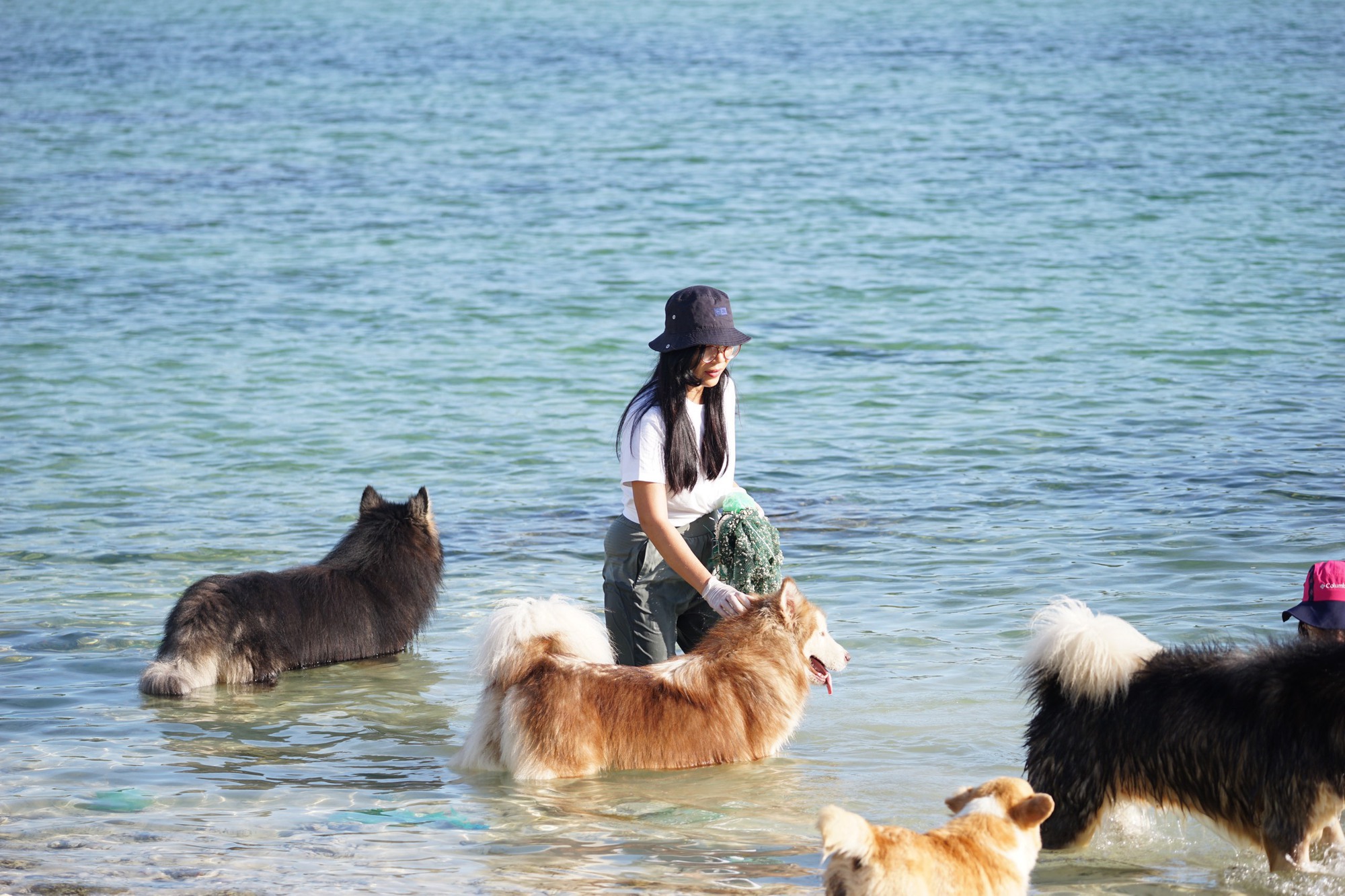 After a while, everyone gathered together to pick up trash, the beach in Cam Lap became cleaner, more open, white sand beaches gradually appeared. Ms. Binh said that the sea near her house is now very clean, as if "wearing a new color".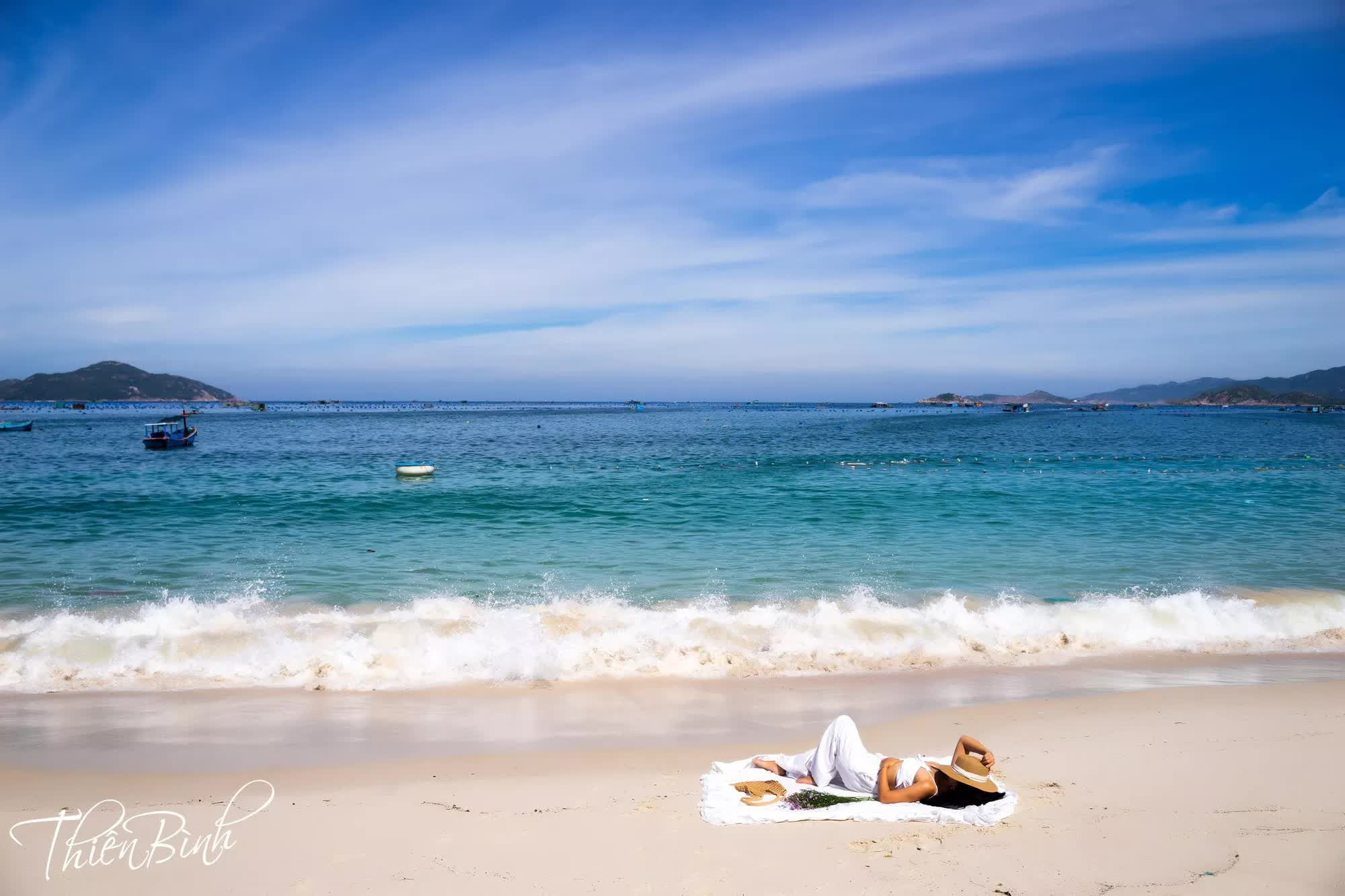 The beach after being cleaned by Ms. Binh and the members of Touch Blue, the local people together
Ms. Binh shared, since the founding of Touch Blue, she has made many new friends, who share the same goal, the same thought and desire to protect the marine environment. "Thanks to the group Leaving the city to the sea and Touch Blue, I have many more companions. I think I will never forget such people, they pass by and leave me with 'blobs'. in this life," Binh said.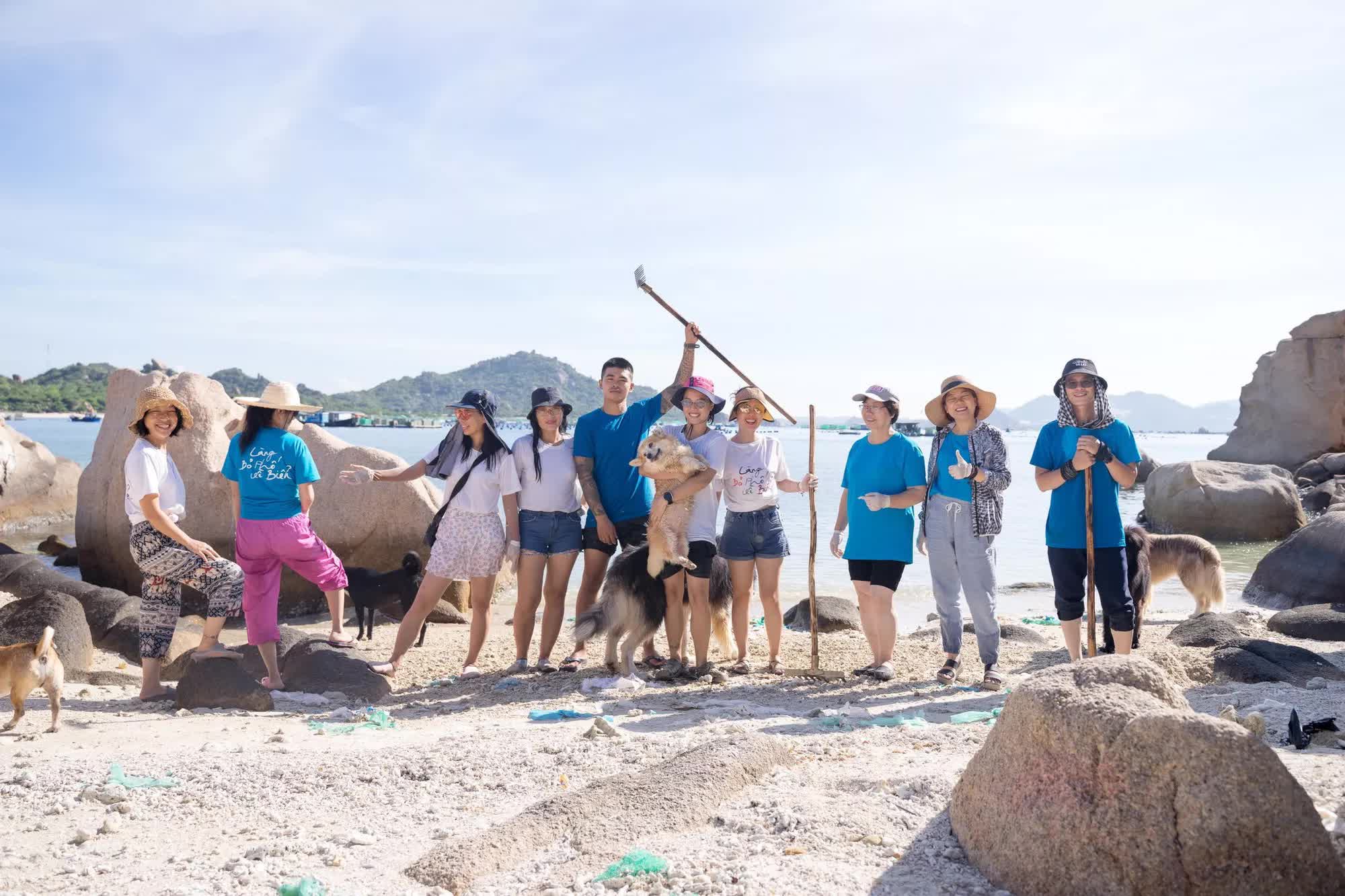 Ms. Thien Binh's wish is that the message of protecting the marine environment that Touch Blue wants to convey will be spread and further so that more and more people can participate in cleaning the sea. She shared: "I wish that wherever I go, I also make green and clean where I live. Because in fact, Cam Lap is not a place where I will stay for a long time, I will only be able to stay for a while, 1 year, 2 years later I will continue to move to another place, my mother and I hope to be able to travel all over Vietnam, so I really want to spread Touch Blue's movement to the localities along Vietnam's coastline, not just the coast of Cam Lap village".
Ms. Binh shared that the motivation for her to be able to found Touch Blue, to persistently clean the beach every day, in addition to the desire to find the blue color of the sea again, was the support from her son. "I want to set a good example for my children. I also want to give them a green life and practical experience. The things I do, such as cleaning up trash at the beach, my children do it with and support. This is what makes me happy and motivates me to do everything. I always believe in my decisions because I have my son by my side," said Ms. Thien Binh.
Photo: NVCC, FBNV