On June 21, social networks stirred up when the People's Committee of My Xuyen district, Soc Trang province issued an announcement about speeding up the progress of the 4th dose vaccination against Covid-19.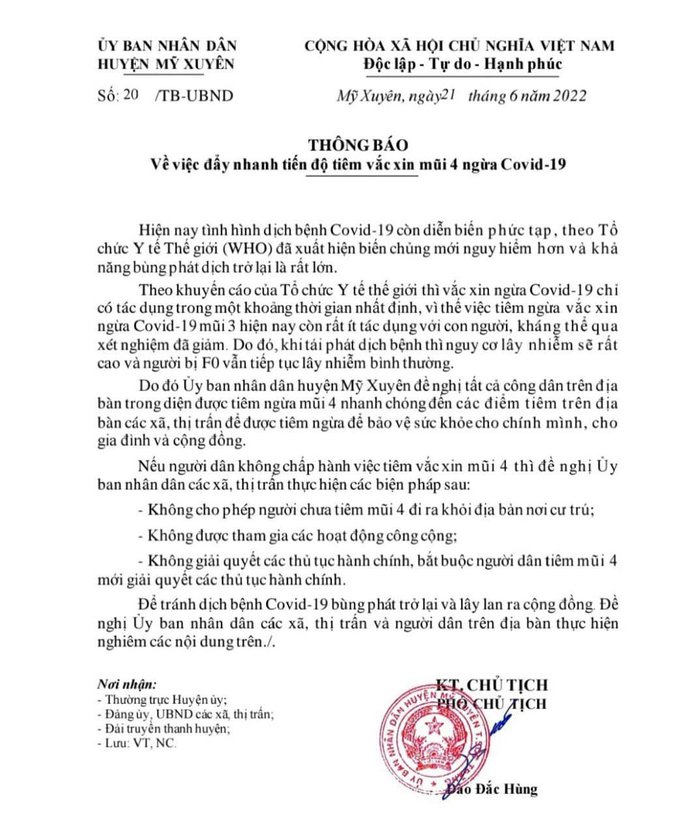 Notice of People's Committee of My Xuyen district, Soc Trang province
Accordingly, the situation of the Covid-19 epidemic is still complicated, a dangerous new strain has appeared and the possibility of an outbreak of the disease again is very great… Therefore, My Xuyen District People's Committee recommends all citizens in the area People who are eligible to receive the 4th dose of vaccination quickly go to injection sites in the communes and towns to receive vaccinations to protect their health, their families and the community.
In case people do not comply with the 4th dose vaccination, the People's Committees of communes and townships are requested not to allow them to go out of their places of residence; not participate in public activities; do not handle administrative procedures, forcing people to inject the 4th injection to handle administrative procedures.
On the afternoon of June 21, talking by phone with Nguoi Lao Dong Newspaper, Mr. Tran Van Lau, Chairman of the People's Committee of Soc Trang province, said that he would urgently review this matter to take corrective measures if the notice was not appropriate. consistent with the actual situation.