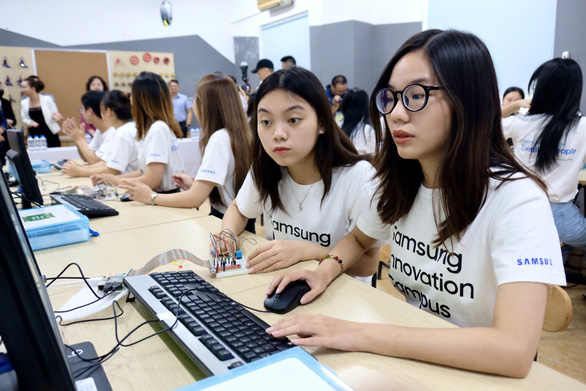 Students participated in a technology capacity development course, which took place on the afternoon of September 21, at Hanoi National University of Education – Photo: NGUYEN BAO
At the kick-off ceremony of the Technological Talent Development Program – Samsung Innovation Campus (season 4), on the afternoon of September 21, Mr. Choi Joo Ho, general director of Samsung Vietnam Complex, said so.
A representative of Samsung Vietnam said that the program has expanded to 33 countries around the world such as the US, Germany, Spain, Singapore, Malaysia, Thailand, etc. In Vietnam, the program has been implemented since 2019 and has attracted about 3,000 teachers and students to date.
Theo Mr. Choi Joo Ho, yearsRecently, enterprises' demand for software human resources related to information technology is increasing strongly, but the supply of human resources is seriously lacking. In contrast, students or job seekers are not provided with adequate opportunities to learn about software.
To solve this problem, since 2019, the technology talent development program has been built to provide students with core training programs related to software such as programming and artificial intelligence, internet of things.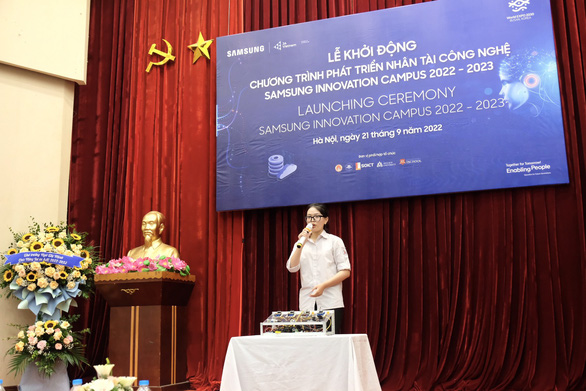 Bui Huyen Trang, a student of class 12A2 at An Duong High School, Hai Phong, a typical student who participated in the Connected Things – IoT course of the SIC project in 2021-2022 – Photo: NGUYEN BAO
At the kick-off ceremony, female student Bui Huyen Trang (Hai Phong) brought the product "Building a wireless sensor system to monitor water environment parameters for aquaculture application".
Trang said that at the beginning of the course, she still had a psychological barrier that she was not suitable for the program. But thanks to the enthusiastic support from the teachers, I no longer hesitated and achieved very good results at the end of the project.
In 2022-2023, the program will continue to deploy high-tech training and development courses for an additional 3,000 pupils, students and teachers nationwide.
This fourth season of high-tech training and development will provide technology competency development courses for 14-24 year olds, including: the Internet of Things – IoT course ); artificial intelligence (Artificial Intelligence – AI); Big Data and a basic programming skills course (Coding & Programming – C&P). Along with professional knowledge, the course also provides career-oriented skills content to supplement and enhance learners throughout the program.