According to Assoc. Prof. Dr. Nguyen Ngoc Dung (Vice Rector of Vietnam American College), if they fail their aspirations, they still have a chance.I can follow the major I like thanks to schools with additional admissions such as Vietnam American College.
Should "pause", wait until next year to retake the exam?
Nguyen HB Trang (Ba Ria Vung Tau province) achieved 22 points in the social science subject. Having a passion for Public Relations, I applied for admission to a big university in Ho Chi Minh City. HCM.
However, Trang was not too confident with this score and said that she was also prepared if the results were not as expected: "In case I fail, I plan to find something to stay ini City. HCM in the style of studying and working. I will study for the exam so that I can start again next year, but I don't want to study another major."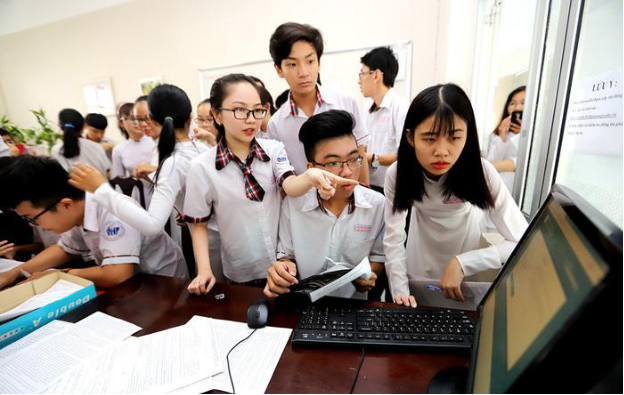 Failing aspiration 1, many 2k4 candidates choose to go to work, waiting for the opportunity to retake the exam next year (Image source: Internet)
Stopping registration and waiting to retake the exam next year is not a new option after each exam season. However, according to many experts in the field of education, this decision carries a lot of risks and can lead students to go in the wrong direction compared to the original goal.
The reason is that when they stop studying to go to work, they not only have to face the situation of "dropping" knowledge from high school but also face the temptation of earning money and being financially independent. In fact, there are many cases where candidates from "one-year leave" have become "long-term leave", missing the opportunity to study further.
Check out your favorite majors at other schools
Failing to get into the University has never been "the end" for 2K4 young people. In fact, the most important principle of further study is to give students the opportunity to have access to in-depth knowledge about the job and industry that they love.
Therefore, what you need to do when you fail your aspirations is to quickly find good schools, with additional admissions in the right majors you want to pursue. For example, right from September 17, Vietnam American College has increased by 420 additional admission criteria. Including targets for "hot" industries such as: Business English Interpreting, Hotel Management, Small and Medium Business Administration, Public Relations, Graphic Design, Interior Design , Nursing, Pharmacy…

Viet My College only considers academic records, creating opportunities for many candidates to study their favorite majors
With the slogan "Choose difference – Choose success" With the same training goal towards Learning – Practice, Viet My College applies the "golden ratio" which is recognized by many international educational institutions: 70-30 (70% practice – 30% theory).
According to this ratio, the subjects at the school are taught in a positive way, building a spirit of independence and active learning for students. Thanks to a team of dedicated and knowledgeable instructors, who always play the role of guiding, evoking and nurturing creativity; Vietnamese American College students after graduation have mastered knowledge, are good at soft skills, in line with the requirements of personnel in the 4.0 era.
In addition to hands-on lessons at a system of modern function rooms, the school continuously organizes seminars, talks, and talkshows for students to meet and learn from leading experts. At the same time, Viet My College also organizes more business semesters or internships, internships, working environment experience sessions in the school's joint training partner system. Thanks to these efforts, graduates have practical working knowledge and are "hunted" by multinational corporations.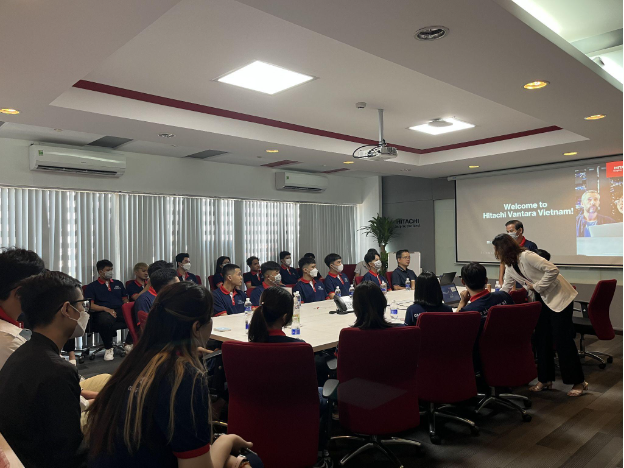 Vietnamese American College students learn a lot of valuable experiences during business trips
Towards integration and creating a generation of "Citizens" Global"
Integration and development and striving to become global citizens are the goals of Gen Z young people. Understanding this, Viet My College focuses on foreign language training, raising output standards. More specifically, Viet My College promotes specialized English teaching in every semester, ensuring that graduates are fluent in at least one foreign language.
Thanks to a series of advantages and strengths, over the past 15 years, Viet My College has always been the first choice of parents and students. This school year, in order to increase the opportunity to pursue favorite subjects for 2k4 students, Viet My College is recruiting 420 additional targets for 15 training majors at the school. For students who enroll before October 31, they also receive a discount of up to 20% on first semester tuition fees and gift combos when they come to school.
For more information, parents and students, please contact the school's admissions office through the website. https://tuyensinh2022.caodangvietmy.edu.vn and fanpage https://www.facebook.com/americanpolytechnic