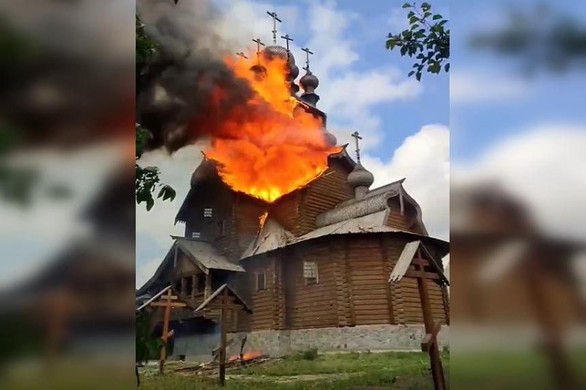 Fire destroys 17th century ancient monastery of Svyatohirsk Lavra in eastern Ukraine – Screenshot
On June 4, Ukrainian President Zelensky said that Russian artillery had hit an Orthodox monastery dating from the early 17th century in eastern Ukraine. Zelensky said three monks were killed in the attack.
The Russian Defense Ministry denied Zelensky's claim, accusing the Ukrainian army of setting fire to the monastery before retreating.
Svyatohirsk Lavra Monastery belongs to the Ukrainian Orthodox Church of the Moscow Patriarchate. The monastery is also located near Russian positions east of Donetsk, one of two areas the Kremlin is trying to control.
In the video posted by Mr Zelensky on the official Telegram channel, the fire ripped through the wooden walls of the monastery, rising violently.
The ancient monastery of Svyatohirsk Lavra was destroyed – Source: UKRINFORM
"Russian artillery attacked the Svyatohirsk Lavra monastery in the Donetsk region. The monastery was destroyed," Zelensky wrote on Telegram on 4-6.
According to the Ukrainian president, the monastery was first destroyed during the Soviet era. Later the monastery was rebuilt and was just burned down by the Russians.
"Every church burned by Russia in Ukraine, every school blown up, every memorial destroyed proves that Russia has no place in UNESCO," Zelensky stressed.