The National Strategy on Research, Development and Application of Artificial Intelligence, issued by the Prime Minister, sets the target that by 2030, Vietnam will become a center for innovation, development of solutions and applications. use of artificial intelligence in ASEAN and around the world.
In order to take advantage of this core technology trend, in recent years, domestic scientists have researched, developed and applied many effective artificial intelligence solutions.
A compact environmental monitoring device called Fi-Mi, installed on a bus route in Hanoi, helps collect data on air pollution levels in places where the bus passes. The control center will synthesize and analyze the transmitted data, then issue warnings about air quality. Due to the application of artificial intelligence technology, the level of accuracy will gradually improve over time as more and more data is collected.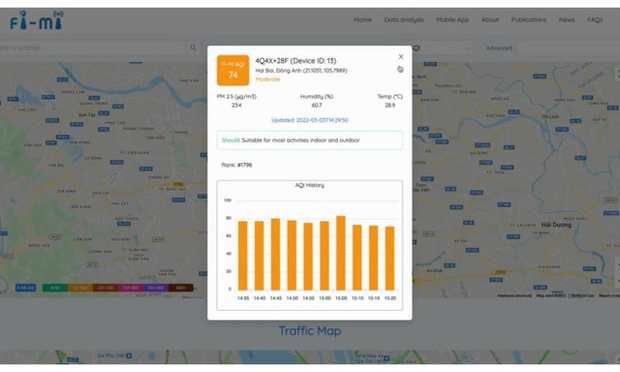 Dr. Nguyen Phi Le – Director of the International Research Center on Artificial Intelligence, Hanoi University of Science and Technology – shared: "We will use artificial intelligence to predict the air quality in areas where there are no buses passing and to forecast future air quality as well. Artificial intelligence is also used to optimize the air quality. optimize instrument operation such as automatically adjusting the sampling frequency of the devices so that it is the most energy efficient while ensuring the highest accuracy".
Meanwhile, a team is researching and developing a solution that uses artificial intelligence (AI) to collect and analyze information on the Internet. After listing the list of articles, articles, comments on social networks related to the keyword to be searched, the system will evaluate that information as positive or negative. Number statistics by time, article source or each domain.
Master Dao Quang Toan – Institute of Information Technology, Vietnam Academy of Science and Technology – said: "Currently, we have equipped such software for units such as the People's Committee and the Department of Information and Communications of the localities. They will monitor the policies when they are released and will receive feedback from the people. , press agencies through articles supporting that policy or opposing it, thereby adjusting the policy better and better".
Artificial intelligence can be used in driver fatigue recognition, accident avoidance, identification verification, text-to-speech, assistance for the visually impaired, or diagnostics. cancer… Data is a very important element in any application of artificial intelligence.
Assoc. Dr. Nguyen Long Giang – Deputy Director of the Advanced Center for Artificial Intelligence, Vietnam Academy of Science and Technology – said: "In order to develop artificial intelligence applications, the first thing we have to do is invest in data sharing infrastructure and computing network infrastructure. It is the foundation for research teams to build together. model of sharing artificial intelligence tools from which to develop solutions to solve specific problems".
It is forecasted that the future development of artificial intelligence will focus on the trends of self-driving cars, virtual assistants and increasing experiences on smart mobile devices.