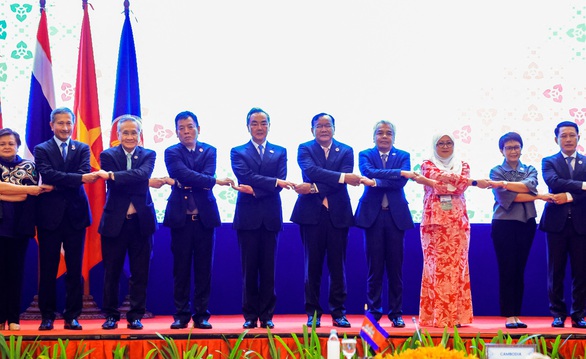 Chinese Foreign Minister Wang Yi (fifth from left) takes a photo with ASEAN foreign ministers in Cambodia, August 4 – Photo: REUTERS
Tensions around the Taiwan Strait became an issue discussed at the 55th ASEAN Foreign Ministers' Meeting (AMM) which opened on August 3 in Cambodia.
"The situation could lead to miscalculation, serious confrontation, open conflict and unpredictable consequences between great powers," said the ASEAN joint statement.
Present in Phnom Penh to participate in meetings with ASEAN, senior EU official in charge of foreign affairs, Mr. Josep Borrell also condemned the reaction of the EU. China.
"There is no reason to use the visit (Ms. Pelosi's visit to Taiwan) as a reason for aggressive military activity in the Taiwan Strait. Legislators from the countries we travel to are normal and routine. regularly," said Mr. Borrell.
Kung Phoak, Cambodia's deputy foreign minister and ASEAN spokesman, called on relevant parties to make efforts to stabilize the situation.
"We hope the situation in the Taiwan Strait will de-escalate and return to normal," Kung Phoak said.
According to AFP news agency, some countries in ASEAN have close relations with China, such as Myanmar, Cambodia or Laos. Some other countries are more wary of Beijing.
Currently, no ASEAN country has officially recognized Taiwan or expressed interest in supporting Taiwan over China.
On August 3, in response to criticism of US House Speaker Nancy Pelosi's visit to Taiwan, China announced large military drills in six areas around the island of Taiwan, starting from 12:00 on August 4.