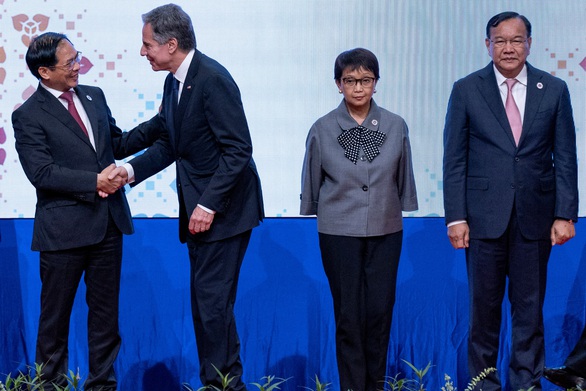 Minister of Foreign Affairs Bui Thanh Son (left) shakes hands with US Secretary of State Antony Blinken at the ASEAN – US meeting on August 4 – Photo: REUTERS
"We discussed the situation in the South China Sea, in which a number of ministers expressed concern about land reclamation, activities, and serious incidents in the area, including damage to the marine environment and erosion. trust and confidence, and may undermine peace, security and stability in the region", the newspaper Manila Standard of the Philippines cited part of the statement.
The declaration is the result of the 55th ASEAN Foreign Ministers' Meeting (AMM) held in Phnom Penh, Cambodia, from August 3.
The statement called for "strengthening mutual trust and confidence, self-restraint in the conduct of activities that may complicate or escalate disputes and affect peace and stability, and avoid conflicts of interest." actions may further complicate the situation" in the region.
ASEAN countries emphasized finding peaceful solutions to disputes in the East Sea in accordance with recognized international law, including the 1982 United Nations Convention on the Law of the Sea (UNCLOS), and called on all parties to continue promote a "beneficial" environment for Code of Conduct (COC) negotiations in the South China Sea.
China and ASEAN are accelerating the conclusion of COC negotiations.
During the ASEAN-Japan meeting on August 4, Japanese Foreign Minister Yoshimasa Hayashi expressed concern about unilateral efforts to change the status quo in the East and South China Seas. Mr. Hayashi said that the COC must be consistent with UNCLOS and should not prejudice the rights of parties outside the region.
Among China's proposals is to limit the involvement of any country outside the South China Sea.
* On the afternoon of August 5, in Phnom Penh, within the framework of the 55th ASEAN Foreign Ministers' Meeting (AMM-55) and related conferences, Vietnam's Minister of Foreign Affairs Bui Thanh Son attended the ASEAN Regional Forum. 29th ASEAN Regional Forum (ARF).
According to the VNA, Minister Bui Thanh Son emphasized the importance of ensuring peace, security, stability, safety, freedom of navigation and overflight in the East Sea, calling for building the East Sea into a sea of ​​peace. , stability and cooperation. ASEAN and China continue to make efforts to fully and effectively implement the Declaration on the Conduct of Parties in the East Sea (DOC) and soon achieve an effective, efficient and appropriate Code of Conduct in the East Sea (COC). accordance with international law, including UNCLOS 1982.
In addition to the East Sea, the ARF also discussed many other regional issues such as the situation in Myanmar.