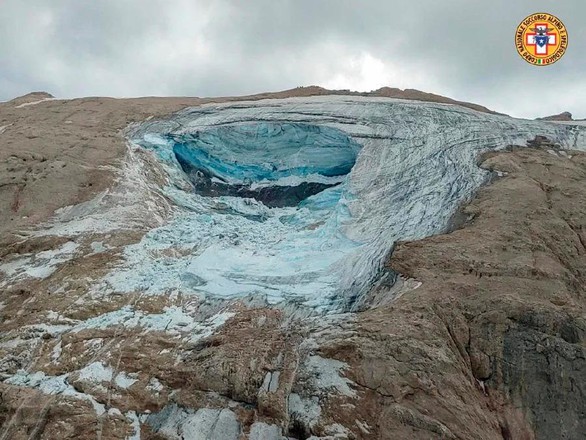 Glacier on Mount Marmolada in the Italian Alps suddenly collapsed on July 3 – Photo: REUTERS
According to the newspaper Guardianthe glacier's rupture sent large amounts of ice, snow and rock to hit hikers at a popular hiking trail at the summit of Mount Marmolada.
Gianpaolo Bottacin, a local civil protection official, said the situation was still "progressing" and that up to 15 people could be missing. Rescue workers are checking the parking lot to get an accurate count of the number of people missing.
Local authorities mobilized rescue dogs and helicopters to search in the early hours of the accident. However, they were forced to halt the search at midnight on July 3 due to fears that the glacier would break further. Rescue operations will resume soon on July 4.
Marmolada, 3,300m high, is the highest peak east of the Dolomite (in the Alps).
Walter Milan, spokesman for Italy's national cave and alpine rescue team, said it was not clear what caused the sudden collapse of the glacier, but the record-breaking heat that has engulfed Italy since late June could be the worst. is the cause.
Milan noted that the past few days in this mountainous region have recorded a record high temperature of 10 degrees Celsius.
Meanwhile, according to AFP news agency, glacier expert Renato Colucci said the phenomenon of glacier collapse will continue because the temperature in the past weeks in the Alps has exceeded normal levels.
Italian Prime Minister Mario Draghi offered his deepest condolences to the victims and their families.