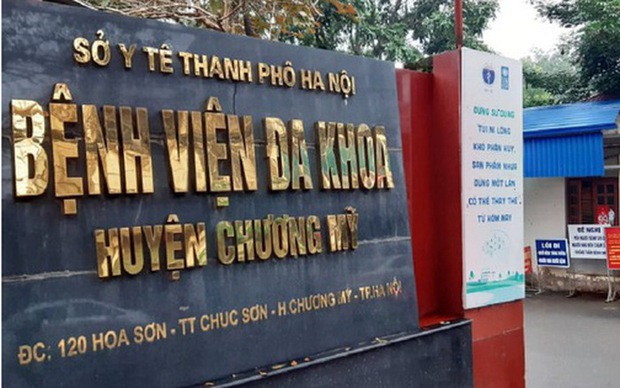 Chuong My District General Hospital
Regarding the case of a woman abducting a newborn baby at Chuong My General Hospital (Hanoi), on the evening of August 20, talking with PV Newspaper PNVN, the hospital leader said that the above incident happened at the hospital in the evening. 19/8. Immediately after the incident happened, the Board of Directors of the hospital was present to visit and encourage the family of the pregnant woman.
According to the above leader, pregnant woman NTH (born 1983, residing in Hoa Chinh commune, Chuong My district) gave birth by caesarean section on August 18. Around 8pm on August 19, Nguyen Thi T. (33 years old, residing in Thuy Huong commune, Chuong My district) snuck into the Department of Obstetrics and Gynecology, pretending to be a hospital employee carrying a newborn baby.
However, when T. moved 1 floor, the doctor of the Department of Obstetrics and Gynecology discovered that someone was wearing the uniform of a medical staff but was strange, so he kept it. After transferring T. to the administrative office, this woman ran away. The BV staff shouted and then arrested the subject, and at the same time informed the Chuong My District Police.
This leader also said that although T. wears a nurse's uniform, there is no logo of the hospital.
Explaining why subject T. chose the time at 8 pm to carry out the kidnapping, BV leaders said that this is the time to visit children. Maybe that's why T. chose this time to break into the hospital and kidnap the child.
It is known that the health of the newborn baby and the mother are completely stable at present. Because the woman gave birth by cesarean section, she continued to stay at the hospital for monitoring.
Previously, as PNVN reported, on August 20, the police of Chuong My district, Hanoi, held criminal detention for Nguyen Thi T. to investigate the act of appropriating people under the age of 16.
Accordingly, T. pretended to be a hospital medical staff to carry the baby away due to the temperature but was followed by his family. Then, the hospital's medical staff discovered and arrested, assigned the police agency to investigate and handle.