On September 22, on the social network Facebook spread a clip recording the scene of a woman kicking a boy's thigh, causing the victim to break his leg. The incident is said to have happened in Quy Son commune, Luc Ngan district, Bac Giang province.
Talking to PV, Mr. Tran Van Ban, Chairman of the People's Committee of Quy Son commune (Luc Ngan district, Bac Giang province) said that the person who kicked the baby and broke the femur in the clip was the baby's biological mother. The local government has received information about the incident and sent the Quy Son Commune Police to the family to verify this afternoon (September 22).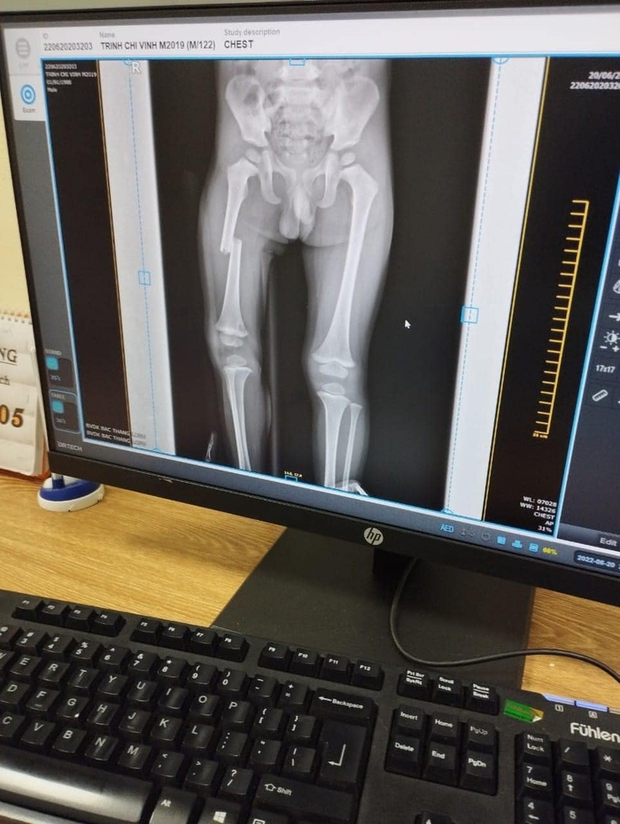 X-ray image of the baby's leg bones.
"According to information from the Commune Police, the incident happened from June 20, 2022. However, until today (September 22) the family put the clip on social networks. According to the assessment of the public This is just a temporary anger, not a case of regular violence. However, the local government will take deterrent and educational measures in this case," said Mr. Ban.
According to the leader of Quy Son commune, the initial cause of this incident was stated by the family that the child had lost his mother's key. Currently, the case is being handled by Quy Son Commune Police in coordination with Luc Ngan District Police.