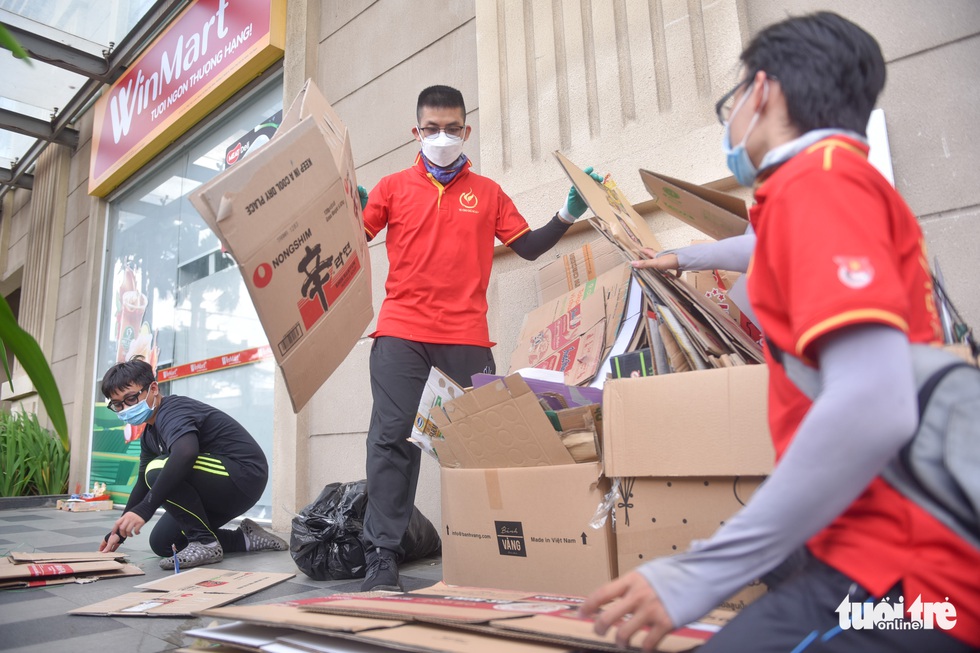 Mr. Nguyen Van Tien's staff collects bottles at fast food stores, schools, hospitals, wards, environmental organizations and operates in 8 districts of Ho Chi Minh City.
From the days when he was sitting in the lecture hall of Saigon University of Technology, Nguyen Van Tien (District 5, Ho Chi Minh City) determined that he would start a business instead of going to work. The 9X guy chose to start a business with bottles from 2012 until now.
Unknowingly during trips to collect ticks and bottles to make small plans for local children, Mr. Tien noticed that "materials that can be used but discarded are very wasteful". He thought of the story of 'old and new,' then fell in love with the business of buying and selling bottles and founded a company with waste management and recycling services.
Company employees collect ticks and bottles at signed waste sources such as: shopping malls, convenience stores, schools, etc., then classify and transport them to pressing stations or factories of the companies. recycling unit. This method will bypass the traditional stages of collecting ticks and bottles, saving time and having a more stable source of ticks.
Mr. Tien shared: "In the beginning, I faced many difficulties because I was a start-up, had no experience, and I chose to buy traditional bottles by motorbike or trolley to collect them. About the issue of personnel. Because young people don't like this job because it's dirty, they have to do manual labor and the profession brings guilt to the worker, so it's difficult to find people to do it at first."
The current team established by Mr. Tien has 14 employees, most of which are young people, who are unemployed. Will collect at fast food stores, schools, hospitals, wards, environmental organizations and activities in 8 districts of Ho Chi Minh City.
Mr. Tien said that this job brought him a good source of income, a "blood" of starting a business and "blood" of volunteering instilled in him from a young age, so he wanted to do a unique job that had a positive impact on people. society.
"I want to change my mindset and habit of sorting waste at the source, instructing people first and we just need to come and collect it. It saves time and the cost of collecting bottles and scraps on our side as well. higher, I also have a good source of goods. In the near future, this industry can be digitized. Build a green station which is a traditional bottle shop, a place to receive and buy recyclable waste in residential areas" – Mr. Tien added.
Dam Thanh Kien (22 years old, District 5, Ho Chi Minh City) confided: "I've known about this job since I joined the Youth Union's activities from the time I was a child until now, during that time I met him. I went ahead and decided to join. Doing this job, I don't feel self-conscious, although it may be dirty and not fragrant, I find this job helps the environment a lot."
Ms. Vo Thi Bich Lien (District 5, Ho Chi Minh City) confided: "I often participate in activities of exchanging trash for gifts. After using the cans and cartons, I can exchange them, get those coupons and buy back the face. necessities such as sugar, salt, cooking oil for household use. I find this activity very meaningful, as often people will sort waste at the source, contributing to limiting waste to the environment."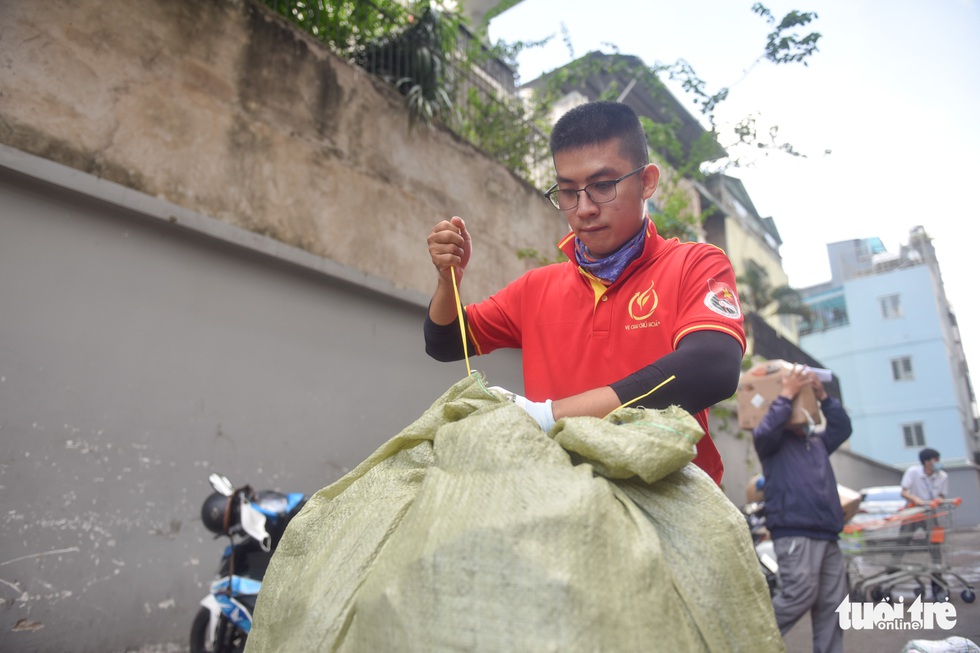 Every day, Mr. Tien rolls up his sleeves and works with everyone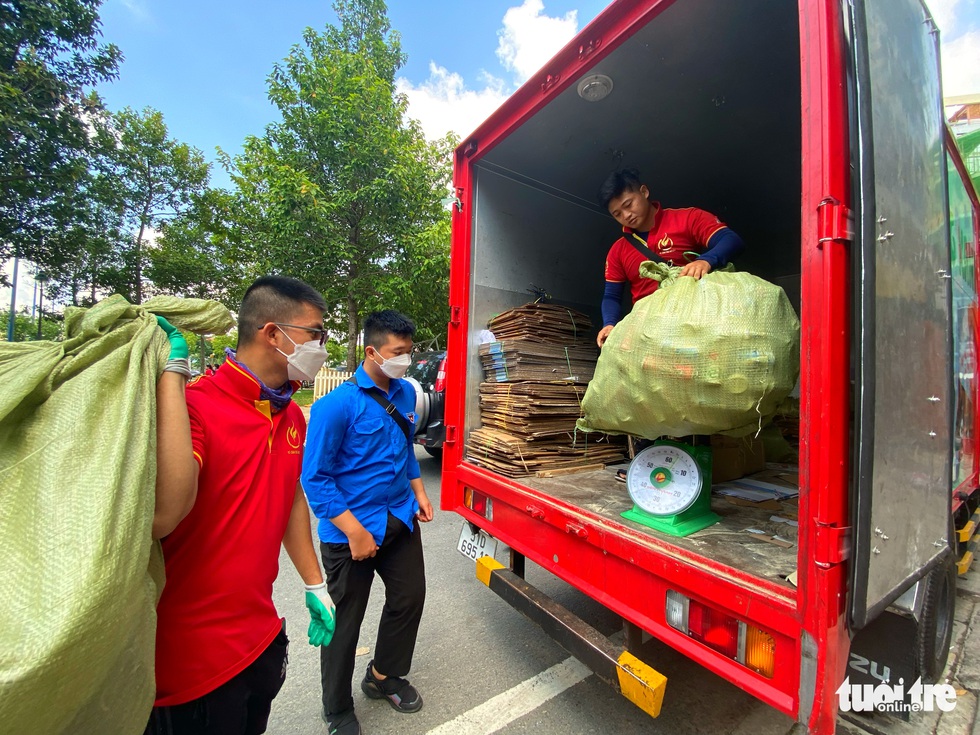 Currently, Mr. Tien's employees have 14 people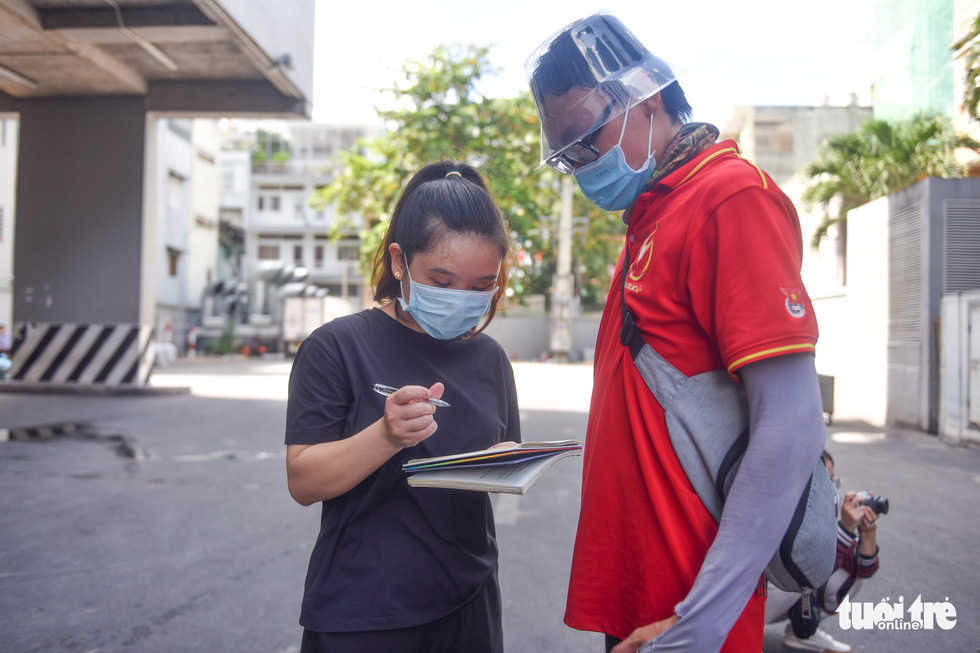 After the collection is complete, the partner will sign for confirmation
The logbook of daily collection data is carefully recorded for staff to make reports at the end of the day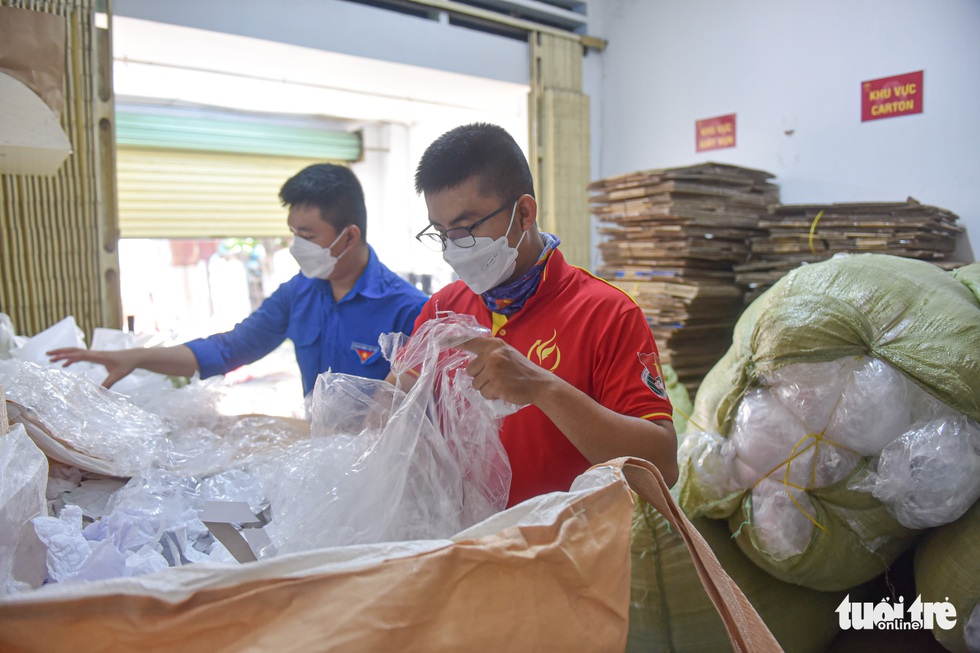 Mr. Tien is building a "green station", an alternative model for the traditional bottle shop, where it will classify cartons, plastic bags, … according to each area. In the photo: at a "green station" in alley 370 Lac Long Quan, District 11