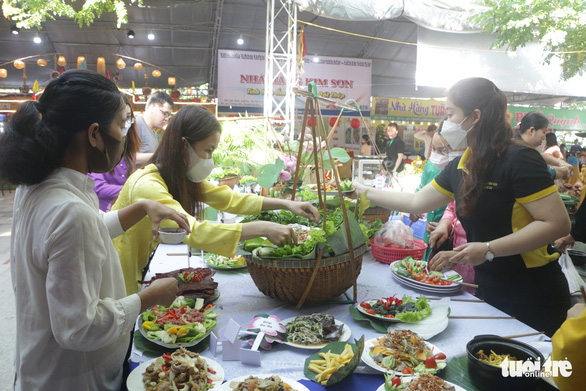 Display of diverse dishes from ingredients to processing methods – Photo: THAI THAI
Noodles with cassava, silkworm cakes, spicy noodles, cassava roots, frog noodle soup, chicken noodles, toasted noodles, beef hotpot with noodles, noodles with noodles… are typical dishes introduced. . Many visitors have enjoyed visiting and trying it out.
As a seller of silkworm and spicy cakes at home for more than ten years, Ms. Vo Thi Thu Hong (Trung Lap Ha commune, Cu Chi) feels very happy when she can bring her dishes to the festival.
"Selling expensive and selling low doesn't matter, when I sell, people come in and out feel very happy. In Cu Chi, people eat a lot of cassava, so they don't like it as much as other places.
But when I returned to Saigon and brought fish and meat to my friends, they didn't like it, but when I brought the cassava, my friends ate it all," Hong shared after selling out two trays of spicy cakes and two trays of silkworm cakes and preparing them. was given a batch of bread in the afternoon.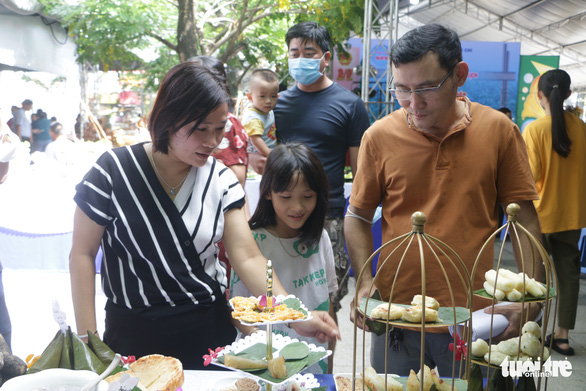 Mr. Nguyen Van Thach (40 years old, An Nhon Tay commune, Cu Chi, HCMC) brought his family to the festival – Photo: THAI THAI
Coming to Cu Chi to work for nearly two months, Mai Thi Nga (25 years old, from Dak Lak) first enjoyed dishes made from noodles.
"In the past, I only ate sweet potatoes, cassava roots rarely. After eating, I feel this is a very delicious and meaningful dish, because this tuber has fed the people of Cu Chi during the war years. fierce competition," Ms. Nga said.
In addition to the dishes made from cassava, the organizers also displayed 15 dishes made from beef and more than 85 food stalls, tourism and exhibitions on the history of Cu Chi district.
The festival also has many interesting activities such as baking, knitting, painting statues, walking on stilts, enjoying delicious dishes…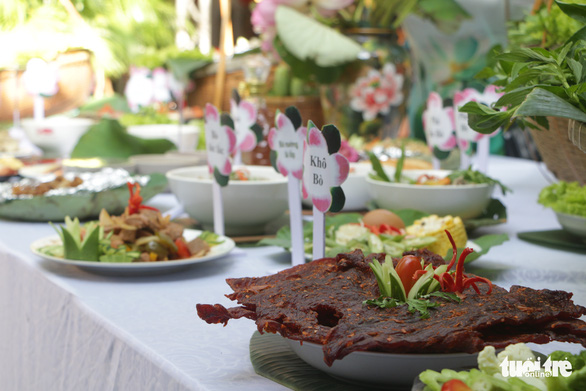 Some outstanding dishes such as beef jerky, beef noodle soup, beef noodle soup, beef noodle soup… – Photo: THAI THAI
Are known, Culture, cuisine and tourism festival of Cu Chi district in 2022 was held with the theme "Scent of the land of steel" to celebrate the 77th anniversary of the August Revolution Day, the National Day of the Socialist Republic of Vietnam and 55 years of Cu Chi being awarded the title of "Steel Land". turn into a dragon".
"This is a meaningful activity, organized for the first time. Through this activity, Cu Chi district wishes to promote and introduce people and culture to tourists from all over the country and abroad. , creating conditions for cultural development associated with tourism, diversifying forms of organization," said Ms. Nguyen Thi Hang, vice president of Cu Chi district, head of the organizing committee, opening the festival.
The start and end time of the festival is from September 1 to 4, besides honoring and promoting cultural identity and traditional values, the festival also connects and promotes tourism potential in the world. whole district.