GONG OH-KYUN Coach GONG OH-KYUN's guts
"What makes me regret is that there are some players who can't kick much, especially goalkeeper Tuan Hung – the only one who can't enter the field for a minute…" – Coach Gong Oh-kyun shared this on VNExpress after the U23 Asia finals campaign with U23 Vietnam.
In this tournament, U23 Vietnam played extremely impressively, although the force was not appreciated. After we passed the group stage, there was a lot of expectation that the team would go far, even in the final like 2018. Unfortunately, U23 Vietnam stopped in the quarterfinals, before the strong enemy U23 Saudi Arabia. Ut.
For many coaches, perhaps their biggest regret will be in terms of achievements. After all, this is also an Asian tournament. If you go into a deep battle, you will be famous for that battle. But in the new U23 Vietnam coach, he regrets the opportunity of his students.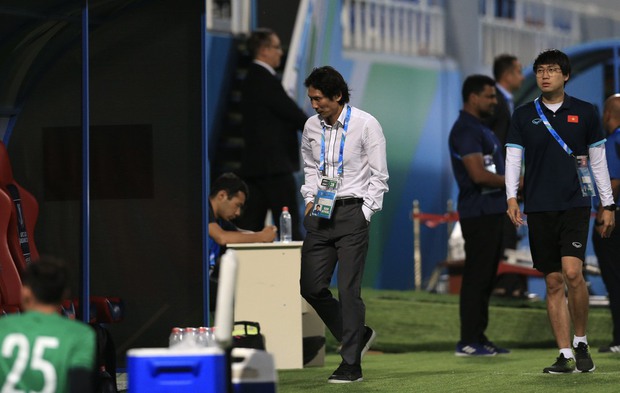 Coach Gong Oh-kyun gives the most attention to the students.
This rather quiet coach shared that he needed nothing, but wanted to let Vietnam's U23 players play as much as possible at the Asian level. "What I'm most concerned about is that this tournament can change lives for the better for the players." – still said Mr. Gong on VNExpress.
Strange. A coach has just made a big contribution to Vietnamese football, making a strong impression on millions of fans and surely the students must thank him for helping the team play so well. But instead of celebrating, the coach took the time to share, explain to a reserve goalkeeper, why he hasn't played…
HIGHLY Vow to BRING THE SHOW OF TEACHER PARK HANG-SEO
Recently, many people have spent time analyzing the difference between coach Gong Oh-kyun and Park Hang-seo. But as it turns out, the most special thing about this Korean coach is how much he resembles Mr. Park!
The special features that make Mr. Gong like Mr. Park are sometimes more important than professional advancement or not.
"For me, no one is special, 23 players are equally important. Each has its own responsibilities and is a member of this family. My actions like that are also normal, that's it. It's like a father. I want to treat the players like a close family." – Mr. Park once confided like that at the end of 2017, when he first led Vietnam Tel (against Afghanistan).
"In Korea, there's a saying, "If you smile a lot, then happiness will come." I myself like to be happy and light. The first time I work with young players, if I am not happy, they will be stressed. Cho So, I smile to let them not be afraid to approach, willing to share everything with me." – still the share of Mr. Gong with VNExpress.
Both Korean coaches have a similar approach to Vietnamese players: Friendly as a family, wanting to listen, understand and share with the students.
Coach Gong Oh-kyun even made the opponent fall in love.
When asked about his view of success if working for a long time in Vietnam, Coach Gong Oh-kyun also shared something extremely respectful. He did not place much emphasis on the title, but emphasized, if one day he leaves, yes "What legacy to the players, what foundation for them to develop".
This wish of Coach Gong Oh-kyun is very similar to that of Coach Park Hang-seo. Ever since he first came to Vietnam at the end of 2017, Mr. Park shared that he wanted to raise the bar for our football. He also emphasized that in order to do that, it is necessary to start training young people.
Even Coach Park Hang-seo has shared many times, maybe when not leading Vietnam, he will stay in the "second homeland" to do youth football.
"If the opportunity comes, I want to play a role to help youth football. Going back to Korea? Is there a place for me?
Park Ji-sung, Lee Young-pyo, the famous players at the 2002 World Cup have returned to the K.League and did a good job. My goal is to focus on developing Vietnamese youth football." – Mr. Park shared with KBS in early 2021.
The talent of a coach is still the most precious thing, but their enthusiasm is equally valuable. With Coach Park Hang-seo, we have both a talented and dedicated coach. And now, Mr. Gong Oh-kyun is also taking the first step to show both of those precious sides.
Coach Gong Oh-kyun's current contract with VFF only lasts one year. Hopefully this strategist will stick with Vietnamese football for a longer time, to be true to his word, to create many legacies and foundations for our players to develop!
https://soha.vn/phia-sau-loi-gan-ruot-cua-hlv-gong-la-tam-nguyen-cao-ca-mang-bong-dang-thay-park-20220617103524109.htm