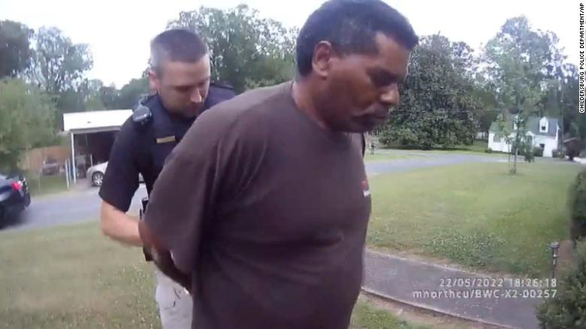 Pastor Michael Jennings was arrested by the police – Photo taken from the clip
In the lawsuit, Mr. Jennings' lawyers argue that the police arrest of their client violates constitutional rights and wrongful arrest.
Pastor Jennings was arrested by police in May while watering a neighbor's house while the owner was away. Another neighbor did not recognize him, thinking he had bad intentions with the house without the owner, so he called the police.
At a press conference on September 10, about a day after the lawsuit was filed in federal court, Mr. Jennings said he felt humiliated by being arrested despite his wife and neighbor's explanations and prayers. ask the police.
The pastor also said he confessed to the police when questioned, but these people did not believe him because he did not carry an identification.
A video of him questioning the police and his arrest has gone viral online, creating mixed emotions, according to CNN. The pastor was sent to the Talladega County Jail and was only released after he posted a $500 bond.
Mr. Jennings' attorneys explained that his client had the permission of the landowner, so he did not need to prove his identity.
One lawyer asserted that his client behaved calmly and that things would not have gone this far if the police had acted differently and understood the law.
"I'm not here today for revenge. I'm here because it's my duty and justice," said Pastor Jennings at a press conference.
CNN has reached out to Childersburg Mayor Ken Wesson and the Childersburg Police Department but has not received a response.