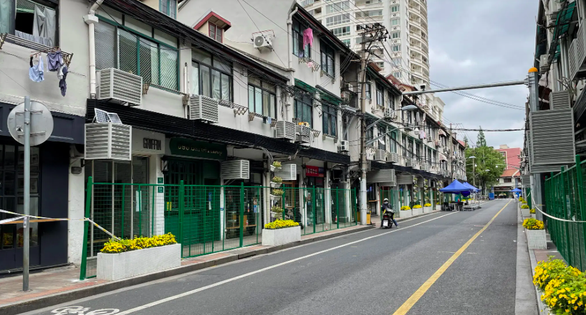 Streets of Shanghai, China during the blockade to prevent COVID-19 – Screenshot Reuters
When the Tesla factory and other factories in Shanghai had to close two months ago due to China's imposition of emergency measures to prevent the COVID-19 epidemic, many questions were raised as to when these factories could be opened. restart.
As of mid-April, about 45 cities in China, accounting for 40% of gross domestic product (GDP), were under partial or complete blockade, pushing the risk of recession, analysts at Nomura Company said. decline is increasing day by day.
Before the outbreak of the disease caused Shanghai to blockade in early April, China's electric car sales increased sharply, Tesla's sales alone increased by 56% in the first quarter of 2022.
However, it is estimated that the number of retail passenger cars in China in the first three weeks of April decreased by about 39% compared to the same period in 2021.
Measures to limit the spread of COVID-19 have also affected deliveries, car dealers are unable to advertise new models and sales decline.
Faced with the above situation, China's local governments, from Beijing to Shenzhen, have been making efforts to stimulate consumer demand, launching vouchers worth up to millions of dollars, to encourage consumer spending. encourage people to spend. On April 29, the Guangdong government also launched initiatives to revive the sale of electric vehicles and rechargeable hybrid electric vehicles (PHEVs).
Among the initiatives is a subsidy of up to 8,000 yuan ($1,200) for new energy vehicles. In March, Chongqing, another major Chinese auto manufacturing hub, said it would offer 2,000 yuan ($300) in cash to buyers who trade in used cars for new models and set aside $3 million to promote push sales.
Not only affecting the electric car manufacturing industry, companies dealing in everything from luxury goods to food also recorded a decrease in revenue.
Joey Wat, chief executive officer of Yum China, which owns KFC and Taco Bell, said the company's sales in April had been significantly impacted. The company had to change menus, rearrange staff, and increase orders for locked-down areas.

Multinational company Kering, which owns luxury brands such as Gucci and Saint Laurent, said its stores had been hit hard by the April closures and it is now difficult to predict what will happen. What will happen after the blockade?
Apple also appeared pessimistic about its business when COVID-19 "hit" China.