Hoa Vien, the first time I know this name, it has probably been more than ten years, the first impression is somewhat overwhelming with the European-style space with thick and heavy wooden tables and chairs, especially the Beer brewing line is installed on the premises. Since then, Hoa Vien has become a place for families to gather on holidays, meet partners, or when I need a place to watch exciting football matches, I always go to Hoa Vien.
Needless to say, Hoa Vien has many attractive dishes from Asia to Europe. However, a dish that you must try when coming here is brewed beef, also known as "hibernating meat". I have also heard of this dish but never had a chance to taste it, until Hoa Vien put it on the menu. Before enjoying, I had a chance to visit the Dry Ager beef incubation equipment with my own eyes.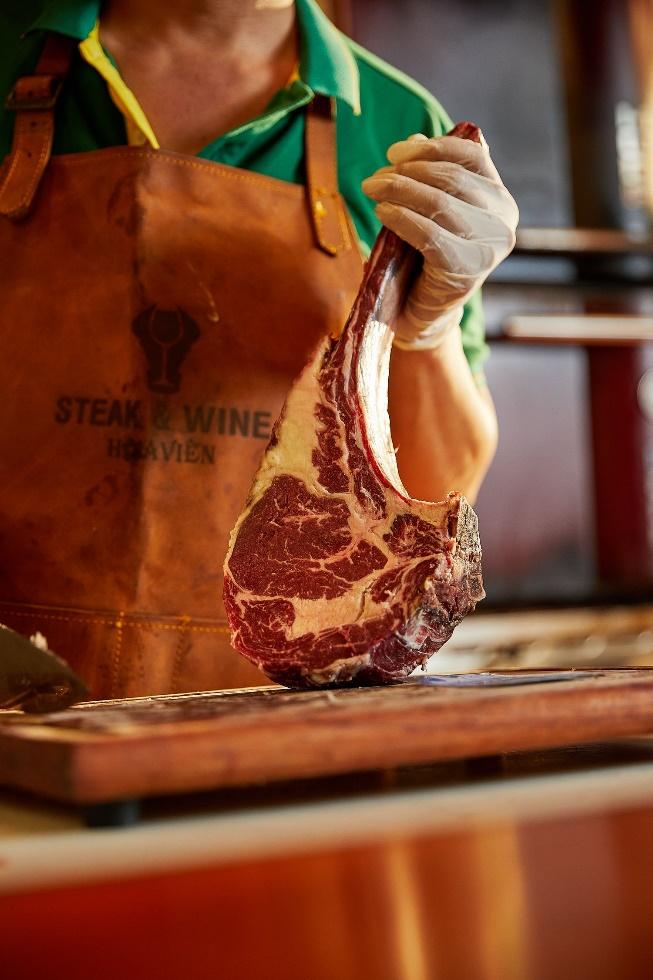 Although I know that beef incubation is a long-standing tradition, in my imagination, I only think that the meat will be kept in a regular refrigerator. But no, in order to brew delicious, soft and safe meat for health, Hoa Vien has invested in a new generation of advanced incubator equipment, invented and manufactured in Germany under the brand name Dry Ager. At first glance, the cabinet looks like a regular glass cabinet, but the "secret" hidden inside this cabinet is that it will provide stable humidity and temperature while creating circulating air to dry the blocks. meat. The cabinet is also equipped with a sterilization system to ensure the destruction of bad bacteria that can cause meat spoilage, enhancing beneficial bacteria to make the meat more tender and healthy. Then I see, "playing profession is also very elaborate".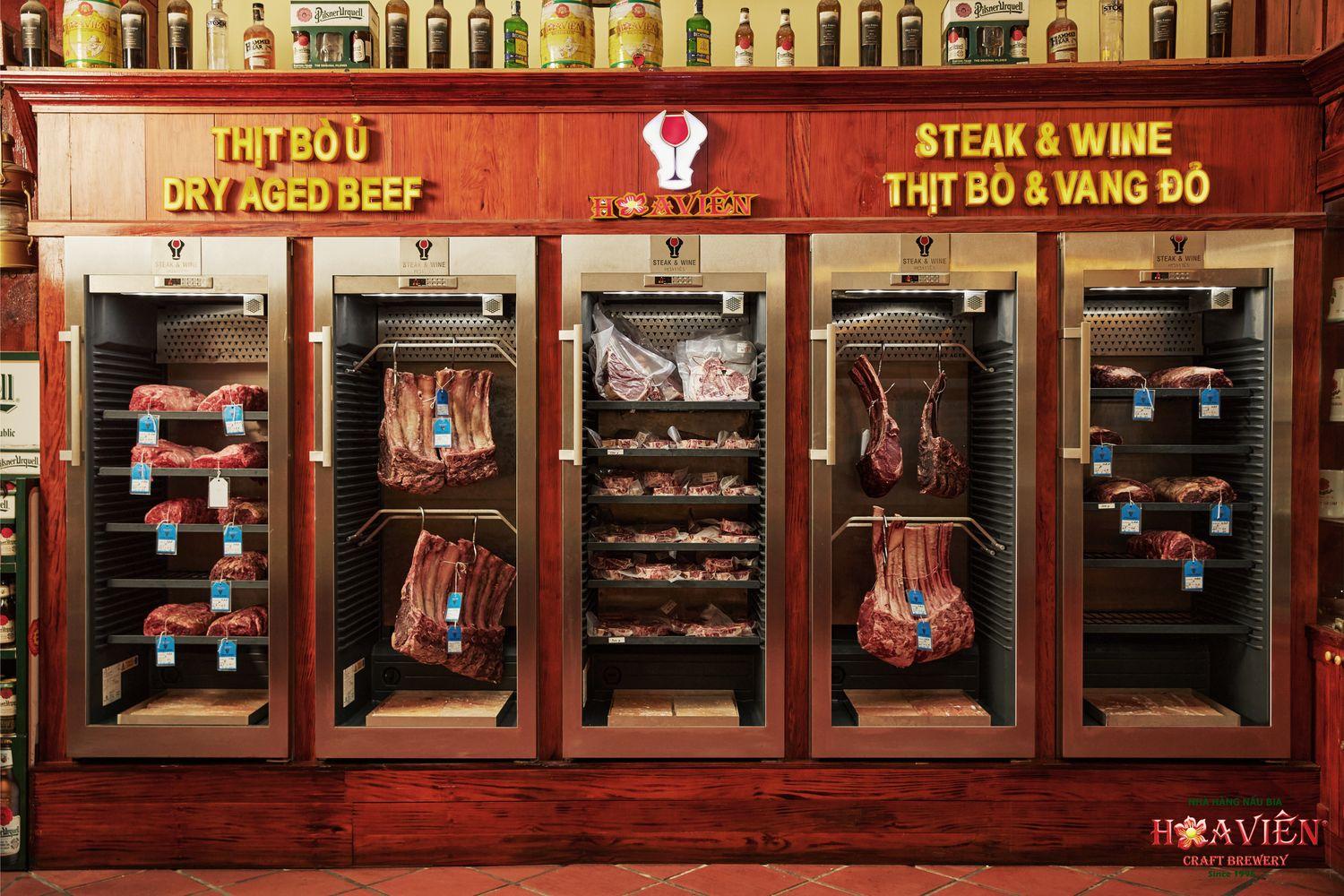 To help me better understand the brewing process, chef Hoa Vien took great pains to explain. First of all, Hoa Vien has to choose delicious pieces of beef with a protective layer of bone or fat, Hoa Vien often chooses New York strip with bone or ribeye or more especially the Tomahawk part – this meat after incubation for flavor. the most delicious taste. The meat will be hung in the freezer for between 1 month and 1 year and this process will cause the meat to lose up to 15-30% of its original weight due to dehydration, as well as concentrate its flavor. The enzymes present in the meat will break down the muscle fibers making the meat significantly softer than fresh meat. The flavor will also change due to fat oxidation. As a result, we will have tender beef, sweeter and stronger flavor. After a while of explaining, he said I had the "right" to decide on whatever meat I wanted. On each piece of meat, there is a specific date of incubation, weight, type of meat … depending on the incubation time, the taste is different. The longer it is aged, the more unique the beef flavor and the higher the value. For my first experience, I chose meat that has been aged for more than 1 month.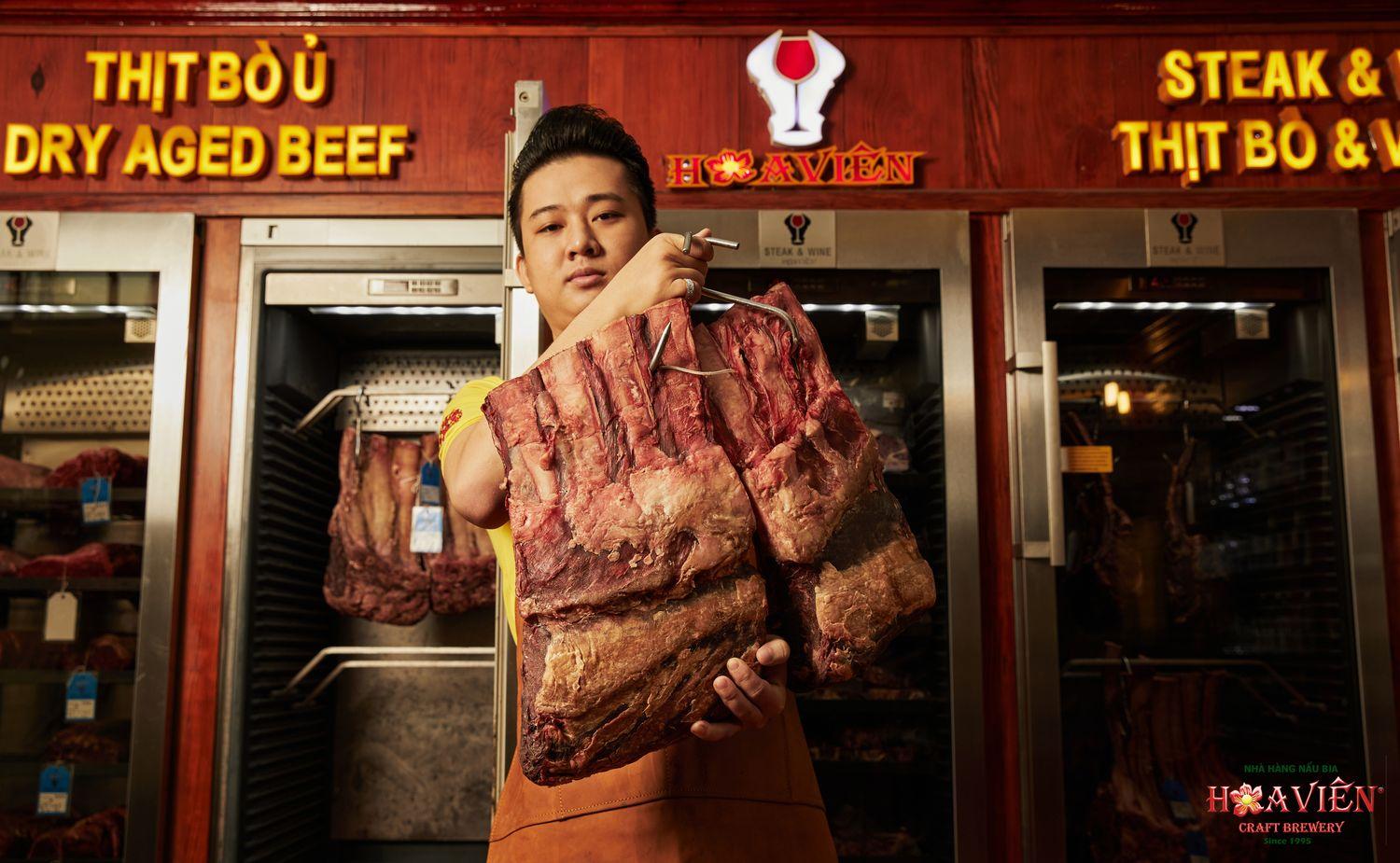 After cutting off the dried black outer skin, I could see the dark red flesh inside with white fat veins. Next, the meat is cooked in a high-end charcoal grill. Even without enjoying, my taste, smell and sight were all defeated by the chef's skillful skill, the smoke mixed with the unmistakable aroma of beef grilled on charcoal… And then the moment As the cook gently sliced ​​the meat, then sprinkled it with a little salt, I knew I was about to enjoy a delicious beef dish.
Breeding is one of the long-standing traditional techniques, to produce the most delicious, tender and sweetest beef with a unique and delicate aroma with rich flavor and unforgettable sweetness like no other meat dish. can't be compared. Indeed, each slice of meat is tender and melts in the mouth, and the sweetness is so light and refreshing that I try very hard to eat at a moderate pace. Another sip of draft beer, it's the best I've had at Hoa Vien.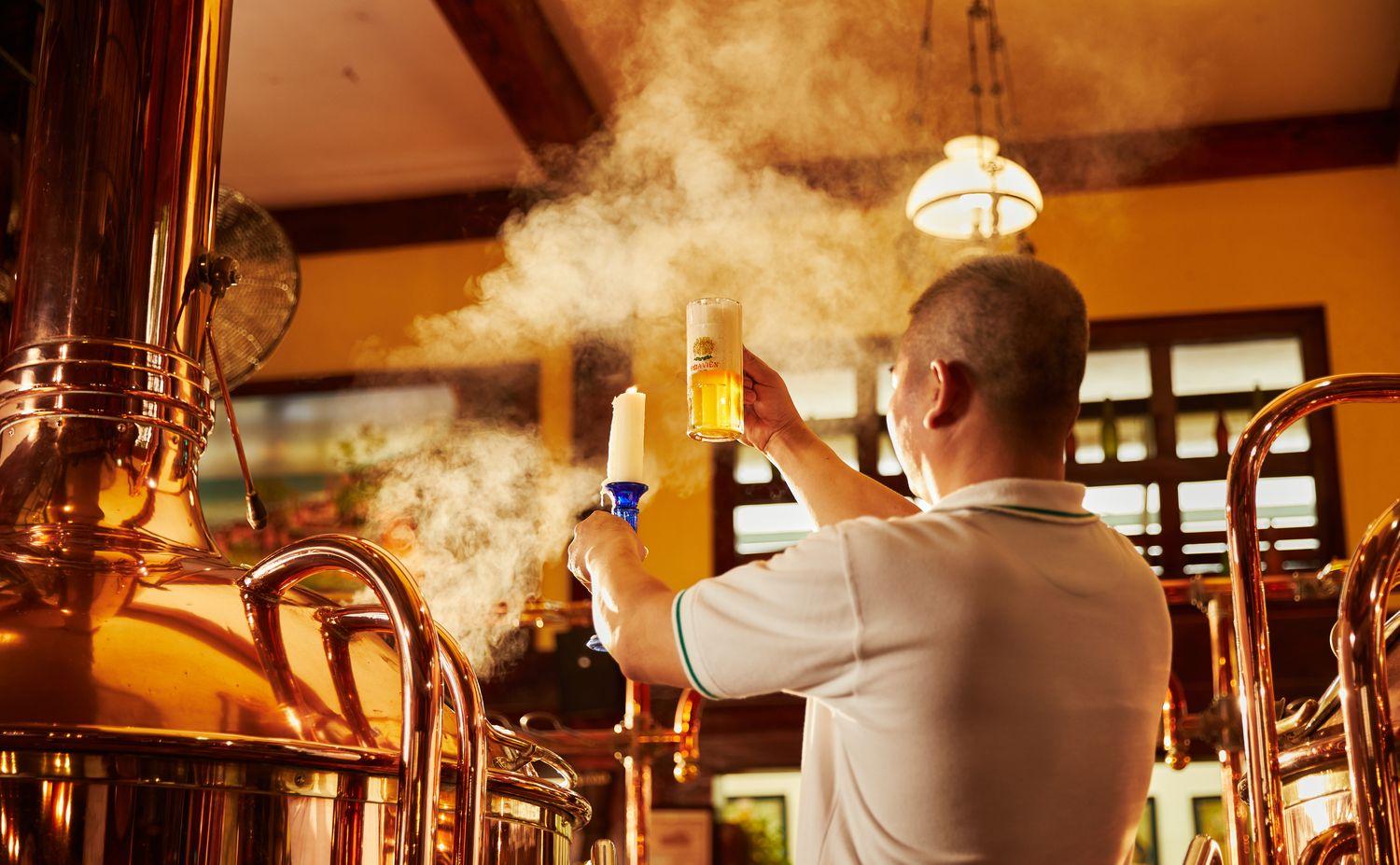 Undoubtedly the "king of meats", from Michelin-starred chefs to gourmets, everyone is ecstatic at the unique flavor of this brewed beef dish. This is a dish I definitely use every time I go to Hoa Vien and I think you should too!
Born in 1995, Hoa Vien Craft Brewery is one of the the first brewery restaurant and famous for its quality stability in Viet Nam. Coming to Hoa Vien, diners will be able to visit the process of brewing beer according to the traditional method of the 19th century of the Czech Republic, especially the finished product of Hoa Vien beer is not filtered, not steamed. Unfiltered beer contains a lot of albumin, vitamin B complex beneficial for health.
The ingredients for brewing beer such as barley, hops, yeast are all imported from the Czech Republic. Even the water is specially treated so that the quality is similar to that of the water source in the Pilsen region, tested by an experienced expert from the Czech Republic, responsible for cooking on a line of 100 imported equipment. % from Czech Republic.
Address:
+ Hanoi: 1A Tang Bat Ho, Hai Ba Trung District – Tel: 0903.289.263
+ HCMC: 18 Bis Nguyen Thi Minh Khai, District 1 – Tel: 0909.680,899
16 Pho Quang, Tan Binh District – Tel: 0933.454.32
Website: https://hoavien.vn/about
Facebook: https://www.facebook.com/Hoavien.Craft.Breweryy