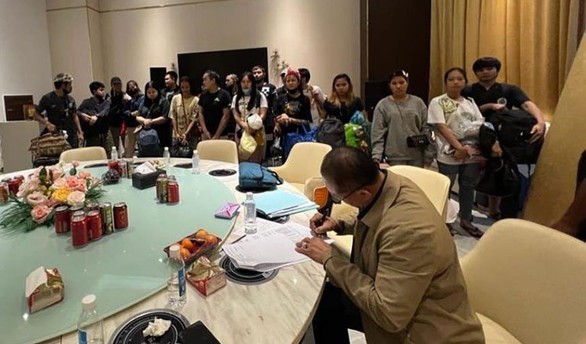 19 Thais illegally immigrating to Cambodia were arrested on August 28 – Photo: KHMERTIMES
According to the newspaper KhmerTimes, the hotline was initially set up in English, Chinese and Vietnamese. More languages ​​will be added later if demand increases.
Cambodian police call on people nationwide to participate in eliminating all forms of illegal trafficking and detention by calling the hotline 117 to convey information or inform the authorities.
Hotline 117, located at the command center of the General Department of Police, will respond immediately when receiving reports of illegal arrests and torture.
Calls to the hotline are free and can be made even if the subscriber has no money left in his prepaid mobile account.
Cambodia is stepping up the crackdown on human trafficking, luring victims with attractive income offers.
On the morning of August 30, the police of this country announced that they had arrested 19 Thai people without valid documents in Sihanoukville province.
The arrest took place on August 28. Interior Ministry spokesman General Khieu Sopheak said eight of them, women, had entered Cambodia illegally.
Fifteen of them have been traced by Thai police for involvement in technology fraud. A court in Thailand has issued an arrest warrant for these 15 people and the Cambodian authorities will soon hand them over to Thailand.
The remaining 4 people were not wanted by the Thai police, so they voluntarily returned to the country.