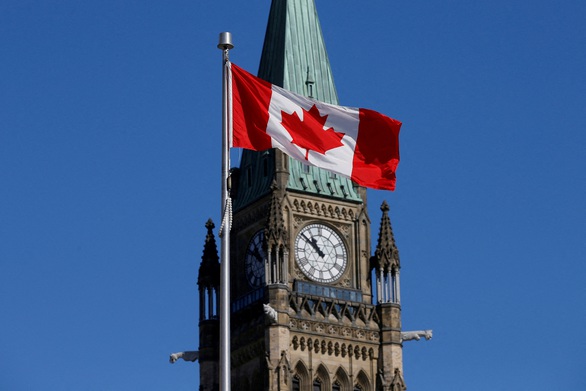 The Canadian flag flutters in front of the Peace Tower on Parliament Hill in Ottawa, Ontario, Canada – Photo: REUTERS
Speaking to reporters in Vancouver on August 24, Mr. Fraser also announced plans to hire up to 1,250 people to deal with a record high number of immigrant applicants.
Canada is a country that depends on immigration to boost its economy and support its aging population. The North American nation is ramping up its immigration every year and aims to add 451,000 permanent residents by 2024.
Canadian Prime Minister Justin Trudeau's government has relied on immigration to fuel the country's economy since taking office in 2015.
Official data released earlier this year shows that Canada's population has grown to 37 million in 2021, up 5.2 percent from 2016, largely due to immigration.
Mr. Fraser said Canada added more than 275,000 permanent residents as of the end of July. "This puts us on track to surpass our goal of 431,000 permanent residents this year," he said.
With border blockade measures due to combat the COVID-19 pandemic last year, Canada has focused on temporary residents already in the country to meet its goal of granting 401,000 foreign nationals permanent residency.
Canada also processed about 3.73 million temporary residency applications in July, up from 2.97 million in the same period a year ago.
Mr. Fraser said: "We are seeing record registrations and productivity. However, demand is still exceeding our capacity to handle at the moment."
According to Canada's Immigration Minister, about 54% of applications are considered in a backlog, and the new staff will help reduce waiting times.