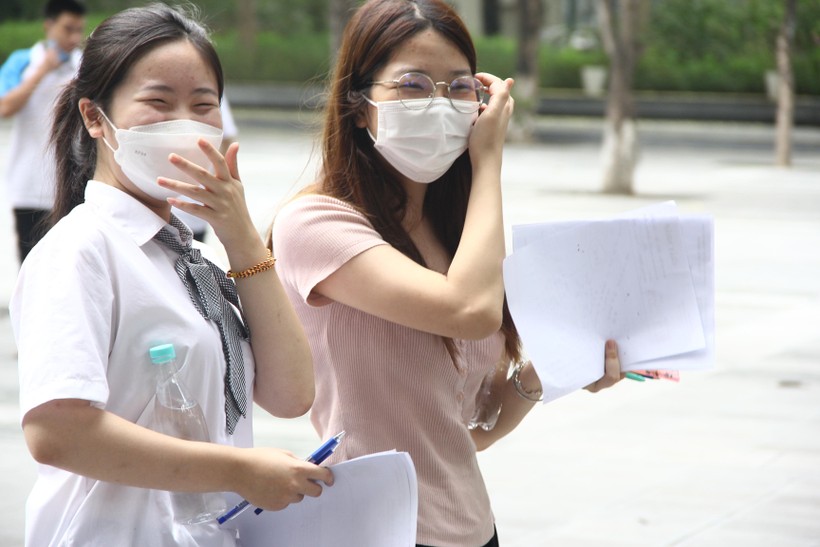 Candidates taking part in the High School Graduation Exam in 2022 at the exam site of Nghia Tan Secondary School (Cau Giay, Hanoi). Photo: TG
Risk analysis
In the enrollment season in 2021, 165 candidates scored 27 points and 3 candidates (total of 3 subjects, no priority scores) scored 28 points or more but did not pass any admission requirements. Specifically, 51 candidates applied for admission to civil schools and 114 students applied to police and military schools. Out of 114 candidates who applied for admission to police and military schools, 97 students only registered for one wish. There are 51 students enrolled in civil schools, 10 students only registered for one wish.
Before the above cases, the Ministry of Education and Training has directly discussed with a number of universities to guide the additional recruitment of candidates with high scores who fail the aspiration 1. According to Assoc. Prof. Dr. Nguyen Thu Thuy – Director of the Higher Education Department According to the Ministry of Education and Training (Ministry of Education and Training), there are currently about 20 methods of admission to universities, but mainly focus on a few methods such as: Reviewing high school graduation exam results, transcripts, direct admission… This diversity This makes it difficult for students to grasp information.
In addition, the addition of many enrollment methods makes the allocation of quotas unreasonable, there is a sharp increase and decrease over the years, making candidates unable to prepare in time. Many schools even do not recruit students according to the announced quotas for each method of admission, leading to unfairness for candidates, causing bad consequences in public opinion. For example, last year, the matriculation score according to the high school results was unusually high, and some candidates with 30 points did not pass the chosen field of study.
In addition, some schools have increased or decreased, added or decreased the exam combination, but have not given specific grounds to explain that choice so that society can agree. Some schools apply many different enrollment methods, but there is no measure to ensure fairness among candidates, calling for early admission without updating data on the common system, leading to the number of virtual candidates. At the same time, it has not created conditions for students to choose the field of study according to their most preferred and most capable aspirations.
Facing the above situation, Assoc.Prof.Dr. Nguyen Thu Thuy emphasized, this year, schools need to keep stable and have to analyze risks, solutions or coordinate to solve in the enrollment process. With some schools applying their own methods, there are more complicated requirements that still need a separate registration and application system.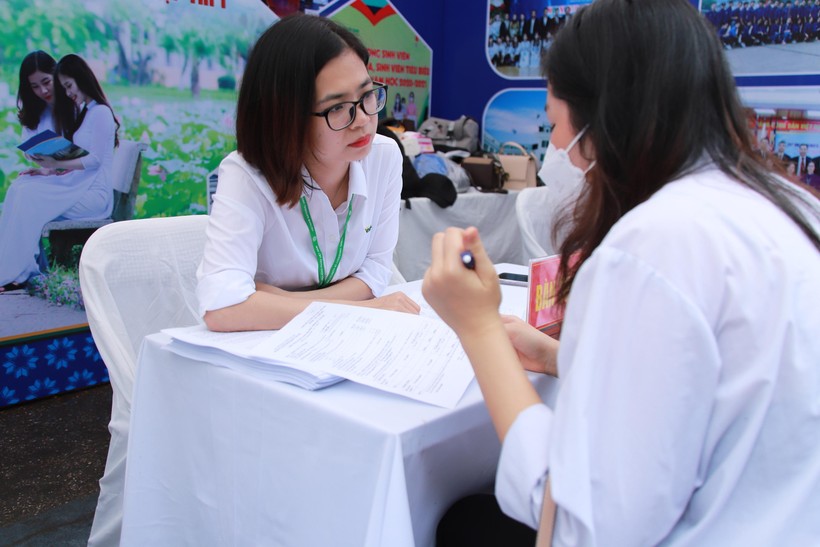 Candidates attend the enrollment and career counseling day in 2022. Photo: TG
Actively plan
According to Dr. Vo Thanh Hai – Vice Rector of Duy Tan University (Da Nang), this year many higher education institutions applied a variety of recruitment methods and were considered for admission early, announced conditional admission. In order to avoid the virtual rate and risk for candidates as well as the school, higher education institutions are only allowed to call successful candidates with the allocation quota announced in the enrollment scheme.
"Assuming that the quota for the admission method by university A's transcript is 500 students, only 500 qualified candidates can be called. The remaining criteria are for other recruitment methods. If the recruitment exceeds the quota, it will violate the regulations. At the end of the first round of enrollment, if there is a shortage of criteria, the schools will be additionally considered" – Dr. Vo Thanh Hai exchange, and at the same time refer to the provisions of this year's enrollment regulations: Training institutions use many forms. When considering recruitment for an industry or group of industries, it is necessary to determine and publicly announce the criteria, score level, and conditions for receiving admission registration for each method.
In another aspect, Assoc. Prof. Dr. Bui Duc Trieu – Head of the Training Department, National Economics University (Hanoi) said: This year, the university will separate the code for each major, instead of sharing the same code. Specifically, the Application Oriented Program (POHE) formerly shared one code, now 7 industry codes are separated into 7 enrollment codes. Economics is similar, previously sharing a code with 3 majors, now separated into 3 enrollment codes, so that successful candidates can directly enter each major. This is in accordance with the provisions of the Admissions Regulations, avoiding unnecessary risks.
According to Dr. Le Viet Khuyen – former Deputy Director of the Higher Education Department, one of the core elements of the problem is that schools must develop an enrollment scheme. Accordingly, this project must provide complete, correct format and ensure the authenticity of enrollment information and data according to the guidance of the Ministry of Education and Training; in which the information needs to be easy to understand and clear so that candidates do not confuse.
In particular, the training institutions must ensure the accuracy and consistency of enrollment information declared in the System with the enrollment scheme such as: training institution code, program code/industry/industry group, method code recruitment, selection combination and admission criteria, sub-criteria… This information must also be consistent in the enrollment notices. Errors in this stage will seriously affect the interests of candidates, directly affecting the enrollment work of the system.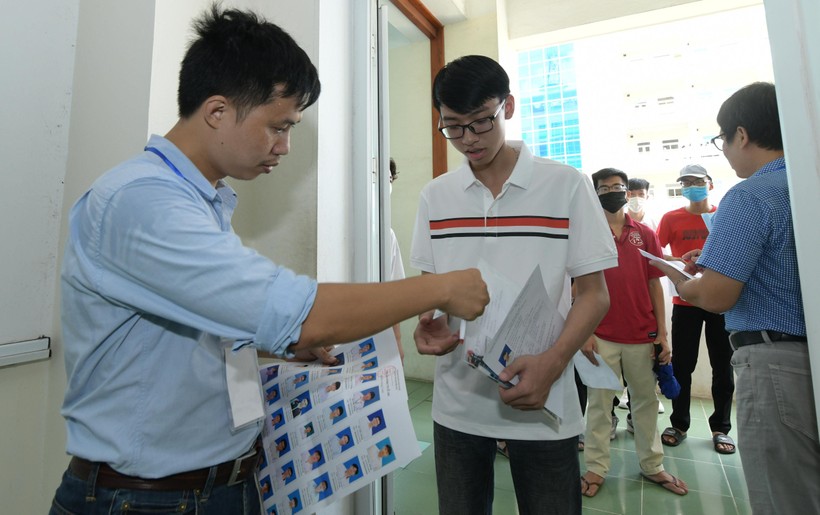 Candidates participating in the Thinking Assessment Exam 2022 of Hanoi University of Science and Technology. Photo: NTCC
Avoid "unjustly slip"
Emphasizing that candidates need to carefully read the enrollment scheme, including sub-criteria when applying for admission, Assoc. Prof. Dr. Nguyen Phong Dien – Vice Rector of University of Science and Technology reiterated, last year's admission season, despite warning and Very carefully consulted on the sub-criteria but still many candidates make mistakes and if the school does not handle it in time, they may fail all of their aspirations. Specifically, in the process of admission, virtual filtering of 67 candidates with enough points to be admitted to Hanoi University of Science and Technology by high school graduation exam scores, but when reviewed, the post-test is not eligible for the GPA of high school transcripts. 6 semesters.
In principle, the school can refuse admission of candidates because they are not qualified. At that time, they will no longer have the opportunity to be admitted to the next aspiration. But Hanoi University of Science and Technology has sent an official dispatch to the Ministry of Education and Training right during the first round of admission, so that the system does not determine whether these candidates are admitted to this school anymore, creating a chance to be admitted to one of the candidates. next hope. "That's why I advise candidates to read carefully the admissions proposal of the school they plan to apply for and of course not to ignore the sub-criteria."Assoc. Prof. Dr. Nguyen Phong Dien recommended.
Sharing the same opinion, Dr. Vo Thanh Hai analyzed that each school will offer different sub-criteria and only check when candidates complete admission procedures. Many students are subjective, so it is not until they go through the admission procedure that they know they are not on the list of matriculation.
"Training institutions need to make public and transparent the sub-criteria in the enrollment scheme" – Dr. Vo Thanh Hai stated his views and information: The secondary condition used in the admissions examination of Duy Tan University is that in case candidates have the same score, the Admission Council uses a number of subjects as additional conditions to ranking candidates for admission. Specifically, for English language major: Use English test scores. For Architecture: Use the art drawing exam scores. For the rest, use the Math or Literature test scores.
In order not to fall into a "dilemma", Dr. Hoang Xuan Hiep – Rector of Hanoi University of Textile Industry – recommends, candidates must register in the general system of the Ministry of Education and Training all admission requirements. (including those who are eligible for admission).
Noting the schools' initiative in enrollment, Deputy Minister of Education and Training Hoang Minh Son emphasized that the school is responsible for explaining the contents of the enrollment project to the Ministry of Education and Training, competent agencies and other agencies. Stakeholders; at the same time take responsibility before law for the recruitment work, the conditions for ensuring the quality, completeness and accuracy of the contents of the project.
In other words, schools must increase their accountability to learners and society. At the same time, ensuring fairness for candidates between different admission methods. The Deputy Minister also noted that training institutions need to anticipate some difficulties in enrollment in order to have adaptive solutions to ensure the interests of candidates and the school.
The Regulation on enrollment of universities and colleges in preschool education in 2022 stipulates that training institutions must take measures to control pre-qualification conditions and secondary factors in enrollment to prevent candidates from having a situation. matriculated but was disqualified upon admission due to ineligibility; do not notify candidates officially matriculating in any form when candidates have not graduated from high school.