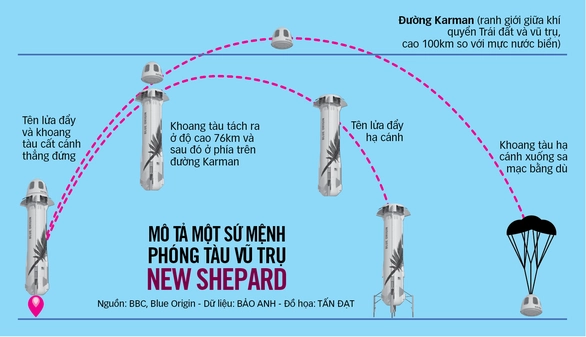 Source: BBC, Blue Origin – Data: BAO ANH – Graphics: TAN DAT
This event will likely be a challenge for Blue Origin Company as well as the space tourism industry. "It looks like we had an unusual incident during today's flight (September 12).
This was not planned and details of the incident are not available yet," said Erika Wagner, senior director of emerging space markets at Blue Origin.
It's never been easy
The New Shepard spacecraft consists of a booster and a capsule, both of which are reusable. During the NS-23 mission (the 23rd of the New Shepard rocket program) on September 12, about a minute after taking off from Blue Origin's launch pad in Texas, New Shepard's booster rocket suddenly caught fire. violently.
After that, the cabin (not carrying people) carrying experimental equipment and materials activated the emergency thrusters to separate from the rocket and return to the ground safely.
The US Federal Aviation Administration (FAA) is investigating the incident and is temporarily suspending Blue Origin's New Shepard launch. Independent experts suspect a fault in the propulsion system that caused the problem.
Astronomy and space news site space.com said the New Shepard incident once again reminded that spaceflight has never been easy.
In recent weeks, NASA's plan to return to the moon after 50 years has also repeatedly encountered problems. On September 3, for the second time in just five days, NASA delayed the launch of a new generation giant rocket due to technical problems.
Ambitious by Blue Origin
With the New Shepard incident, Blue Origin's operations were slowed while engineers investigated the cause. This is the first serious incident with New Shepard since its first flight in April 2015.
It's too early to talk about how the New Shepard anomaly will affect the future of Blue Origin and space tourism in general.
Need to wait for Blue Origin to find the error and fix it. One thing to note is that Blue Origin is using two different combinations of New Shepard vehicles, one for space tourism and the other for unmanned cargo flights.
So far, Blue Origin has sent 32 people to space in "tourist" flights lasting from 10 to 15 minutes each.
Among them are billionaire Jeff Bezos during the flight in July 2021 and the 90-year-old Canadian actor William Shatner (also the oldest person to fly into space) in October 2021. Blue Origin's most recent spaceflight took place just last month, and fares have yet to be announced.
Blue Origin is competing with British billionaire Richard Branson's Virgin Galactic Company for space tourism.
Blue Origin has even more ambitious plans, including the New Glenn project to conduct orbital flights (with the first test flight expected in 2023) and partnering with NASA to develop a surface lander. moon.
Space race
In addition to Blue Origin, Virgin Galactic also aims to bring tourists to explore the edge of space. Meanwhile, US billionaire Elon Musk's SpaceX company has sent many NASA astronauts to the International Space Station (ISS), as well as carrying out private missions.
Boeing also plans to begin its first manned flight to the ISS as early as 2023.
According to the Washington Post, proponents of emerging space companies say they should be allowed to innovate and grow before the US government imposes strict regulations to regulate them.