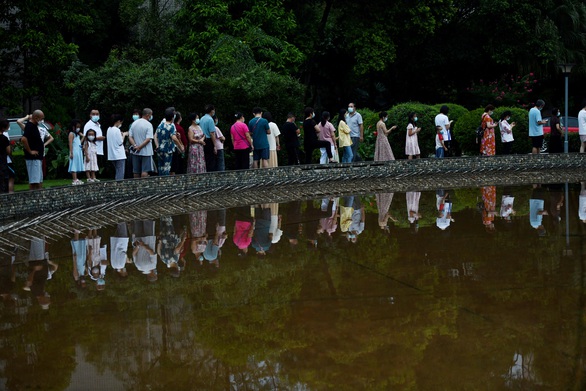 Chengdu residents line up for COVID-19 testing – Photo: REUTERS
According to Reuters news agency, Chengdu city, the capital of Sichuan province, is facing heat, power outages, earthquakes and COVID-19 prevention since September 1.
Initially, the blockade measures were expected to end on September 9, but by the end of the day, authorities said the disease still had a risk of spreading in some areas.
16 million of Chengdu's 21.2 million residents are under lockdown. Residents of the locked down areas will be tested daily and those who test positive will be quarantined.
Residents in high-risk areas are not allowed to leave their homes. In some districts, there is no longer a hard blockade, but residents are still required to undergo mass testing every Friday and Sunday, and are not allowed to travel to other districts and are advised not to leave Chengdu unless necessary.
Chengdu – the second largest city in China – had to go into lockdown after Shanghai in April and May. The city is aiming to record no new cases in the community within a week.
Since the blockade, Chengdu has recorded fewer than 200 new cases of COVID-19 per day, quite small compared to outbreaks in many other parts of the world. On September 8, authorities said they had recorded 116 new cases on September 7, down from 121 cases the day before.
Japanese investment bank and brokerage Nomura said that as of September 6, 49 cities in China are applying epidemic control measures to varying degrees. An estimated 291.7 million people are affected, up from 161.3 million last week.
The number of people affected by the blockade accounts for 20.7% of China's population and comes from regions that contribute 24.5% of the country's GDP.